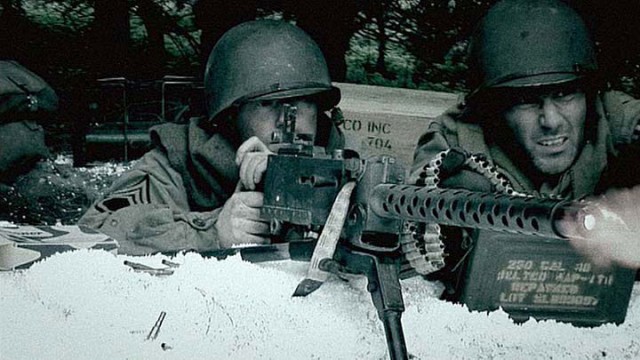 Hundreds of Americans and Belgians gathered this week for a re-enactment and commemoration of the Battle of the Bulge on its 70th anniversary.
70 years ago, the Battle of the Bulge was now well under way. Having started in mid-December, it lasted for six weeks. It was the final major offense by the German Army who sought to push through American lines in the Ardennes region of Belgium and go on to take Antwerp port.
Even though at first the Nazi attack was a success and the Americans suffered heavy losses, the weather cleared and Allied aircrafts were able to support ground troops by bombing the enemy's positions.
The Americans held the pivotal town of Bastogne, and thwarted the German Panzer tank onslaught. A few months later, Hitler was dead, and the German Army surrendered to end the war.
Since it was such a monumental battle and a turning point for World War Two, the Belgians and Americans gathered in and around the town of Bastogne in a fully-fledged re-enactment complete with uniforms and tanks.
A German Jagpanther tank destroyer and a US M36 Jackson tank were brought to Bastogne for the re-enactment, since the conflict is infamous for its tank battles.
The weather today is just as bad as it was in 1914-15. With freezing  conditions the commemoration still went ahead with hundreds in attendance.
A mixture of veterans, locals, young and old all wore World War II US Army uniforms.
In the centre of Bastogne, where the US troops of the 101th Airborne Division held their lines in 1914, the shops and house windows were decked with American and Belgian flags. One restaurant even displayed a thank you message.
Belgium's King Philippe and Queen Mathilde attended the commemoration watching the parade of veterans and people in uniform march through Bastogne's streets and meeting and greeting the crowds. They honoured the American soldiers who held and defended more than 70 miles of Belgian Ardennes forest. The royal couple then went on to lay wreaths at the McAuliffe monument, which is where US General McAuliffe wholed the American troops during the battle, the Mail Online reports.
The Belgians are eager to memorialise the efforts of the American troops in defending their country.
Current US soldiers based in the region said that it is unbelievable what the troops endured and achieved given the dense forest, narrow valleys, low lying fog and freezing temperatures.