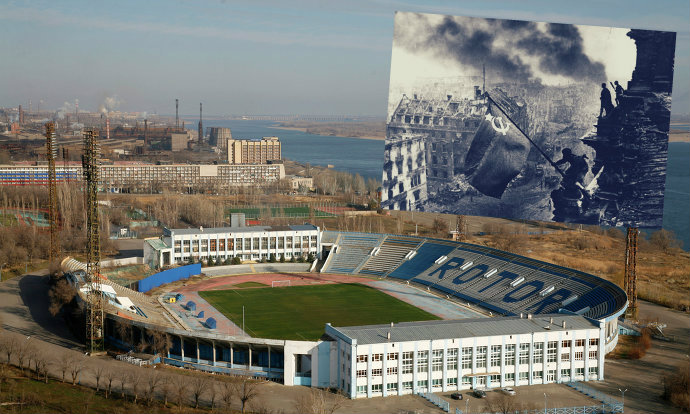 Volgograd, Russia – Construction workers working on the "Arena Pobeda", Russia's planned stadium for 2018 World Cup, were able to unearth 11 unexploded World War II bombs within the construction's site within two month's work in the area.
It seems that the  2018 World Cup is seeing "explosive action" even before it has started as builders working on the stadium planned to house the event were able to dig up 11 vintage explosive devices from within the building site of "Arena Pobeda".
It can be remembered that during the Second World War, Volgograd was known as the Russian city of Stalingrad. Stalingrad, named after the WWII Soviet Union leader Stalin, saw some of the bitterest battles between the Red Army and Nazi Germany. One particular battle way back in 1942 saw the latter along with its allies fighting the Russian army for control over the city.
The bitter fighting between the two warring parties had both sides raining upon each huge amounts of munitions which may be the reason why there are many unexploded bombs left from the WWII-era within the city's vicinity.
And with the demolishing of the old stadium to give way to the building of the new stadium "Arena Pobeda", many of these vintage ordnance are starting to get discovered.
The vintage bombs' discovery was revealed to the local media by Volgograd Oblast's vice-governor, Vasily Galushkin. According to him, the eleven 11 WWII shells were dug up within a two-month period of demolition work on the city's old Central Stadium.
He further added that since the bombs' discovery workers had been careful combing and working through the area as given the massive volume of unexploded ordnance discovered within a short period of time, it is expected that they might be able to find more.
However, Vice-Governor Galushkin gave the assurance that the building of "Arena Pobeda" will go on as planned and will exactly end on its appointed completion date which is on November of 2017.
"Arena Pobeda" [Victory Stadium] is going to be built on the former site of the Central Stadium which is located between Mamaev Kurgan and the right bank of the Volga.
The new stadium is allotted the budget of 190 million GBP by the Russian government and is set to house 45,000 fans.