The USS Utah (BB-31), the second ship in the Florida-class of dreadnoughts, served with the US Navy in various engagements during the first half of the 20th century. Converted into a target ship and redesignated "AG-16" in 1931, she was one of several training vessels that prepared sailors for the realities of naval warfare. Little did the Navy know she'd fall victim to enemy action on the morning of December 7, 1941, when the Japanese launched their surprise attack on Pearl Harbor.
Commissioned in August 1911, Utah first experienced action during the Mexican Revolution, with the US occupation of Veracruz. She and her sister ship, the USS Florida (BB-30), were sent to the area with a combined force of 1,000 naval and Marine Corps personnel, who entered the city and battled the Mexican rebels.
Upon the US entry into the First World War, Utah was stationed in Chesapeake Bay to train gunners and engine room personnel. Not long after, she was assigned as the flagship of Battleship Division 6 (BatDiv 6) and tasked with protecting Allied convoys from attacks by the Imperial German Navy.
In the early years of the interwar period, Utah conducted routine operations and exercises. She was also modernized during this period, but these updates were immediately rendered useless following the signing of the London Naval Treaty in 1930. Under the agreement, the dreadnought had her armament and equipment removed. She was also converted into a target ship, but this role fluctuated as the years went on.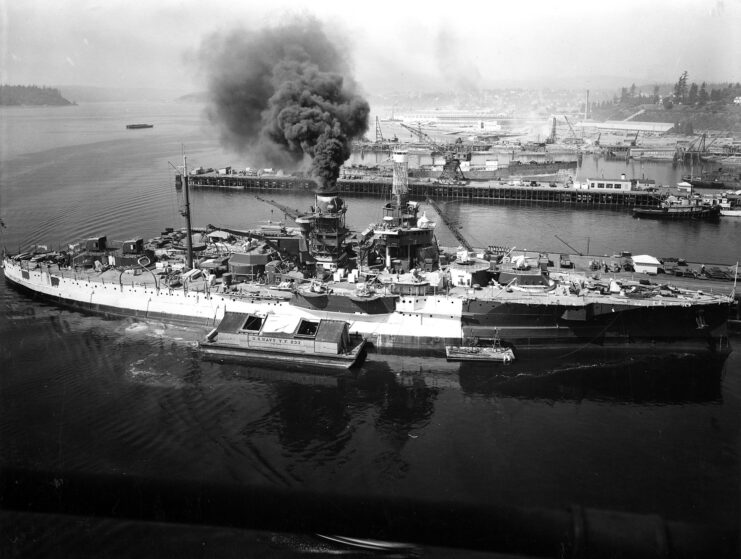 Utah was stationed at Pearl Harbor in August 1940, where she served as a bombing target for aircraft launched from the aircraft carriers USS Saratoga (CV-3), Lexington (CV-2) and Enterprise (CV-6). After undergoing an overhaul on the mainland, she was returned to the Hawaiian base, where she was anchored on the morning of the Japanese attack.
Moored off Ford Island, Utah was struck by two torpedoes, causing her to quickly take on water. This led the vessel to roll over and sink, resulting in the death of 58 crewmen, including Medal of Honor recipient Chief Watertender Peter Tomich.
While attempts were made to right Utah, all failed and the recovery effort was ultimately abandoned. She was decommissioned in September 1944 and stricken from the Naval Vessel Register two months later. Her wreckage has since been deemed a war grave, as the remains of those who died aboard the ship were never recovered.
More from us: HMS Sussex (96): The British Heavy Cruiser That Survived a Kamikaze Strike
In the 1950s, two memorials were placed at the site of the USS Utah's sinking: one on the wreck itself and another to the north. Two decades later, the ship's remains were added to the Pearl Harbor National Memorial, and the site was added to the National Historical Landmark registry in 1989.