The British heavy cruiser HMS Sussex (96) was a London sub-class vessel within the Royal Navy's County-class. Operated by the service between 1929-50, she participated in both the Spanish Civil War and World War II, before being decommissioned. During the latter conflict, she became the target of a Japanese kamikaze strike, miraculously making it out of the encounter with just a dent in her side.
An average-sized vessel at 633 feet, Sussex began her service life in the Mediterranean, before being transferred for a brief stint with the Royal Australian Navy. Upon returning to Europe, she defended shipping lanes along the eastern coast of Spain during the Spanish Civil War, with support from the HMS Intrepid (D10) and Impulsive.
Fast forward to the Second World War, Sussex first served in the Atlantic as part of Force H, after which she moved to the Indian Ocean to search for the Kriegsmarine vessel Admiral Graf Spee. However, before she or any other Allied ships could capture the German raider, her crew scuttled the vessel off the coast of Uruguay.
Following service with the Home Fleet during the Norwegian Campaign and a refit with new equipment and armament, Sussex returned to the Indian Ocean with the Eastern Fleet. While she was able to sink the German tanker Hohenfriedburg during her transit to the area, she did become the prey of the U-boat U-264. Luckily, she was able to avoid all four torpedoes fired her way.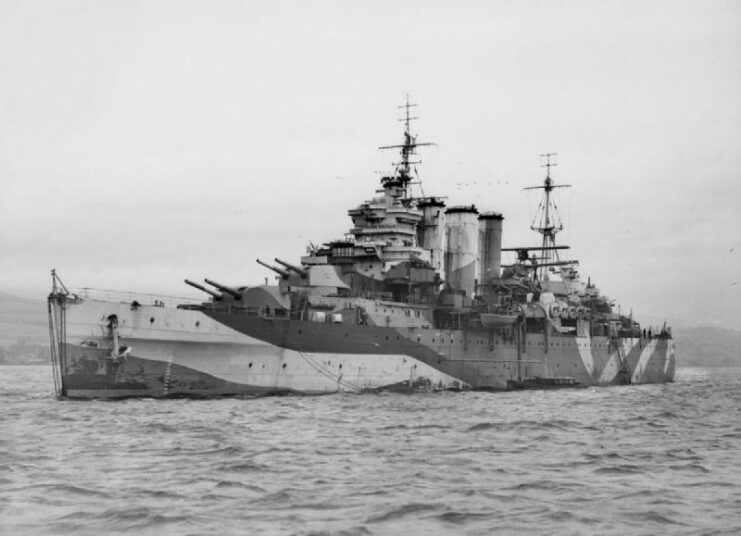 With things ramping up in the Pacific Theater, Sussex was sent to patrol around the Netherlands East Indies. On July 26, 1945, she and other Allied vessels became the targets of Japanese kamikaze aircraft, one of which struck her side. The heavy cruiser suffered minor damage from the strike, with the only evidence being an indentation on her exterior.
While this could have been attributed to the vessel's armor, it's speculated the Japanese aircraft may have bounced off the ocean's surface before making impact with Sussex.
Sussex closed out the Second World War by operating off the coast of Singapore, carrying the Flag of Royal Navy Rear Adm. Cedric Holland. Japanese Gen. Seishirō Itagaki was subsequently brought aboard the vessel, where he officially surrendered Singapore to the Allies. This was followed by duties as a troopship.
More from us: The WWII-Era Disappearance of a Grumman J2F Duck Over Greenland
Just under four years after WWII, the HMS Sussex was replaced by the HMS Belfast. In 1950, she was decommissioned and handed over for scrapping, ending just over two decades of dedicated naval service.