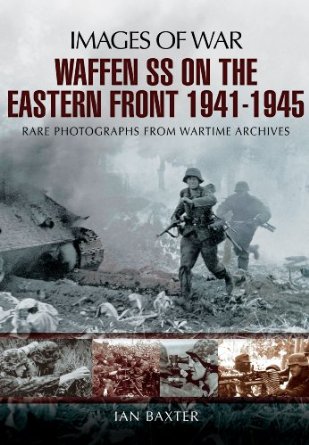 It's been a while since we've had something from this author to look at. You will recall he is a longstanding collector of German images, whether in the form of official photographs or more commonly from the albums of ordinary soldiers. There is no question that amateur photography was a huge business in the days of the Third Reich and there is little wonder that so many interesting snaps continue to turn up. The common strap line for this Images of War series is rare photographs from wartime archives and I would say that in the case of Mr Baxter's output this is genuinely the case. While I have seen a lot of images during the course of my professional career as a picture librarian, it isn't possible to know everything, and, in any case, I am not a specialist on German images. I am sure dyed in the wool aficionados of Nazi era photography and the Waffen-SS in particular, may recognise some of these.
So, once again, this book crams in a huge amount of very interesting images. One or two look like typical propaganda stuff, but, in the main, the scenarios seem pretty ordinary. There are a few combat sequences and others which clearly come from individual collections or albums; but the overall effect is varied and always of a high quality. The reproduction is to a high standard. I think the thing that impacted on me most is the range of subject matter and the broad scope of the collection as a whole. We see the Waffen-SS in all weathers and groups of soldiers trying to make the best of things in often arduous conditions. I was struck by the number of images showing men wearing mosquito nets over their helmets. It's easy to imagine just how unpleasant it was to operate in woods and wetlands, quite apart from having to fight the enemy. Quite obviously the nightmare of swarms of mosquitoes and other biting insects has fallen on invader and defender alike through all the campaigns in Russia going back beyond the reckless adventurism of Napoleon.
One plus side with this author is the meticulous nature of the image captions. This is a really impressive aspect of his books. In addition to the images we get a fairly extensive appendix showing the order of battle of the Waffen-SS on the Eastern Front and details on uniforms, weapons and equipment. The book would be very useful as a visual aid for living history exponents and model makers. Maybe you just collect this sort of thing and have a strong interest in the Waffen-SS. They certainly had all the sexy kit and look the bee's knees. There is a kind of morbid attraction to them which I can appreciate without actually buying in to.
So, there you have it. A really interesting collection from this keenly priced series of books. There is a lot to like here, especially if the Eastern Front or more specifically the Waffen-SS float your boat.
Review by Mark Barnes for War History Online
WAFFEN-SS ON THE EASTERN FRONT 1941-1945
By Ian Baxter
Pen & Sword Military
ISBN: 978 1 78159 186 4