The book on offer today is not new but it is a recent publication and utterly superior. There is a helpful quote from an American reviewer on the front of my paperback edition saying "powerful and revealing". These two well-chosen words sum this book up in a nutshell. Should I even bother continuing? I will. My name is above the door in this cluttered corner of the WHO empire and I feel quite strongly about what I have been reading.
I have a chum based in London who spends a lot of his time recording oral history related by people who have experienced war or military service. He has done a lot of this stuff and it forms the basis of several of the superb books he has written. Here, Andrew Wiest employs much the same method to achieve outstanding results. These things start off as projects to make sure the authentic testimonies of people who lived through major events or significant experiences can be saved for posterity. They have an academic purpose, and rightly so, but we benefit from broader access to the results and this book is a case in point. Mr. Wiest does a lot of hard work here. For one, he has to be able to disseminate the large amount of information available to create something meaningful and – those words again – powerful and revealing. He also has to make it enthralling. It is.
I have to tread carefully here. Vietnam was not my country's war. The British prime minister of the day, Harold Wilson, deflected the efforts of US president Lyndon B. Johnson to draw the UK in and I have to say he was right. The post-imperial Britain of the 1960s could ill afford adventures in Asia for many reasons and there is no knowing how badly involvement would have gone down at home at a time of rapid social change. These elements form a hand mirror of what was happening on a much bigger scale in the United States where opposition to the war was pronounced across a spectrum of society. I am not wholly behind the 'right or wrong, my country' mantra some people admire, because we only have to look elsewhere to see how that principle can lead to all manner of nightmares. But some of the 'baby killer' insults experienced by the veterans recorded here were pretty cheap and nasty and I wonder what the people saying those things feel when they look back at it.
Wars, popular or otherwise, are usually fought by ordinary working people and Vietnam was no different. There were ways to avoid having to fight and perhaps some of the people who took those paths feel a little diminished today. The experiences of the men and women found in this book are wide-ranging but also broadly similar. The men who actually went to do the close up fighting in Vietnam shared a common experience; it is only the details of geography, uniforms and dates that set them apart in any way. Mr. Wiest carries us through the experiences of a group of individuals for whom the war was the defining moment of their lives. We get some pretty raw stuff and if it doesn't have an impact on you I suggest you take up another interest.
I have read a number of well-known Vietnam books and seen many of the movies. It has a unique place in western culture and this hasn't faded as the years pass. All those books are effectively an interpretation and while this is absolutely fine, this book, where men speak for themselves at length, is far superior. The author has been fortunate to have such a good basis to start from in the shape of the people who spoke to researchers from the source archives involved. But he has wrapped it all together with great skill. He leaves interpretation to the minimum, only allowing a brief but excellent synopsis of specific elements to accompany each chapter. This book is a heart-breaking read.
To say I love it might make me appear shallow or a bit nuts, but all the adventurist politicians who get itchy fingers from time to time should be made to read stuff like this before they take oaths of office, whichever country they are in. They need to understand what war really means for their electorate.
Mr. Wiest makes war real – sometimes too real – and he does it by leaving the farmhands, postmen and factory workers of this story to tell it like it is and was for them. A good many continue to suffer from the effects of their experiences and this flies in the face of the attitudes of the people who turned Vietnam veterans away because they hadn't experienced a 'real' war. I've heard people say that modern conflicts were as nothing compared to the experience of six years of WW2 but a great many Vietnam veterans saw much more combat and horrors in the course of just one year – or even less – than men who had gone before them.
Some people choose to keep their experiences to themselves and that is entirely their prerogative. Mr. Wiest's subjects lay their experiences bare. They all, the men and the widows, come across as being pretty special to me. You can read all the big picture stuff and enjoy the Wagnerian accompaniment to Killer Kilgore or sing along with the Mickey Mouse Club theme, but the real thing is here. I haven't read Mr. Wiest's earlier book, but I think I need to. If you are looking for a sensory balance – get yourself the recent Associated Press photographic anthology and read this book alongside it. I will always recommend Hal Moore and Jo Galloway's classic and Michael Herr's Dispatches still holds a treasured space in my library.
Reading the sadness of real war is a sobering thing. People will still be drawn to it – the kit and caboodle, the drama and adventure. How realistic all that is will be something you can decide for yourself. What I know is that Mr. Wiest and his subjects provide hard truth in Technicolor. There are no blurred lines. Powerful and revealing. Keep that in mind when you order this book – and you should. It is outstanding.
Reviewed by Mark Barnes for War History Online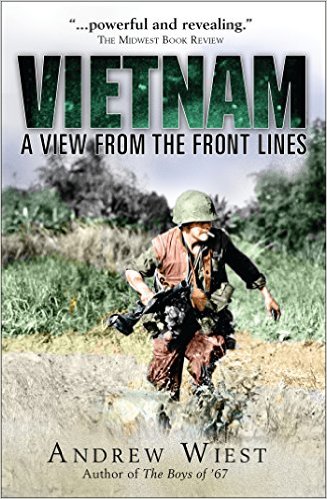 VIETNAM
The View From the Front Lines
By Andrew Wiest
Osprey Publishing
ISBN: 978 1 4728 0769 4