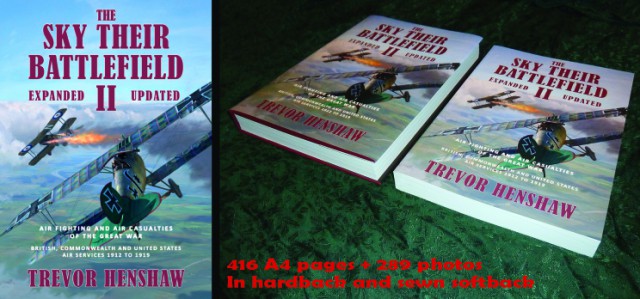 Because I like such a wide range of military history I try to gather a broad knowledge of it but don't suggest for one minute I am in any way an expert on a particular subject. The Great War has long been a fascination of mine since I first read Lyn Macdonald's epic Sommenearly thirty years ago. Going back beyond that to my early teens I remember finding an elderly copy of The Red Air Fighter in my local library at Stoke Newington in north London. This was one of the original translations of Manfred von Richtofen's classic autobiography and I lapped it up. Aside from affirming the true wonder of the public library system the book confirmed my fascination for Great War aviation.
I have recently read Wind in the Wires, a gem of its time. In that book the author Duncan Grinnell-Milne carefully sidestepped adding full names and dates to his exploits serving in the Royal Flying Corps. While the charm of his prose allied to appreciating his bravery is perfectly fine, the modern reader, a lifetime on from an era when men still living might have preferred anonymity, would want to know much more. This book by Trevor Henshaw allows us to retrace the steps of Grinnell-Milne's time in 16 Squadron and earlier, still, to his days learning to fly Maurice Farman Longhorns at Shoreham. With a little effort we can put names to his friends and acquaintances and fix dates to passages from the text.
My chum Peter Hart holds store in solid research and he has been quick to highlight the importance the first edition of this truly astounding work had on his preparations for the excellent air war books he has written. Changing tack a little, if you are a battlefield pilgrim like me there must have been a host of occasions when you have found yourself standing at the grave of a British airman wondering how he met his end. Aside from so much more information about the air war itself this book will allow you to discover how Lieutenant So-and-so came to grief.
I don't think I can genuinely get across what an immense piece of research this book represents. There is so much to absorb in the form of day-by-day events for the whole war, casualty information regarding combat and accidents for British Commonwealth and American airmen along with a plethora of statistics and analysis. 13,500 casualties are referenced in this new edition and while stats like this might at first glance overwhelm us the book is easy to use and the layout quickly becomes familiar. The addition of much more information on American airmen will extend interest in it for many researchers and enthusiasts in the United States, one of many plus points for an already impressive package. The photograph sections are outstanding.
I have been scanning and digitally restoring images from plate negatives of some of our earliest aviators and among them is the British Army's first air crash casualty, Lieutenant RA Cammell, who died conducting a flight test in 1911. He appears on page 380 in the Accidents Addendum for active squadrons in the UK and Home waters and while he was the first of so many there is something about including him here I find entirely appropriate.
At Regina Trench on the Somme you will find the graveof 1stLt Ervin D Shaw of the US Air Service who died piloting a 48 Squadron RAF Bristol F2B along with his British gunner Sgt Tom Smith, who is buried with him. The author tells us they were on a recce patrol when they ran into three Pfalz fighters and were probably shot down by Leutnant Otto Konnecke of Jasta 5. This level of information allows us to expand what we know and a quick few taps on a keyboard revealshe finished the war with thirty-five victories and went on to help with the foundation of both Lufthansa and the Luftwaffe.
I happened to be visiting Regina Trench while one of Tom Smith's descendants was there, the first visitor from his family ever to have done so. All the text and stats in the world shrink intoinsignificance in the face of such a memory when names on a headstone become real people. The author never loses sight of this and reminds us:
None sought for themselves
this debt of remembrance.
And they are all gone.
Every one.
A great deal of coverage of the centenary of the Great War has been awash with a sentimentality the purveyors no doubt believe has an authenticity the men who fought it would appreciate. Books like this help redress the balance and show that the true cost in lives and treasure (there is a section on the cost of airframes and aero-engines) has nothing to do with the images created by supermarket commercials, poetry or all the other one dimensional stuff knocking about. To be fair, I can't balance this by saying you will find the whole truth in that book by Duncan Grinnell-Milne, you won't. He sanitised the war for his audience, knowing what they would not accept in equal measure to what he chose to forget so he left a great deal out. These days we demand to know everything and then, as now, the devil is in the detail.
You don't have to visit cemeteries on chilly autumnal days to appreciate the air war for what it was.  But you should do it in conjunction with reading first hand accounts and some of the excellent histories a number of authors have produced. The foundation of all these newer books is research from a variety of sources. While he tells us he has surpassed the first edition of this book, Trevor Henshaw reminds us that for all his huge effort he is reliant on the work done by others before him. That work goes on. But this book represents a milestone as far as I can tell based on its very breadth and authority. The result is a single volume that allows us to quite literally put flesh on the bones of an airman and for me it is gold dust.
Peter Hart said I would not regret having this book and he is spot on. I don't think I have ever seen anything like it and the potential for using it for years to come is plain. My late father was a soccer statistician who built up forty years of information that turned up occasionally in various books of his era. Although he did it for fun and beer money, he would love this book for what it represents in terms of passion and immense discipline and while I agree with that, it is the people it brings to life that matter most. In a few lines for each of them, Mr Henshaw tells us how so many died and of others who lived to fight another day. No frills, no schmaltz, just facts. No one with an interest in the Great War in the air can afford to be without it.
Reviewed by Mark Barnes for War History Online
THE SKY THEIR BATTLEFIELD II
By Trevor Henshaw
Fetubi Books
ISBN: 978-0-9929771-1-5 (softback)
ISBN: 978-0-9929771-0-8 (hardback)
Available from various outlets including www.crossandcockade.com
To learn more visit www.theskytheirbattlefield2.com