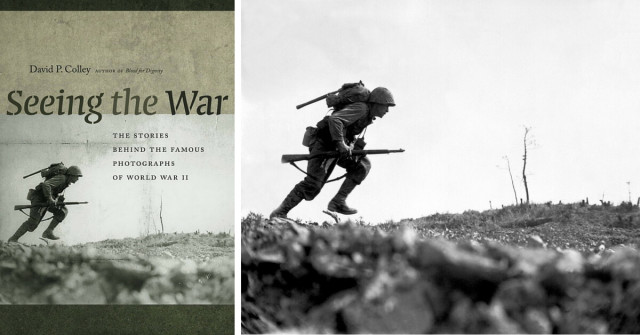 I happen to know a bit about war photography and it will come as no surprise that I really like this book by David P Colley. The vast majority of stories here are about images and people from the United States but this does not mean it won't appeal to an audience beyond the USA. The author knows that another war was there, but he clearly adheres to the sensible mantra – write what you know – and he certainly understands his domestic audience where pride in the achievements and courage of ordinary Americans is as strong as ever.
Mr Colley looks at a wide range of photographs and artworks to tell the stories of the people they show along with those of some of the snappers and artists who made them. He has picked out a number of people whose reputations have travelled much farther than the relative confines of the United States and he introduces us to many others less well known beyond America's shores. I like the idea of taking people frozen in time and making them much more substantial.
We meet a succession of soldiers, sailors, marines and airmen who achieved lasting greatness or just enjoyed their fifteen minutes and a place in the sun. Not all the stories end well and this surely is representative of the armed forces of World War II as a whole. Happily I only noted one use of the term Greatest Generation. As much as I wholeheartedly respect it, the term is sometimes over used and I don't ever want it to become diluted. Thankfully, Mr Colley seems to understand my point of view already!
Despite the premise, the use of archive photography is really understated and this harps back to my point about freezing moments in time. Mr Colley insures his subjects are not made into one-dimensional caricatures of their true selves. He does them justice by letting them become bigger than just a photograph, however dramatic, and this aspect is vital to making this book believable.
The text is easy to read and cracks along at a breathless pace. I managed to complete the book in a day's commuting to and from London but, yes, it is perfect to dip in and out of. The book also makes for a useful reference aid for historians collecting stories and facts for something bigger. It seems to me that there is an abundance of this sort of work at the moment and my response is entirely positive.
This is a very tidy and wholly professional piece of work executed by an experienced and confident author. He buys in to his subjects and this makes the end project much more sincere, more real and more satisfying. Some books feel like an exercise to me, and this one is much more genuine than others I have seen and I detect an honest pride and interest in the people the author writes about.
That this project was a bit of a slow burner for Mr Colley should not be a surprise. I fully understand the need for patience and appreciate that while the history game has been invigorated by the innovation of web-based research tools they don't have all the answers. Many people from a younger audience might assume everything is on the web these days but despite powerful search engines and other weapons available to us some people and events will just not be found and other more traditional methods become essential. The author knows how to do research using methods old and new and it pays off for him in a big way with this book.
Despite it's quiet presentation, the photography is adeptly handled and the range of images is excellent. Some stories are bigger than others but they dovetail together nicely. Mr Colley has produced something a bit different and I salute him for finding an alternative route through an overcrowded market of World War II history. Any books that expand my knowledge of the photographers and pictures of that era will always find a welcome slot in my library and I commend this book to the house.
Reviewed by Mark Barnes for War History Online.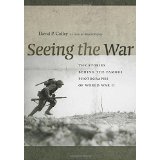 SEEING THE WAR
The Stories Behind the Famous Photographs of World War II
ForeEdge
ISBN: 978 1 61168 726 2