Major-General Orde Charles Wingate, DSO, & Two Bars has been the subject of a lot of ink since his B-25 came down in an electrical storm seventy years ago on 24th March 1944. He is best remembered for his leadership of the Chindits, the long range force he led on two major penetrations deep into the Burmese jungle to attack the Japanese. These missions met with mixed success, but his offensive spirit and singular way of doing things proved deeply attractive to the British media and establishment who had lived on a diet of defeat by the Japanese and now had something to celebrate.
Wingate began his controversial career in between the wars Palestine leading parties of British troops and Jewish settlers against Arab insurgents during a never-ending cycle of violence in the Mandate. His tactics and uncompromising Zionism (although he was a devout Christian) created mixed feelings and his next port of call in Ethiopia fighting the Italians gained him friends and enemies in high places and many more lower down the food chain. He continues to divide opinion and is the subject of a degree of mythology. Some build for him a position as one of the fathers of special forces, while for others he was nothing more than a nut job.
Dr Simon Anglim uses his longstanding interest in insurgencies and covert operations to look deep into the methods Wingate developed to see what, if anything, can be genuinely attributed to this most enigmatic man.
I found this to be a challenging but absorbing read. The author is quick to disabuse any notions he is writing an autobiography and, indeed, this book is made up entirely with a detailed analysis of the thoughts, methods and actions of Wingate the soldier. His singular personality, warts and all, must inevitably have influence on his affairs but the author is at pains to isolate his military philosophy from other passions.
We are treated to what I take to be a passionately dispassionate journey through Wingate's time from Palestine to Ethiopia and to the finale in Burma. I see Wingate as hard to like, contradictory and just too self-possessed for his own good. He seems to be stubborn and remorseless and the telling of his military life might just wear you down. But, Mr Anglim knows his man and, more importantly has a full grasp on context. He can deconstruct the myths and the facts with a surgeon-like skill. So much so you will barely notice the rapid removal of your spleen.
For me the most telling aspect is the disturbingly clinical use of comparisons with modern day Iraq and Afghanistan in addition to recalling insurgencies in Ireland, the Oman and a raft of relevant hotspots. It helps the reader get a grip on modern treatments of old conundrums. The result is wonderfully sharp. There is a brutalism allowing us to assess Wingate in our image while shoveling myth and bullshit aside.
There are some ironies. For instance, Wingate had no truck with special forces but he is often painted as a kind of mystic pioneer of them. There are corrections. His ideas on air supply and communications were far from his own and others were way ahead of him in experimenting with what would prove to be battle-winning tools. It was convenient for dreamers like Churchill and others dining out on vicarious connections to build him up as a kind of prophet but they soon tired of Wingate's intense personality. The author squarely tramples on all that jazz allowing voices from the time fostering varying agendas to give us their appreciation. The majority are negative but he retained his fans who never failed him years after the war.
Wingate's Chindits have earned their place in the Pantheon whatever any author says today. They were plucky, rarely lucky and in the end their sacrifices struggle to confirm any long lasting strategic success. What they did do was show that Europeans could fight and beat the Japanese in the jungle. The impact of this was huge but the point has been overly laboured down the years to the detriment of the men themselves because they fought many enemies; the jungle, hostile locals, jealous staff officers, Joe Stilwell, oh.. and the Japanese.
The Chindits struck a chord and a grateful Britain was thrilled. The ailing empire needed successes at a time when the harm from loss of face was fatal in her eastern possessions. But others, notably Bill Slim, no fan of Wingate, could see a substantial defeat for the Japanese would only be found using forces and firepower conventionally and he was vindicated at Imphal as the tide began to turn.
Wingate will always be a bit of a curate's egg. His fondness for a silly hat, raw onions and an alarm clock instead of a watch are easy targets, but there was so much more to him than a handful of eccentricities. Without doubt he was a fascinating and inventive figure who has had some influence on the way wars are fought today – the point of this book is to cut through the crap and confirm just how much he really achieved and I have to be honest and say it doesn't seem like much. But he had something and after reading this book I still can't say for sure what.
Unusually, he is buried at Arlington National Cemetery in the small British plot. I like to think I may pay my respects to him one day. Simon Anglim has produced a balanced and incisive look at the man and his wars. Like I said, I found the book challenging and it won't be everyone's cup of tea. Just like Wingate.
Reviewed by Mark Barnes for War History Online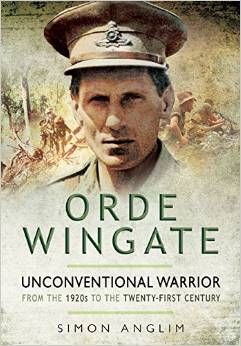 ORDE WINGATE
Unconventional Warrior – From the 1920s to the Twenty-First Century.
By Simon Anglim
Pen & Sword