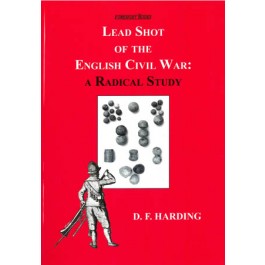 "The core of this book is an intensive analysis of 1,800 projectiles that were fired in practice in a Northamptonshire deer park during the English Civil War."
The book covers several forgotten types of multi-ball load which was intended to improve the chances of an effective hit at a distance, several kinds of elongated shot designed to pierce plate armour at very close range and several forms of distortion that all lead shot can undergo within a gun barrel and on impact which can be very informative to the archaeologist and firearms expert.  As well as munitions evidence found at the training site a skirmish site fifteen miles away at Wood Burcote yielded all of the same types of unusual shot.  This time the munitions had been used in action.
On the face of it this is a book for those who are interested in antique firearms and their uses in the English Civil Wars.  It is highly technical and detailed in its approach.  However, speaking as a Great War historian with more than a passing interest in the Civil Wars it is a fascinating and thought provoking read.  The author David Harding is very well placed to undertake this study of the spent munitions discovered by the painstaking work of archaeologists Peter Woods and Roy Turland. David Harding's experience as a British Army soldier and small arms expert are vital to the research.
Historians like me naturally tend to examine the skirmishes, battles and sieges of the civil wars, sensibly using the written accounts of the time.  Where archaeological information is available we tend to use the data to fix the positions of units and stages of engagements rather than asking questions of the individual objects found on the site.  David Harding's approach is to examine the spent munitions themselves. By doing so he has uncovered munitions that have either been forgotten or not even recorded.  His findings, after examining the small arms munitions that the archaeologists have found sheds new light upon these munitions, the weapons and the men who used them in combat.
David Harding does make the case that different branches of historical research into the same subject often fail to take each other's findings and conclusions into account.  He is absolutely correct.  All too often we historians ignore the work of our colleagues from other disciplines.  This book seeks to redress that balance.
That there were training exercises for civil war soldiers and cavalry troopers is often over looked although it should not be.  Wherever there are armies training takes place.  In civil war terms training in the early days of the conflict can take on a poor connotation.  The Trained Bands of the early days were not always 'trained', some were almost untrained.  Their training differed in quality and content depending upon their geographical location and in modern, regular army terms there is that all too familiar smell of the 'Saturdays and Sundays' about them, which is unfair to the TA and was probably unfair to some of the Trained Bands.
This Northampton site that has yielded the spent munitions appears to have been a temporary training ground, used just once.  It begs the questions are there other training sites and were there any permanent training areas available to both sides? If that is the case then these sites are waiting to be discovered by archaeologists and metal detectorists.
The conclusion that the site was used by a troop or two troops of Parliamentarian Horse is compelling and the arguments are valid and logical.  However, one would add that as the war progressed, cavalry regiments on both sides were often vastly under strength because of the high maintenance costs.  Often regiments could be as small as two troops in number.  The theoretical strength for a cavalry regiment was some 500 troopers but some regiments only mustered about 100 men.  This training area could have been the training ground for a regiment.  This historian would be interested to know the size and composition of the cavalry units for the local area.  It could have been the training ground used before a local unit went off to fight a major battle.  Civil War cavalry men were often already accomplished riders and many rode to the hunt, they were used to riding over uneven and through rough, tangled terrain at speed.  Horsemanship was not usually an issue with troopers, using firearms and discipline often was.  Perhaps our troopers from the deer park were not only learning to use their weapons but also learning fire discipline as a unit as well.
We should not be surprised that our military forebears experimented with weapons and projectiles, nor should we be surprised that there was research into armour piercing rounds.  Archers had been doing that kind of research and development for years, why would firearms men abandon that line of enquiry while still faced by targets in armour?
In conclusion, David Harding's book is excellent and it should grace the book shelves of those who are interested in antique firearms but more importantly it should feature on the shelves of those who read about and research the English Civil Wars.  It is one of those books that should and given time will, change the views of Civil war Historians and push our knowledge and understanding of that conflict in the right direction.
Reviewed by Dr Wayne Osborne for War History Online
LEADSHOT OF THE ENGLISH CIVIL WAR: A RADICAL STUDY
By DF Harding
Foresight Books
ISBN 978 0 9530853 6 1
We are pleased to welcome historian Dr Wayne Osborne to our regular team of reviewers and look forward to many more contributions from him.