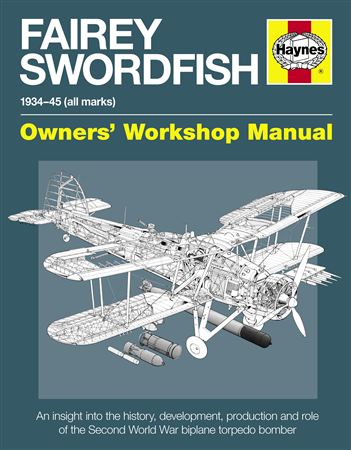 Craig, if you're reading this you may remember the day in 1964 when I sat on your model of a Fairey Swordfish at your mum's house in Hartlepool. There ends my association with the much-loved Stringbag of World War II. But there were occasions seeing the real thing ambling across the sky when the RN Historic Flight appeared at Biggin Hill and other air shows. I think we even had them over the seafront at Southend when I was a younger me.
The Swordfish is pretty much always just there. It's not pretty and it isn't clever. It isn't shiny or modern. It looks almost straight out of World War I, but the Swordfish was one of the most successful and glorious torpedo bombers of World War II. Happily a number survive and helped provide the detail for this excellent book by Jim Humberstone.
This is the plane that smashed the Italian fleet at Taranto and mortally wounded the Bismarck. It is the plane Eugene Esmonde flew to immortality attacking the Scharnhorst and Gneisenau during the Channel Dash, eliciting honourable praise from the enemy for him and his crews, all of whom were shot down. At Taranto the Swordfish sent dire warning of things to come to the oblivious admirals at Pearl Harbor and the little dinosaur Tom Phillips leading Repulse and Prince of Wales to disaster. There are many more examples. The Swordfish was an adept U-Boat killer.
It's fair to say that the record of the Fairey Swordfish is often shrouded in a strong sense of disbelief that a lumbering biplane could be so lethal to ships.
It doesn't make any sense when compared with the best of it's peers built in the USA and Japan. But it worked very well.
As ever with these manuals this is as much a history book as it is a technical dissection of the aeroplane. The Swordfish is a perfect subject for this range because it fulfilled a number of roles and enjoyed a long-ish service life beyond the heroics. It is a plane that has character and oozes history. The technical element allows us to see it's construction and here we realise how sturdy and practical it was as a platform for launching torpedoes despite all the obvious disadvantages in the face of modern anti-aircraft weaponry and much quicker defensive aircraft.
The easy part of these reviews is looking at the fabric of the book itself. The quality of the text and the illustrations are up to the usual high standard and it all meshes well with previous outings. As an occasionally embarrassed techno-dunce I always find the restoration images fascinating. There is never anything flimsy about these books and this volume pulls out all the stops.
I have to say I found it much easier volume to get into than the F-16 book I looked at last time. I suspect this a simple issue of familiarity. In a sense, I grew up with the Swordfish whereas modern jets are a bit of a mystery. I was looking at a stripped down F-15 this week and although it is impressive in every sense it does nothing for me compared to a P-40 or Sea Fury.It might be an age thing.
Craig's models propelled me into a lifelong love of aeroplanes and this helped push me towards military history. What British kid of the 1960s who knew of Spitfires and Hurricanes would not want to know about the Battle of Britain and all the other aviation history that surrounds us? The Swordfish is part of all that.
You can catch them in the classic Sink the Bismarckperennially on a TV channel somewhere as I write or you might see one in a museum in Somerset, Texas or Nova Scotia. You might stand there marvelling at how this pile of string and bits flew in at wave top height to cripple mighty warships and ask yourself How did they do that?This book cannot give you a complete answer, perhaps only the men who flew them could do that, but it will give what it says on the cover; insight. You can't knock that.
Reviewed by Mark Barnes for War History Online.
FAIREY SWORDFISH 1934-45 (all marks) OWNERS' WORKSHOP MANUAL
An insight into the history, development, production and role of the Second World War biplane torpedo bomber
By Jim Humberstone
Haynes Publishing
ISBN: 978 0 85733 362 9