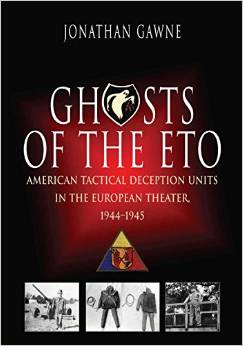 A good while ago I reviewed Rick Stroud's wonderful The Phantom Army of Alamein. Still one of my favourite military history books it is crammed with amazing stories and characters some of whom make an appearance in the early part of this book. If you were wondering what the Americans were doing on a par with the chaps gadding about in the blue then this book by Jonathan Gawne willanswer your questions.
This is the at times extraordinary tale of the 23rd Headquarters Special Troops, a unit of phantoms operating deception techniques against the Germans during the North West Europe campaign of 1944/45.
The story takes us through the development of the unit via their arrival in the ETO and on to a string of operations before the end of the war. We hear about all manner of subterfuge using inflatable dummy weaponry, camouflage, wireless message trickery, sound effects broadcasts and the sleight of hand movement of fake units hither and thither to replicate the activities of genuine formations. There is a touch of genius to all of this and when we consider the logistical and geographical challenges, the work done by this elusive unit comes across as outstanding.
MV lovers will delight in the appearance of M3 half-tracks and, latterly, M10 tank destroyers used in the role of sonic cars fitted with huge speaker systems to relay soundtracks of vehicle movements. Other tricks are made using pyrotechnics to fake artillery barrages and there is so much more.
The big question to be asked is whether any of this effort had any impact. The short answer is yes, some – but the author wisely leaves it to accounts of a succession of operations for us to assess the swings and roundabouts of it all. We learn a little about General George S Patton and his approval of deception techniques. At the close of the book the author offers a few theories on Patton's much publicised transgressions and it's fair to say he is giving us something of a conspiracy theory in that regard, without taking the leap into actively promoting it. I found his points to be entirely plausible, but then I am a Patton fan and like the idea of him getting up to tricks for the good of the war effort.
This is a solid history brimming with interesting accounts populated by gifted and fascinating people. What I like most is that someone has been able to write a substantial book on the Americans in Europe that actually tells me something new and different. I'll be honest and say I found reading of each operation in turn was not the easiest of pleasures, but please don't let this detract from my otherwise complete support for the book.  A good thing about predominantly episodic books is you can put them down every so often and go back when ready.
So, I am pleased to recommend this book to you. There is a lot of stuff here that genuinely fascinated me. The ingenuity of the soldiers running the program of deception was really top class. As with a number of other cases, the men of the 23rd who came home victorious in 1945 could not discuss their adventures at all and this was bound to create difficulties for some of them. The old line "What did you do in the war, daddy?" could elicit all manner of bottom lip bighting embarrassment. But the men who feature in this book have nothing to fear. They are a top class bunch and they did their bit.
This book offers fascinating stuff presented with excellent photos. The author has really done his research and pretty much admits he is not finished. Hard to locate wartime files have impacted a tiny amount on the finished article and he makes that clear. Good on him. I do like a bullshit free book.  Give it a go.
Reviewed by Mark Barnes for War History Online.
GHOSTS OF THE ETO
American Tactical Deception Units in the European Theater 1944-1945
By Jonathan Gawne
Casemate Publishers
ISBN: 978 -1-61200-250-7