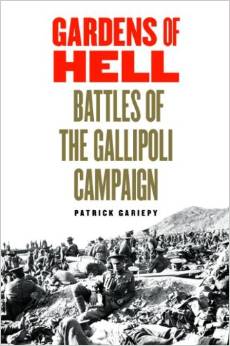 I am not going to be smug about anything to do with Gallipoli. I visited the battlefield for the first time last September and had one of the best weeks of my life being guided around by my chum Peter Hart and his band of brigands. It was there I had the pleasure of cajoling the good Doctor Wayne Osborne into writing for War History Online after we had enjoyed several cold Efes and some sort of burnt meat with chips. The Turkish people and their country had a hugely positive impact on me, just as they have with many travellers.
I have read many Gallipoli related books and have, of course, seen the entertaining but misrepresentative film by Peter Weir. The author picks up on problems with the film in his book and his assessments set the tone for what is a thoroughly good read written with passion. Naturally, I have read Peter Hart's history of the campaign and I am generally biased in favour of it. I read one book about the campaign that was so bad I do not know how it got into print and excerpts from Gallipoli spring up in many an account of the miserable year that was 1915.  To be fair a book without them would be just a little odd.
The story of Gallipoli has a personal link for me because my grandfather served on the old battleship HMS Canopus and from his naval records I have worked out he spent some time involved with the lighters and Beetles the British used to transport men, livestock and equipment to and from the peninsular. I experienced a strong connection with him knowing I had looked out on the same views he knew and felt the same sun. It was much the same walking around the tragic wrecks on the beach at Bray Dunes were he took part in the Dunkirk evacuation in the next war.
I love the title Patrick Gariepy chose for this book because it is so apt. These days much of the former battlefield is heavily overgrown, but the men who served in it knew all about the scrub and, sadly, what it could do when it caught alight. The Gallipoli peninsular is a beautiful place filled with ghosts and all that stuff some historians eschew and others soak up. I am not much of a romantic, but the place had an effect on me few others have and I would compare it to a late evening walk along the German Railway at Veghel on the site of the 327th Glider Infantry's Market Garden LZs and on the site of the Schwaben Redoubt, where on a particular birthday weekend I drove my old MUTT down a farm track on a sublimely beautiful afternoon accompanied by my son and our dear friends.
From his book it is quickly apparent that the author did a lot of reading and research in the twenty odd years he was immersed in the campaign.  He has covered all the major events and supported his accounts with many contemporary witnesses whose picture painting is especially vivid.  The text rattles along at a good pace and I think I can detect some of the literary influences the author enjoyed. He is a good writer and he clearly loves his subject.
The story of the campaign is generally well known, with the strategic folly of the armchair general Winston Churchill setting off a train of events which saw an ineptly led and poorly provisioned campaign end in utter defeat. The author makes a clever device of accentuating the importance of the humble private soldier in the way he involves the high command in charge. Both Sir Ian Hamilton and the lamentable Frederick Stopford are as cyphers of their real selves, intentionally diminished to leave a negligible mark on the story despite their central roles in it.  In my day job as a photo archivist I have seen the index cards for long since destroyed glass plate negatives listing the many parties held annually for Hamilton by his admirers and apologists well into his old age. He lived a long life and died in 1947. There is no question his comfortable longevity is a source of disappointment for many, regardless of his solid, even valorous pre WW1 reputation when he should probably have got one of the two Victoria Crosses he was nominated for.
Someone for whom the author's antipathy does not allow any shade from an accusing glare is Aylmer Hunter-Weston, a general I know some people really loathe to this day and one in particular finds pleasure in his death following a fall from a turret on his house. It wasn't a great way to go, but his performance at Gallipoli and later on the Western Front do not garner much empathy in our times.
Mr Gariepy finds a good balance with his telling of the campaign experience of the Allied participants finding just the right split between the British and Anzacs. Nor does he forget the French, like so many people do, or the Indians. Turkish accounts are less common and the book does follow the fairly typical line of leaving them as something of an enigma although they were very real, very dangerous and often just as very dead in large numbers as the attackers. One cannot fail to have immense admiration for the Turkish soldier. He was defending his homeland from an invader, he did it well and he paid a heavy price. Not for nothing are the men who died at Gallipoli treated as martyrs in modern Turkey.
Mr Gariepy chooses to illustrate the abject folly of the campaign with a look at the demise of the 1/4th Norfolks, a battalion of New Army soldiers that included a company of workers from King George V's Sandringham estate. While I am not convinced of his treatment of the king, the thrust of his argument makes a lot of sense. The demise of this battalion has been the subject of all kinds of nonsense down the years and I even remember a book that claimed the men were taken by aliens shrouded in some sort of ghostly fog. The truth is far less stunning and has no element of the supernatural. The battalion attacked Turkish positions and far too many untried men pushed ahead beyond the boundaries they were set. These men were simply isolated and wiped out by the Turks and like thousands of others they faded away in burning summers and torrential winters in the intervening years before a pattern of serious burials could take place. It was tragic and it was futile, summing up everything about the campaign.
The book is brimming with detail and while I have said I have read what I would say are better books please don't take this as a criticism. This is enjoyable history as it should be and the net effect should always be to encourage the reader to delve deeper and learn more, no matter where from. I do not hesitate to recommend it. The author has found a very simple way to tell a complicated story with a great deal of style.
This is the second book by an author whose work is published posthumously that I have read in recent times and I hope that wherever he is Patrick Gariepy, a soldier himself; is pleased with the result. While there is an inevitable unfinished feel to the manuscript, with odd details I imagine he would have tidied up, these are purely a presentational issue and his writing stands up for itself.  He was clearly devoted to the Gallipoli campaign and has done the men who fought it proud. I doubt he could have hoped for anything less. Sleep well Pat. Job done.
Reviewed by Mark Barnes for War History Online.
GARDENS OF HELL
Battles of the Gallipoli Campaign
By Patrick Gariepy
Potomac Books, 2014.
University of Nebraska Press
ISBN:978-1-61234-683-0