If you're looking for a couple of books that are both informative and entertaining, look no further than this first class duo from Haynes Publishing. We have been here before where I have explained something of the history of Haynes as a publisher of car and motorcycle maintenance manuals, so we can skip all the frothy stuff and get down to business.
First up we have Jonathan Falconer's delve into the life of the Junkers Ju 87 Stuka, perhaps one of the best-known aircraft to take to the skies and without doubt a signature icon of the Second World War. Think Blitzkrieg; think Stuka. Nuff said.
Haynes have previously published volumes featuring subjects where the suffix Owners' Workshop Manual is placed with tongue firmly in cheek and this one is no different. The most complete surviving example of the Ju 87is to be found in London, while another with more bits missing is on display in Chicago – and that's your lot. A few have been plucked from the sea but they are nowhere near being in one piece. Over five and a half thousand Stukas were built and the paltry remains can only be assessed as disappointing.
This volume follows the traditional path of looking at the development and service history of the aircraft before going deeper to look at how it was built and what it was like to fly and maintain. This isn't Mr Falconer's first rodeo – he has written a number of volumes in the Haynes range, and there is an assurance to this book I really like.
The operational history forms the bulk of the narrative, drawing on the records of a number of aircrew, including Helmuth Bode and the fearless Hans-Ulrich Rudel, perhaps the most famous Stuka pilot of them all. There is mention of the Dutch liner Slamat sunk during the Allied evacuation of Greece in 1941; an event recalled by my late father-in-law whose own ship came under sustained attack by dive-bombers. He talked of the bravery of two Indian Lewis gunners firing from the bridge and the scene is easy to picture.
The celebrated British test pilot Eric 'Winkle' Brown gives an account of flying the Stuka and he concludes by admitting how much he enjoyed the experience. Other accounts from German airmen follow before we learn about maintenance. It seems appropriate that a page on the cold start procedure should be in front of me on a wintry day in England where snow has made a rare visit to my hometown. Stuff like this affirms the quality of this book.
I mentioned survivors earlier and we spend some time looking at the London and Chicago examples and see some of the remarkable discoveries made on the seabed. The plane displayed in Britain was one of fifty-nine Stukas captured by the British at the end of World War 2 and the thought of the others going to make razor blades is quite disappointing; but it is what it is. I have seen the plane in question a number of times and have always been impressed by its size. When the Battle of Britain hit our movie screens in 1968 I was enthralled by the Stuka attack scenes, and was not surprised to learn the planes shown were large remote control models. Dinky Toys released a die cast version of the plane at the time and I think mine is somewhere in the loft of my house. It lost a propeller blade somewhere along the way and the cap firing bomb is long gone. Hopefully I will find it as I pack up my house to move later this year.
The Stuka is a stunning aeroplane and this fantastic book by Jonathan Falconer really does it justice. The archive photography is outstanding and the key chapters on how and where the Stuka was used are a great read. I really cannot fault this book and would be so bold to say it is my second best favourite Haynes manual (even more than the one I have for a Renault 5 car) because the book that follows this one pips it to the winner's enclosure by a hair's breadth.
The Stuka book is wonderful and Haynes have produced some great tank books prior to this but the new volume on the T-34 tank by Mark Healy is a straight up masterpiece.
I have to admit to being a lover of the tank and have been so since I built Airfix kits of it over forty years ago. Seeing the trio of Great War tanks lumbering around the arena at Tankfest last summer was a singular joy, but the experience was ever so slightly eclipsed by the appearance of a static but, to me, beautiful T-34/76 loaned from Finland. I have seen a good many running T-34/85s – but the 76 had eluded me and I don't care that it is a non-running example.
This excellent book looks at the history of Soviet tank design and the influence of Vickers and J Walter Christie on decision-making before the Russians settled on what became the T-34 we all know. I was amazed to read how up and down the process of getting the thing into production was and even more so by the variations of the tank running from factory to factory. The fact the author can recognise all these differences should not be written off as an anorak's obsession. These differences had nothing to do with aesthetics and the background to the variations, however small, are fully explained.
There is a lot of sloganeering attached to the T-34 about its place in the tank pantheon and I am guilty myself of describing it as a war winning weapon in a book I have written – a point that may seem shallow – but however topsy-turvy the T34 story really is, in simplistic terms it was very much a decisive weapon and we know from various sources that it's design had a great influence on the Germans.
Mr Healy guides us through the labyrinthine history of the tank, (I might say a tortuous history), with real authority and style. I was never going to claim to having an in depth knowledge of any of this, but I quickly realised the little I did know was a drop in the ocean compared to the amount of information in this book.
Once again we are treated to an excellent range of archive photographs and the use of recent images of both the T-34 and other Soviet era tanks on display in Russia adds to an already impressive package. The author dissects the tank to give us a warts and all autopsy. His enthusiasm for the subject shines through the pages and it is possible to detect a hint of glee that T-34s are still found in use at odd spots around the globe.
One of the highlights of my professional photography career amid the world of tanks was seeing a column of four lumbering around a dusty oval probably a decade ago. I can remember thinking my job would never get any better than that day. For all its rough edges, the T-34 really does have something magical about it. When I edited the print magazine that preceded War History Online one of the highlights was getting to use a set of images of one pacing around woodland in the south of England after heavy snow fall. Put a few Brits together and they will always talk about the weather but I would much prefer talking about tanks and the T34 is high up my list of favourites.
Seriously guys, if you have a strong interest in tanks you really have to get yourself a copy of this fantastic book. Model makers will find it especially useful. I follow a Facebook page for the Sherman tank where devotees show an immense amount of knowledge about the M4, but you will find equal if not greater wisdom on the T34 here. It shows that there is still a place for books in the Internet age and, for me, this is a really good thing.
As a pair, the T-34 and the Stuka are emblematic of a conflict that continues to fascinate a huge number of people. If you want to get into the guts of genuinely iconic military hardware then look no further than the work of Messrs Falconer and Healy. If Haynes find a way of bettering these two offerings I will be both pleased and surprised.
Reviewed by Mark Barnes for War History Online.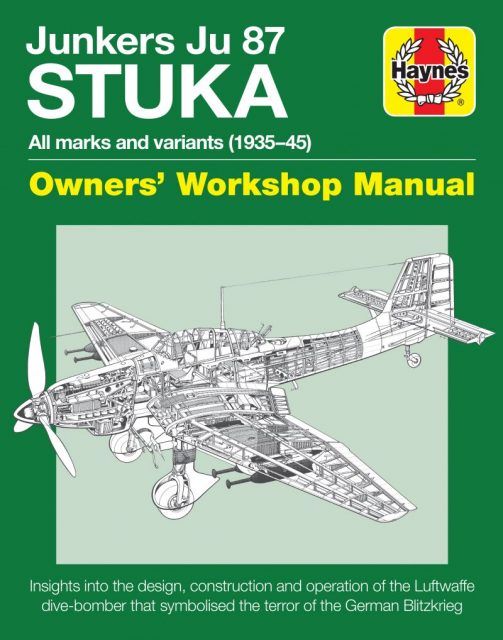 JUNKERS Ju87 STUKA
All marks and variants (1935-45)
By Jonathan Falconer
Haynes Publishing
ISBN: 978 1 78521 141 6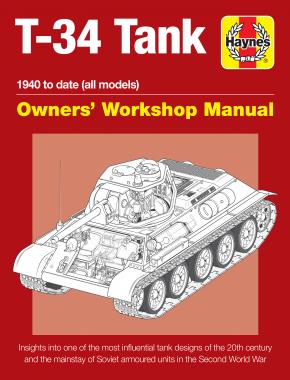 T-34 TANK
1940 to date (all models)
By Mark Healy
Haynes Publishing
ISBN: 978 1 78521 094 5