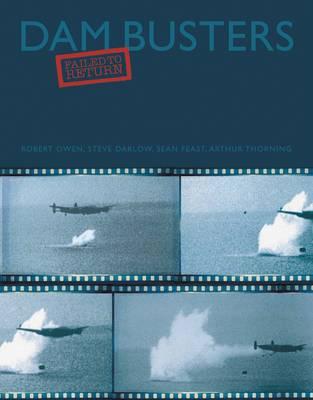 DAM BUSTERS – FAILED TO RETURN
By Robert Owen, Steve Darlow, Sean Feast and Arthur Thorning
Fighting High
ISBN: 978 0 9571163 4 4
Hands up those who haven't heard of the Dam Busters? Yep, thought so. There was an episode of the Antiques Roadshow on the telly over Christmas and one of the items featured was a commemorative oar blade and one of the names on it was Melvin Young, Dinghy to his chums, who died on that illustrious night on 16/17th May, 1943 on the flight home from the dams. What a find! It must be worth a fortune… except it turned out to be a prop from the much loved Dambusters movie. Everyone agreed it was still a classic find and who wouldn't want that on their wall?  No arguments there.
Around the same time the movie was also on the BBC's morning news. There was to be a reunion of the musicians of the RAF band who had played Eric Coates' stirring march on the film soundtrack. They got a little group of them in to talk about it and try as they might the presenters couldn't get a shallow comment out of one of the old fellows. They were serious musicians, some had gone on to play in symphony orchestras and they wanted to talk about Coates and his music and what it meant. It wasn't trivia; it wasn't just any old tune. It was very special. Just like the real story the movie is a multifaceted thing.
The Dam Busters are omnipresent and will never go away. As said, the film helps – but tiptoe out of the shallow end of the pool and you will find the real men and their endeavour is something even more exceptional. Many of them are copper plated legends and we really don't need to repeat their story here. So why do we need another book on the subject? This one is a bit different, because while the raid is discussed in some detail the main thrust here is to look at the men who didn't come home. They were heroes, too.
This is the second book from Fighting High I have reviewed and I have to say I like their style. The books are team efforts and they give the impression of a bunch of mates on a battlefield tour setting down what they have learned and what it means to them. They really care. There is a quality to them that stands out and the formula they have developed is an absolute winner.
The presentation of archive material really works thanks to the highest quality copying that bring documents and all manner of souvenirs to life. But, for me, the thing that stands out is the photography. Watery sunshine lights up cemeteries and the gloom of murky winter days creeps across landscapes. It is the sort of weather I do most of my battlefield touring in and I readily identify with the whole thing.
These guys love and respect their chosen subject and want to share it with you. The books aren't rushed and you don't have to be hasty when reading them. They glide along on a steady course, everything measured and done for a reason. They come across as much more than the money making exercises a lot of books appear to represent.
The lives of Vernon Byers, Bill Astell DFC, Tony Burcher DFM, John Fraser, Robert Urquhart DFC and Melvin Young DFC and Bar are perhaps relatively small beer in a war that involved and regularly killed thousands of airmen of the British Commonwealth. But we can't know all their stories and it is so important that some of these men can be remembered in detail as a kind of talisman for all the others. The Dams Raid didn't win the war and other remarkable feats were performed. But through it, the whole endeavour has a fixed point we can all keep in focus.
Out in New Zealand the Lancs are built and the script by Stephen Fry is said to be ready. Once he's done with Hobbits fighting evil, Peter Jackson will turn to the story from the real world that absorbs him and the Dam Busters will fly on screen once more. Let's hope that the love and respect found in the pages of this book is mimicked in the cinema and legends of our era, just a few of whom are still living, will be cast in stone anew.