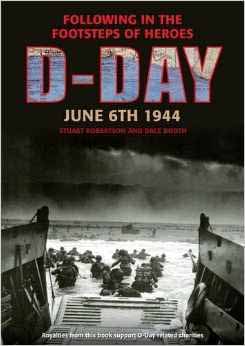 This summer's commemoration in Normandy may well be the last of the kind we've seen in modern times. As the decades since the momentous events of 1944 mount up and the veterans fade away the distance between us mere mortals and our heroes widens. Some recent departures have caused a torrent of outpourings on wings of the social media with some contributors reacting like they had lost close personal friends. I wonder what the veterans themselves make of all this? I won't be going to Normandy this summer. I am sure it will be an experience and I wish everyone the best of days.
For me, battlefield visits are best made in the quiet times when the circus has left town. I like the peace of a day out on the ground and in Normandy there is a wealth of potential for it. Having made several trips I am painfully aware of how much I've missed and books like this illustrate the point.
On my previous visits the temptation has always been there to make repeat visits to favourite locations, and, in truth my visits have always included wider interests and keeping my family entertained. Getting off the trail onto what we might call a real battlefield tour is something I have to do one of these years and when I do I will be taking this fantastic book with me.
Right from the off you can see it has been written by experienced guides. Much of the text feels like a talking book. This really works. I imagine battlefield guides to be a very particular bunch who are up to their eyebrows in knowledge and just itching to share it, but the art must surely be in what to leave out.  I had a good laugh chatting with some custodians of a Canadian landmark on the Somme and they were always pleasantly surprised when they didn't get the usual bus loads of Brits looking for tea and a wee. My point being, for guides, the out front stuff is surely intense enough in addition to the work preparing a timetable dependant whether it is for a general or more intuitive audience. Everyone wants to see the landmarks but there is always a bunch who want to delve deeper.
Finding this balance for a book which might have you wondering if we need another  Normandy guide will not have been as straightforward as it might seem. But the authors have found a lot to tell us; shown a clear passion and reverence for their subject and aimed high to make something a bit different. Familiar and new stories dovetail into a seamless essay recalling the Day of Days. The references to classic books and a wider knowledge of a crowded military tapestry really appealed to me. The aim is to make you want to see the whole battlefield, not just the bits that match your national flag. Once you've read it all you might just reconnect with the realisation that all this happened on just one day. Thousands more stories were yet to be told.
The authors set out to reset the defaults on some hackneyed assessments of particular actions and they do this by walking a straight path through the minefields of national bias and prejudice. The Normandy Campaign, like so many others in history is no stranger to misrepresentation and filibuster. It happens. The more clarity which can be brought to a history the better and a good stab at it has been achieved here.
The fundamental success of this book is it is based firmly on people, not machines or grand strategies. They were ordinary blokes, not superheroes. They faced an extraordinary challenge most of us will never get a sniff at. They came home and got on with the stuff that builds and now many have passed out of sight a tendency to make stars of the survivors is surely entirely at odds with everything they stood for. In this book the men who died stepping from Higgins Boats are as valued as those who lived to tell a stirring tale or had acts of heroism rewarded. The authors make them all count.
So what have I learned? Well, I need to go back to Normandy on a guided battlefield tour. I need to give myself time to do a lot of new things while seeking out old favourites. I need to keep reading.
I find the place retains the same magic it did when I first rocked up in Arromanches in 1975. I will never tire of it. New monuments go up, other things disappear, traffic increases and some of the quiet I like so much seems illusive; but Normandy is a place where the  events of seventy years ago can be brought into sharp focus with ease. This book will help the new visitor cut to the chase and give old hands some thought for revision. Add it to your collection of guide books and histories. One is never enough.
D-DAY JUNE 6TH 1944
Following in the Footsteps of Heroes
By Stuart Robertson and Dale Booth
Sabrestorm Publishing
ISBN; 978 1 78122 004 7
Buy your copy here: www.bookdepository.com