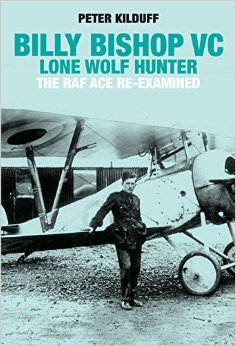 In the annals of the Great War aces Billy Bishop is up there as number two after the Red Baron with seventy-two victories. But almost a century on his position in the league table is far from undisputed. Down the years there have been many questions about the veracity of Bishop's claims, not least for the action that led to him being awarded the Victoria Cross.
This solidly constructed book by Peter Kilduff analyses the career of Canada's greatest ace. The author combines his work pouring over British and German records in addition to the many letters our hero wrote to his beloved wife and family.
There is no doubt Bishop embellished things when he wrote home but this seems all very trivial and, dare I say it, innocent. He had something like a wonderlust for decorations. But being a man of modest means this would appear to be his need to justify himself to his wife's very rich family. Bishop came home the holder of the VC, the DSO and Bar, the Military Cross and the new DFC in addition to French medals.  His combat record is immense and having been sceptical about him on reading this book I found I was less inclined to believe he was a conman.
The author is quick to illustrate that the gaps in British and German records do not in themselves mean our hero was on the fiddle. While British records were fairly indepth, German files are much more inconsistent. Just because there may be no record of a combat loss in German records it does not mean Bishop was lying. On a number of occasions casualty records reveal aircraft were involved in mortal combat and the fact is we will never know for certain if any of Bishop's claims were false. The author describes the use of necrology and here I am admitting it is a new word to me. We live and learn.
For my own part I fail to see why he would fake anything. He was a natural air fighter who was aggressive and cunning. He knew his business and the urge he had to outdo the scores of other Allied pilots offers no obvious connection to him having been a cheat. He wanted glory and he got it. He was unashamed in his pursuit of more and more victories to make him the best at his craft.
In being a top ace, Billy Bishop had found the one thing he could do extremely well when he was at the peak of his powers.  His reputation as a lone wolf is clear for all to see in his combat reports. This aspect alone is what has drawn so much
disquiet over his claims. Bishop was awarded the VC for a solo attack on a German aerodrome on a dark morning and this event more than other is the one that causes concern. There were no British witnesses to his attack and German records are sketchy and his nomination flew in the face of standard procedure. But there was nothing humdrum about William Avery Bishop.
Billy Bishop is one of a small number of men who fired the imagination of the Canadian public at a time when the country was coming out from under Britain's petticoats to reveal a new confident nation. He was the embodiment of the superior colonial warrior to flaunt at an often condescending British establishment. These are all crucial elements to his story. Canada had provided a massive number of men to fight in the war and at a time when that commitment was wobbling with anger at the prospect of conscription, the Ottawa government needed heroes. There is no doubt Billy Bishop was heaven sent.
Peter Kilduff has done a very good job here. The prose isn't electrifying but it gets along at a reasonable pace and is supported by excellent photographs. Grub Street do these aviation histories very well and here's hoping they continue.
Reviewed by Mark Barnes for War History Online
BILLY BISHOP VC
Lone Wolf Hunter
The RAF Ace Re-examined
By Peter Kilduff
Grub Street
ISBN: 978-190980-813-3