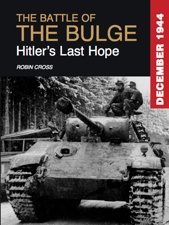 I can't see any point in diving into a discourse on the Battle of the Bulge. The story, including it's iconic elements – Bastogne, Malmedy, Skorzeny'scommandosand so much more have a currency that never falters on the history money markets.
This book by Robin Cross first appeared over ten years ago but as single volume histories go seems to tick all the right boxes. The production is neat and crisp with good care taken with the archive photography. I do like a clean looking book and this is what we have here. Many of the classic Bulgeimages are present and there appears to be no attempt to divert us with anything supposedly new or rare. This is a straightforward no nonsense history that gets the job done with economy and efficiency.
There is an extensive colour section of artwork depicting the weapons of the battle, including a few cutaways of personal weapons, tanks, trucks and aircraft, some in the John Batchelor style. We also get those colour images of soldiery of a type (or indeed the originals – I recognise some, I'm sure) that appeared in the old Blandford Press books and on the pages of instalments of the World War II part works of the 1970s. I cut my teeth on that sort of stuff I will always have affection for it but could not find a credit for the artists in this volume, which is a bit of a shame.
The text cracks along really well and I like the way the author puts things together. I am always keen to see books that would go well with newbies to the military history scene and this book is right up that street for the younger reader in particular. I would have devoured books like this when I was a lad.
So, the general impression is entirely favourable. The book is good value and appears to form part of a series, so the promise of others of a similar quality is all there. Top marks.
THE BATTLE OF THE BULGE
Hitler's Last Hope
By Robin Cross
Amber Books
ISBN: 978 1 78274 136 7