Maybe its just because of where we sit on the atlas but there is no question that the Second World War in Europe dominates a great deal of military history coverage and we think it only right that we do something to redress the balance.
Just like real events, the war against Japan often seems so remote whether it be in the jungles of Burma or in the great island hopping campaigns of the US Marine Corps. With this in mind we are thrilled to announce that the highly respected historian, Dan King, is joining the War History Online Blog squad and we hope he will be able to draw a growing audience of readers keen to immerse themselves in the Pacific War.
In addition to a growing list of film advisory work, Dan has spent many years delving in to the war in the Pacific. Fluent in Japanese, he has spent a long time cultivating links with veterans and doing other important work to help bring out a fuller picture of what events were like for all sides in the conflict.
War History Online co-founder Jack Beckett declares himself to be over the moon with yet another respected historian joining our ever-expanding group of guest bloggers.
Dan King utilizes his unique knowledge of WWII Pacific War history and Japanese language / culture to consult for films, documentaries, plays and books about or involving Japanese history, culture and language. Flags of Our Fathers, Letters from Iwo Jima, The Pacific, Merrill's Marauders to name just a few you can see Dan's massive portfolio by clicking here: Movies and TV Shows and for the gamers, Dan was also the advisor for EA games' "Medal of Honor" series.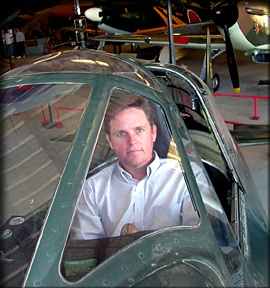 King goes on to say: "Very pleased to be part of the War History Online Blogger team. They have a distinguished line up and it is great to be here. WHO is taking the internet by storm and changing the way things are done and that's exciting".
King's latest book, The Last Zero Fighter, is based on his firsthand interviews with 5 Japanese WWII Naval aviators in their own language. Their experiences include the bombing of the USS Panay at Nanking, Pearl Harbor, Guadalcanal, Midway, Port Darwin, Iwo Jima, the Kamikaze attacks and other historic air battles. (Amazon & Kindle)
Look out for Dan's blogs in the coming months. We are committed to bring you a diverse range of voices from within the world of military history. We hope to bring you more good news in the near future. Stay with us as we continue our mission to bring you the best of our military world on the internet.
Visit Dan's website at
You can also follow Dan on Facebook