While scientific digs are typically conducted by the likes of archaeologists and palaeontologists, there's a war charity that actively looks to get military veterans involved. Since 2015, Waterloo Uncovered has teamed up with former servicemen to offer a one-of-a-kind experience that allows these dedicated soldiers to get their hands dirty via excavations at the site of the Battle of Waterloo.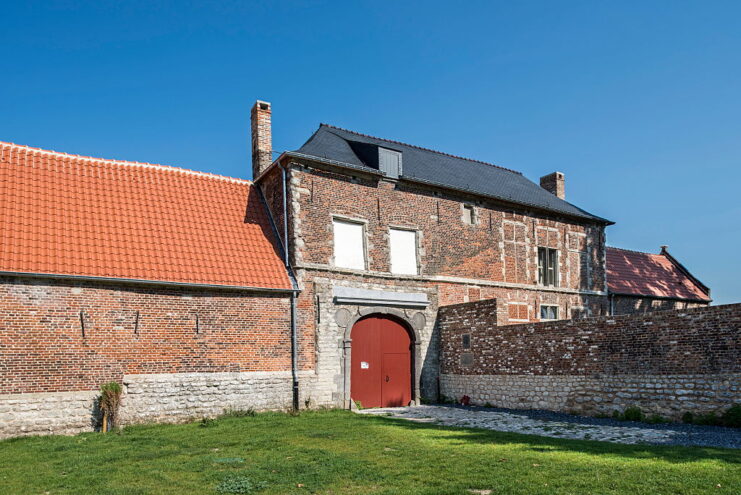 On its website, Waterloo Uncovered, which was founded by Lt. Col. Charlie Foinette and Capt. Mark Evans, describes itself as a "charity that combines a world-class archaeology project on the battlefield of Waterloo with a support program for veterans and the military community." It aims "to understand war and its impact on people – and to educate the public about it."
Each year, the charity holds a two-week dig at Hougoumont Farm in Belgium, which served as one of the sites of the intense fighting that occurred at the Battle of Waterloo. The engagement was found by Napoleon's Army on one side and the Duke of Wellington's Regiment and its allies on the other.
While initially intended to force the Duke of Wellington to move soldiers from areas of more immediate concern, the fighting that took place specifically at Hougoumont saw the involvement of more French troops than British. The Battle of Waterloo ultimately ended in Napoleon's defeat, with him abdicating the throne four days later and sent to live in exile on St. Helena.
The Battle of Waterloo resulted in thousands of casualties; approximately 25,000 French soldiers were either wounded or killed, while the Coalition forces suffering 21,000 injured or dead. Despite the large number of dead, a mass grave has never been found at the site of the engagement. However, Waterloo Uncovered believes it may have now stumbled upon one.
And that's a wrap! There's still plenty more content to come from our 2023 excavation, but for now, we've packed up and backfilled for the summer and are heading home.

Thank you to our incredible 2023 team of veterans, volunteers, students, staff and archaeologists! pic.twitter.com/ej2JI1W6ca

— Waterloo Uncovered (@DigWaterloo) July 13, 2023
While examining the Ferraris map, it was discovered that there used to be a depression in the ground near Hougoumont, in the south woods. This led the charity to begin digging at the site, which allowed them to confirm that the area was once a quarry that could have possibly served as a mass grave for the dead at Waterloo.
Through meticulously digging, the first piece of evidence was found: a French musket flint, which dates back to 1812. According to archaeologists, it's in relatively poor condition, signalling it might have jammed in the heat of battle. Retired Pvt. Clement Boland of 2nd Battalion, The Mercian Regiment says this indicates that the soldier equipped with the weapon likely had to duck down in the middle of the battle to try to get it working again.
Boland was deployed to Afghanistan in 2007 and has since become involved with Waterloo Uncovered. Speaking with British publication The Telegraph, he related the find to his own frontline service, saying:
"I remember modern weapons jamming and what a difficult thing that is under duress. I thought of my own experience, of changing weapons in Afghanistan, and the panic that ensues as you try to fix it while the enemy is rushing to storm that position. I found myself identifying with that panic after seeing the physical signs of them doing things in a rush."
Continued digging at the site has led to additional discoveries, such as pistol balls (indicating close combat), belt buckles and a cannon shot. However, there's no written records of cannons being fired in the area. According to Prof. Tony Pollard from the University of Glasgow, this indicates that a French one was likely shot into the wooded location "to clear it before they sent the troops in."
Dominic Bosquet, the archaeological director of Waterloo Uncovered, is now looking to find out if what they've stumbled upon is a mass grave or something else, like a location where soldiers sought shelter. "We know bullets fell in this hole. We found flint, which means a rifle was here, so soldiers were here."
Pollard adds, "It's really exciting, but it's taken a lot of hard work to get to the point where we can appreciate its implications for our understanding of the battle. What we have done is put back into the landscape of the battle a feature which played a role in it but had previously been lost to the mists of time."
Along with the aforementioned discoveries at the quarry, the veterans and archaeologists conducting excavations with Waterloo Uncovered have unearthed the remnants of a woodland chapel; a World War II-era bullet and anti-aircraft shell; and an axehead that's believed to be thousands of years old. In 2022, skeletal remains were located at nearby Mont-Saint-Jean.
More from us: Remains of German U-boat SM UC-55 Identified Off the Coast of the Shetland Islands
"All these finds are an important addition to our knowledge about the battle," Pollard explained to The Telegraph. "We always want to know as much as we can."