Motts Military Museum in Groveport, Ohio (a suburb of Columbus, Ohio), dedicated the new Vietnam War Dog Team Memorial.
It consists of three black granite panels which are made of granite from the same area of India that provided the granite for the Vietnam Memorial in Washington, D.C. On the panels are inscribed the names of 4,244 dogs that served during the war and 297 names of the dog handlers plus one veterinarian and two vet technicians who died in Vietnam. The middle panel contains the words, "The Unbreakable Bond."
The memorial also includes life-sized statues of Ed Reeves and his dog, Prince. Reeves was a dog handler in Vietnam. Whenever he visits the Vietnam War Memorial in Washington, D.C., he looks at the names of the soldiers who died on September 12, 1970, and on February 14, 1971. He says that if it wasn't for Prince on those two days, his name would be on the monument.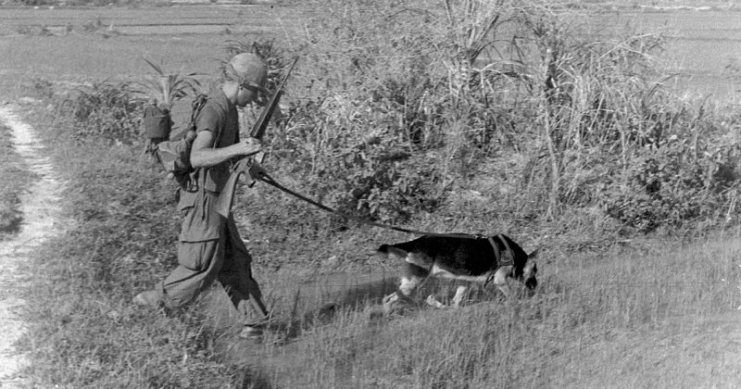 The memorial in Groveport cost $110,000. The granite panels were designed and constructed by Columbus Art Memorial. The sculpture was created by Alan Cottrill, a sculptor from Zanesville, Ohio.
Reeves attended the dedication of the new memorial. Tom King was another handler who attended. He said that only two things kept him going through the difficult time of war, letters from home and time with his dog, Fritz.
Many dog handlers had a difficult time returning from the war. When they finished their tours of duty, their dogs remained behind to work with other handlers. Most of the dogs that survived the war were either euthanized or sent to work for the South Vietnamese Army. Only about 200 of the dogs came home to the US.
The Vietnam Dog Handler Association formed to help these veterans cope with the guilt of leaving their dogs behind. Vice president Ernie Ayala says that it is difficult to think about how these dogs saved their lives and in return the handlers went home and left the dogs behind.
Reeves has volunteered at Motts Military Museum since 2012. He researched what became of his dog, Prince, and published the results in a book he self-published in 2016. The assistant director of the museum, Lori Motts-Byrd, began raising funds in order to build a memorial to the dogs and the men who worked with them. Private donations poured in and a major $50,000 grant from the Ohio Facilities Construction Commission was key in getting the project off the ground.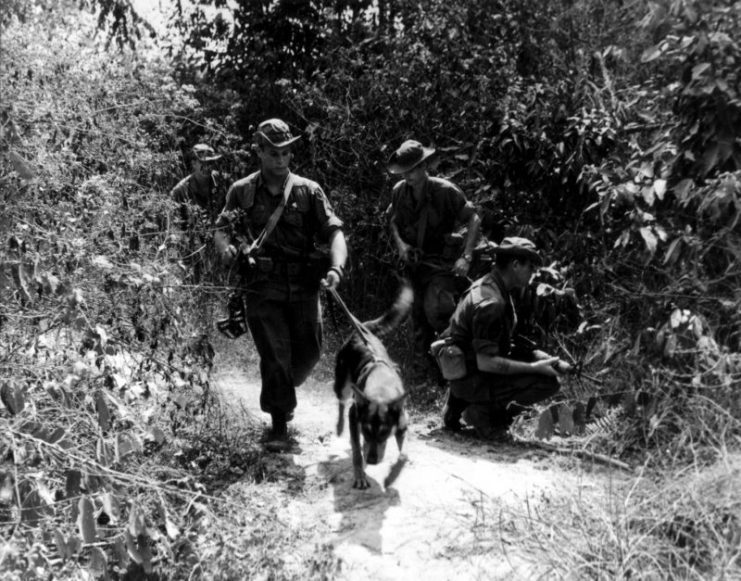 There is a long history of dogs being used in war that stretches back to ancient times. The first that the US authorized the use of training for dogs was in World War II. Dogs were trained as scouts and sentries as well as other duties.
The war dog association believes that as many as 4,900 dogs served in Vietnam but records from the early years of the war are incomplete so it is impossible to say for certain.
King was stationed as a military policeman at Lockbourne Air Force Base (now known as Rickenbacker Air National Guard Base) in Columbus, Ohio, when a commanding officer sent him to be trained as a dog handler. Fritz was trained to be a sentry dog. These dogs were rarely sent into combat. Instead, they were used to patrol the perimeters of military bases.
Fritz and King were shipped to Vietnam in January 1967. When King was sent home in January 1968, he had to leave Fritz behind.
Reeves grew up loving dogs so he volunteered for the opportunity to be a dog handler. He arrived in Vietnam with Prince on September 12, 1970. The two were trained to scout which meant they would go on patrols and search for people, mines and booby traps.
On their first day in Vietnam, they barely survived a firefight with the enemy. Then on February 14, 1971, Prince stopped Reeves as he was about to step over a fallen tree. When Reeves investigated the spot where he nearly stepped, he found an unexploded shell that had been rigged as a mine.
Reeves was sent home in 1971 but Prince stayed behind.
Since then both King and Reeves have been able to see the records of their dogs. King learned that Fritz was euthanized after the war. Reeves found out that Prince had been one of the few dogs that returned to the US. Prince worked in San Diego sniffing for drugs at the border.
Another Article From Us: The Follow-Up to 'Band of Brothers' is Coming
Prince lived to be 15 which makes Reeves happy. The only thing that would make him happier is if he could have brought Prince home himself.