Apple has been growing their empire by moving into the entertainment world. Their latest move is opening their own production studio. The first project announced is a series to be executive produced by Steven Spielberg and Tom Hanks.
The show will be titled Masters of the Air and follows Band of Brothers from 2001 and The Pacific from 2010 which were also produced by the pair.
The show will be a limited drama series and will be available exclusively through Apple's new Apple TV+ streaming service. It is the first series to be self-produced by Apple's new studio.
The series is based on the book of the same name which was written by Donald L. Miller. It is about American bomber crews who flew missions over Germany in World War II.
Band of Brothers and The Pacific both aired on HBO to tremendous critical acclaim. The two series received 43 Emmy nominations and won 14 Emmy awards.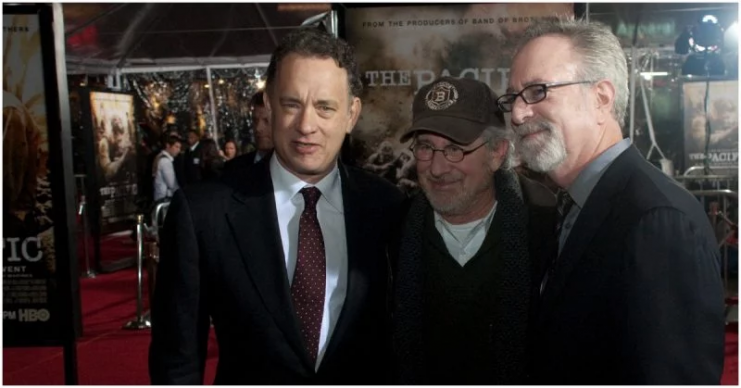 Spielberg and Hanks developed Masters of the Air with HBO and had intended to keep the series there. HBO eventually passed on producing the show earlier this year which opened the door for Apple to step in.
This is the second project that Spielberg has announced with Apple's new streaming service. Previously, he announced that he is producing a series called Amazing Stories for Apple.
Apple has made a deal with Steven Spielberg, Tom Hanks, and Gary Goetzman to bring a follow-up series to Band of Brothers and The Pacific to Apple TV+ that is based on the book Masters of the Air.https://t.co/55rKMRFbAE pic.twitter.com/zkbhxBcWcC

— IGN (@IGN) October 12, 2019
Besides the shows with Spielberg, Apple has also announced The Morning Show with Jennifer Aniston and Reese Witherspoon and a deal with Oprah Winfrey. The deal with Oprah is for a "multi-year content partnership."
Sources say that Oprah will appear in some of the content to be released as part of this deal. It is unclear how Oprah will divide content between the Apple network and her cable network, OWN. She is under contract to serve as the chairman and chief executive officer for six more years at the cable network.
Apple Enlists For 'Masters Of The Air,' As Steven Spielberg, Tom Hanks & Gary Goetzman Fly From HBO For WWII Series https://t.co/pDuwWXxLSO pic.twitter.com/b1UIlDEm7J

— Deadline Hollywood (@DEADLINE) October 11, 2019

Apple TV+ is set to debut on November 1st in over 100 countries. The company has announced projects with Spielberg, Oprah and J.J. Abrams to air on the new service.
Apple's stated goal is to make Apple TV+ the place for the "world's most creative storytellers."
Apple is providing funding and the platform for TV shows, movies and documentaries of the "highest quality."
The service will be ad-free and priced at $4.99 per month. A Family Sharing plan will allow up to six family members to watch with one subscription. A free one-week trial will be available and a one-year subscription will come with every new iPhone, iPad, Apple TV, iPod Touch or Mac purchased.
Apple TV+ will be available in the Apple TV app along with Channels. Channels allows you to subscribe and watch programming from other providers such as HBO, Showtime, CBS All Access, and many more.
The content in Apple TV+ will be available in 4K HDR with Dolby Vision support. Most of the programming will also offer Dolby Atmos sound.
Another Article From Us: Medal of Honor Series Returning – But With a Twist
In order to watch Apple TV+, you will need an Apple device running iOS, iPadOS or tvOS 13 or later, a Mac running macOS Catalina or later, a third-generation Apple TV with the latest software, a smart TV that supports the Apple TV app or head to tv.apple.com in a Safari, Firefox, or Chrome browser.