On Monday 11th May 2020, Ben Stiller put out a poignant tweet saying, "I'm sad to say that my father, Jerry Stiller, passed away from natural causes.
He was a great dad and grandfather, and the most dedicated husband to Anne for about 62 years. He will be greatly missed. Love you Dad."
Jerry Stiller was best known for his starring role as Frank Costanza, the scurrilous and hot-headed friend of Seinfeld, in the NBC sitcom. He had referred to his time playing Costanza as some of the best years of his life.
The character of Costanza revived Jerry Stiller's career at the age of 66 and his portrayal of this curmudgeon cemented the character in American pop culture.
He was nominated for an Emmy award in 1997 and was awarded an American Comedy award for the character. Following the success, he had with this character, he went on to play a similar role as Arthur Spooner in the CBS comedy "The King of Queens."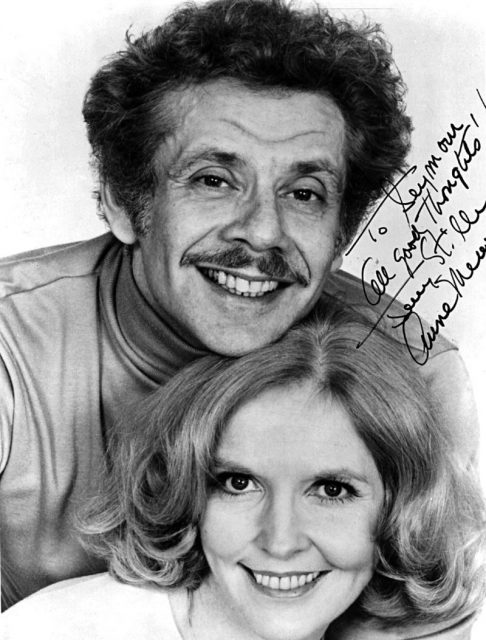 Jerry was born in Brooklyn, New York on the 8th June 1927. He was born into a Polish- Jewish family and was the eldest sibling of four. His parents had a combustible relationship and Jerry honed his comedy skills trying the keep the peace in his family.
In later years he said that when asked to play the crusty characters, in which he was cast, he took all his inspiration from his parents.
At age 15, Jerry first trod the boards in New York in the 1940's when he appeared in James Thurber's "Many Moons."
I'm sad to say that my father, Jerry Stiller, passed away from natural causes. He was a great dad and grandfather, and the most dedicated husband to Anne for about 62 years. He will be greatly missed. Love you Dad. pic.twitter.com/KyoNsJIBz5

— Ben Stiller (@RedHourBen) May 11, 2020
Stiller's parents were not impressed by their son's show business ambitions, but this did nothing to hinder Jerry's love of the stage and acting.
After seeing John Randolph appear on Broadway, he found his way backstage and introduced himself to the great actor.
Randolph encouraged the 19-year-old Stiller to pursue his career and it was ironic that Stiller replaced Randolph after Randolph appeared in one episode of 'Seinfeld' in 1993.
Stiller served his country in World War II and after returning home, he used the G.I. bill to earn himself a degree in speech and drama at the University of Syracuse. He graduated with his degree in 1950.
In 1953, Stiller met and married the actress Anne Meara. Both were struggling to find roles and even though Stiller has classical training, all he could pick up were supporting roles in Shakespeare festivals and on Broadway.
In the early 1960's the couple were popular on the night club circuit and with talk shows for their act 'Stiller & Meara.'
Jerry capitalised as the small Brooklyn Jew with his wife as the svelte Irish Catholic princess from Long Island.
The couple portrayed the melting pot that was America at the time, and it was hugely popular as they made fun of their marriage.
The couple remained popular through the next two decades and wrote many popular commercials for radio as well as appearing on television.
Jerry also appeared in several Hollywood films, such as 'The taking of Pelham One Two Three' in 1974 and 'Hairspray' in 1988. He also appeared on Broadway in 1984 in a production of 'Hurlyburly.'
Early in the 1990's his career was at a standstill and he began to second-guess his desire to act.
Then in 1993 he was asked to join the cast of Seinfeld by Larry David, but he turned down the part. A few months later, David approached him again and this time he took the part but quickly realised that the role he was given was not funny.
He could not see where the timid husband, dominated by his wife, played by Estelle Harris, would raise laughs. Stiller began to change his lines.
In an interview in 2008 he said that he recalled a rehearsal just before going on air where Estelle, in her part as his on-air wife, was screaming that Jerry's character had ruined their child's life by not being there for him.
Instead of meekly answering, Jerry retorted, "You're the one who slept in bed with him! You make him sandwiches every day and night. You coddled him!"
The cast and crew collapsed laughing so Larry David, said to Jerry to keep the character that wy and so the curmudgeon of Frank Costanza was born.
Stiller had regular work through the 2000s and appeared alongside his son in 'Zoolander' in 2016. He also undertook voiceover work for animated series.
Marilyn Monroe's Career Began With a Decision by Ronald Reagan in 1944
His beautiful wife, Anne, died in 2015. Anne and Jerry are survived by Ben, his sister Amy and two grandchildren.