Many know how famed model and actress Marilyn Monroe's career tragically ended with her suicide when she was just 36 years old. But fewer know how her career began.
Before she was the blonde-haired bombshell known as Marilyn Monroe, she was a brunette named Norma Jean Mortenson. She married a police officer named James Dougherty. That marriage lasted for four years.
As Norma Dougherty, she began working at the Radioplane Munitions Factory in Van Nuys, California, while her husband served in the military overseas with the Merchant Marines.
She was helping the World War II effort by spray painting remote controlled planes with fire retardant. The planes would be used for target practice by anti-aircraft gunners.
According to the podcast "No Such Thing as Fish," it is possible that the world would never have gotten to know Marilyn Monroe at all if not for a decision made by Ronald Reagan. The story is in episode 309 of the podcast.
At the time, the eventual President of the United States was a commanding officer in the United States Army.
It was Captain Reagan who approved a campaign to highlight the contributions of woman helping the war effort. He sent a photographer, David Conover, to get photos of the women on the job.
Norma was among those photographed. She is nearly unrecognizable as the icon she would become. In the pictures she is a curly brunette wearing high-waisted pants and a green button-down shirt.
She is shown apparently working on one of the drones in the factory.
Conover took the pictures on June 26, 1944. He immediately recognized the talent she had in posing for the camera along with her natural beauty.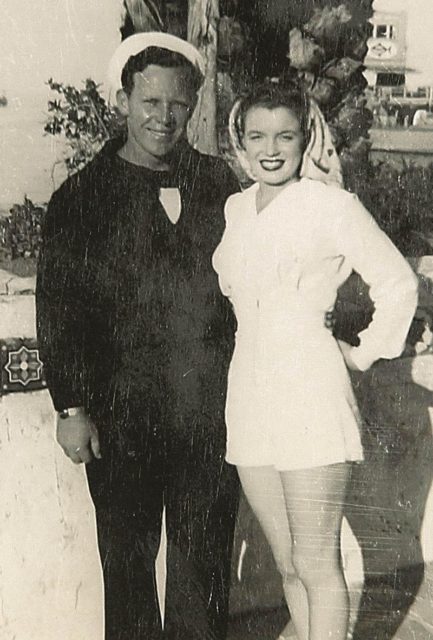 Later, photographer Bill Carroll asked Conover for recommendations of models to shoot for his portfolio. He wanted a girl-next-door type, a "Plain Jane." Conover recommended Norma.
Forty years later, Carroll read a Time magazine article about Marilyn Monroe. It was the first time he realized that the woman he had photographed all those years ago was the same woman who became the Hollywood star.
He believes that the woman he photographed in the Forties was very different from the one the world came to know as Marilyn Monroe.
During the Forties, Norma became increasingly popular with photographers. Pin-up photos of her could be found on the covers of several magazines in the same month.
In 1946, a casting director at 20th Century Fox found Norma's photos and offered her a six-month contract with an option to renew every six months.
Meanwhile, Norma's husband was becoming increasingly upset about his wife's new career. Things came to a head when he was discharged and returned home. The couple divorced in 1946.
Up to this point, Norma was using Norma Jeane Dougherty as her professional name. The casting director from 20th Century Fox suggested she use the name of Marilyn as her stage name and Norma added her mother's maiden name of Monroe to create one of the most famous names in Hollywood.
20th Century Fox provided free acting, singing and dancing classes but didn't renew her contract when the six months ended. She then received second-billing in a movie from Columbia Pictures but her contract wasn't renewed there either.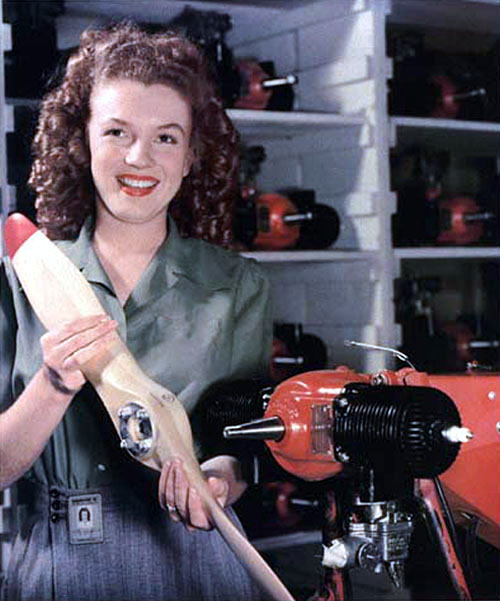 With no income, Monroe agreed to pose nude for a calendar. The resulting calendar was known as "Golden Dreams" and made millions.
The publicity around the nude photos threatened to end Monroe's movie career for good until she went to the press with her side of the story, that she only agreed to the photos because she was completely broke and that she only made $50 for the pictures while others made millions on them.
She then had minor roles in a few movies but they were enough to attract attention. Soon, 20th Century Fox offered her another contract and began featuring her in starring roles.
Many of the movies she starred in are considered classics now and the legend of Marilyn Monroe was fully underway.
When the 101st Airborne Saved Friend and Foe
But it seems that the legend truly started with a decision made by another Hollywood star who became more famous for his politics than his acting.