The United States Space Force has unveiled its new service and physical training (PT) uniforms. The reveal occurred at the Air Force Association's Air Space & Cyber Conference in National Harbor, Maryland on September 21, 2021.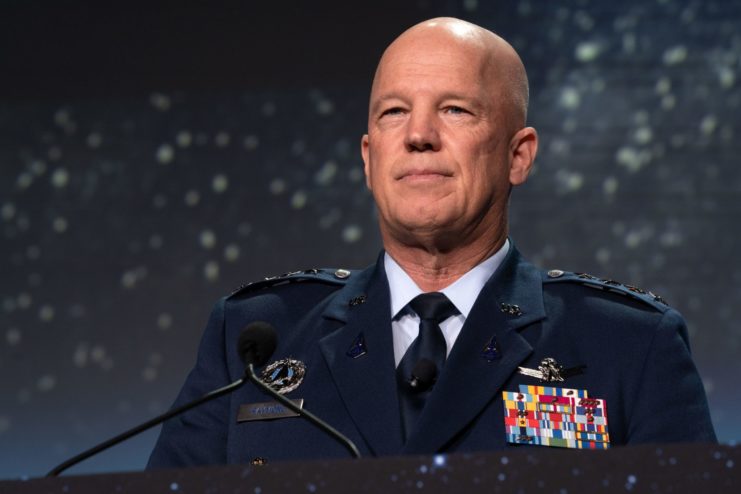 General Jay Raymond, commander of the US Space Force, announced the new uniforms during his speech at the conference. The news comes a day after the service unveiled its enlisted rank insignia, which features deltas and elongated hexagons to symbolize its sixth-service status.
The uniforms are different from those worn by the US Air Force, from which the service spun off in 2019. They feature a dark navy blue coat with silver buttons traveling diagonally down the front, starting at the right shoulder. Each of the six buttons features the service's emblem. The uniform also includes grey pants, and a light blue collar is slightly visible below the coat.
Today, @SpaceForceCSO Gen. John W. "Jay" Raymond unveiled the Guardian Service Dress prototype a modern, distinctive, professional uniform during the @AirForceAssoc's #ASC21. pic.twitter.com/tnDJnMkCMo

— United States Space Force (@SpaceForceDoD) September 21, 2021
According to Lieutenant Colonel Alison Gonzalez, deputy chief of strategy, the uniform was designed with women in mind. This is different from how US military uniforms are designed, as they are typically made for men and later adapted to fit women. This practice has often resulted in poor fits for female service members.
Gonzalez has been involved in the development of the US Space Force's new uniforms since last spring. She helped test various iterations in order to gauge what the most comfortable and flattering fit would be.
The service's PT uniforms are more casual. They feature a t-shirt with the US Space Force symbol on the right side of the shirt's front, and "SPACE FORCE" written in capital letters across the back. The shorts and sweatshirt are black and also feature the service's symbol.
For their combat uniforms, service members will continue to wear the Operational Camouflage Pattern uniform, or OCP.
It will be a while before US Space Force members will wear the uniforms on a regular basis. Over the coming months, the service will collect comments and opinions, after which they will wear-test the uniforms before distributing them among members.
Tested by Guardians, made for #Guardians. #SpaceForce physical training uniforms are currently undergoing wear testing. pic.twitter.com/6agT93uGDH

— United States Space Force (@SpaceForceDoD) September 20, 2021
The US Space Force was established by former President Donald Trump after he signed into law the National Defense Authorization Act. This marked the first new military service since the creation of the Air Force in 1947.
The service's official logo was revealed in January 2020. In December 2020, Former Vice President Mike Pence announced that members would be officially known as "Guardians."