During the First World War, Allied vessels feared encountering a German U-boat while traveling across the Atlantic Ocean. It was common for them to be struck by torpedos and sunk at sea, with enemy submarines approaching undetected and diving once they'd attacked. The SM U-111 is just one U-boat to have downed Allied ships. The vessel herself was eventually sunk, and until September 2022, the exact location of her wreck remained unknown.
SM U-111's service during World War I
The SM U-111 was one of 329 U-boats in the Imperial German Navy's fleet during the First World War, famously taking part in the First Battle of the Atlantic. Part of the IV Flotilla, she was commissioned in December 1917 and surrendered to the British less than year later.
Housing a crew of 36 – 32 enlisted crewmen and four officers – U-111 was like the majority of U-boats in the German fleet. Powered by two propellors, she could reach speeds of up to 18.9 MPH while surfaced and 9.7 MPH when submerged. She was equipped with six torpedo tubes, as well as one 8.8 cm SK L/30 naval gun and one 10.5 cm SK L/45 naval gun.
The U-boat was under continuous surveillance by British Naval Intelligence, given her patrols around the British Isles. She conducted her first patrol in the spring of 1918, operating in both the Irish Sea and English Channel, where she sunk two steamers. She conducted two more patrols after this, sinking an additional steamer during the second. Her third was hampered by a British anti-submarine patrol.
From Britain to the United States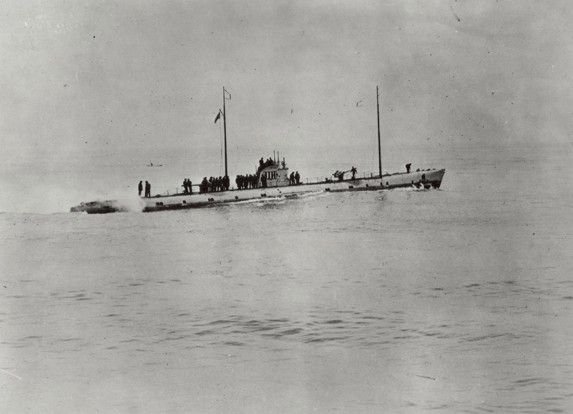 Following the signing of the Armistice in November 1918, the SM U-111 was surrendered to the British and sent to the United States at the behest of President Woodrow Wilson. Lt. Cmdr. Freeland A. Daubin took the ship under his control for the journey, which took him and his crew through the waters where the RMS Titanic had sank just years prior.
She, along with four other German U-boats (UB-88, UC-97, U-117 and U-140), were subsequently used to promote the sale of the Victory Liberty Loan, a war bond released in April 1919. Reverse engineering was also conducted on the vessels, to discover what made them so superior against Allied ships.
By September 1919, U-111 had completed a comparison test against the USS S-3 (SS-107), which found the American submarine to be faster, more habitable and have a greater radius of action. Following this, she was shipped off the coasts of Florida and Cuba as part of mechanical efficiency tests, after which she was scheduled to travel to New Hampshire for decommissioning.
During her journey, the U-boat was used as a target of aerial bombings, which caused her to sink off the coast of Cape Henry, Virginia. As her stern remained above water, she was deemed a navigational hazard, raised by the USS Falcon (AM-28) and transported to Norfolk Navy Yard. After being refloated for a final time, she traveled out to sea with her hatches open and was sunk by depth charges set off by Falcon.
Discovery of the SM U-111's wreckage
Over a century after the SM U-111 was sunk by the USS Falcon, her remains were located off the coast of Virginia. Despite the US Navy being aware of where the U-boat had sunk, the wreckage was never located, as it was believed to sit at around 1,600 feet, much deeper than a human could dive.
The wreck was discovered by technical wreck diver Erik Petkovic on Labor Day 2022, after a months-long search. He and his team found it approximately 400 feet below the ocean's surface, far less than what was expected, but still too deep for a human diver to reach. The team searched for U-111 in secret, saying they were actually looking for a sunken Russian freighter. They used radar scans, archival photographs and information gathered from local fishermen to locate and identify the U-boat.
More from us: USS Jacob Jones (DD-61) Found After a Century; First US Destroyer to Be Sunk By An Enemy Vessel
While there are currently no plans to raise the sunken German vessel, Petkovic told National Geographic that he and his team plan to start mapping the wreck sometime in 2023. At present, they're keeping the exact location of U-111 a secret, but he did reveal he hopes to locate the descendants of Lt. Cmdr. Daubin and his crew, now that the vessel's remains have been found.
"That's one thing we'd like to do with these wrecks that we locate," he said. "We're always trying to bring it back to somebody, bring the history back to folks who may not know what their family member – their grandfather, their great-grandfather – did. I mean, Daubin was a hero. The story of U-111 should be a movie."