Donal Staples, Sr. served in the US Navy during World War II. For most of his life, he didn't speak much about his time in the service.
As he grew older, he began to feel like something was missing and that it would be nice to have some kind of recognition for his time serving his country.
Now 92 and living in the Maine Veterans Home in Scarborough, Maine, Staples is experiencing the effects of dementia.
In addition, an outbreak of COVID-19 in the home led to the deaths of fourteen residents. Three additional residents survived the disease only to pass away from other causes. Included in the deceased are two of Staples best friends in the home and his roommate.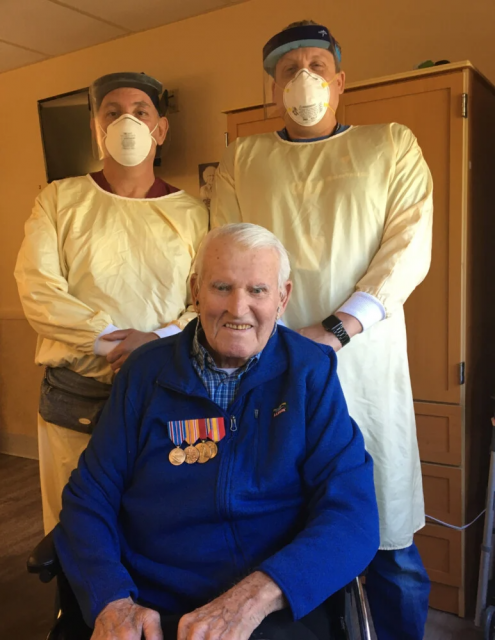 Staples tested positive for COVID-19 on April 13 and spent over a month isolated in his room. Visitors were only able to see him through a window.
Fortunately, he never developed respiratory symptoms that are common with the disease. Understandably, however, he's been depressed lately and his dementia has worsened.
His daughter, Sandra Staples-Bortner and her husband came up with the idea of cheering him up by requesting the medals he was due from the military.
His son, Donal Staples, Jr., provided them with his father's military records and the couple researched which medals he was eligible for. Then they ordered the medals from the military's online ordering system. The medals were sent to Staples at the home.
Due to the quarantine rules in effect at the home, family members were not able to be present when the medals were presented to their father.
Instead, two veterans who work at the home – a certified nursing assistant and a respiratory therapist – awarded him his medals.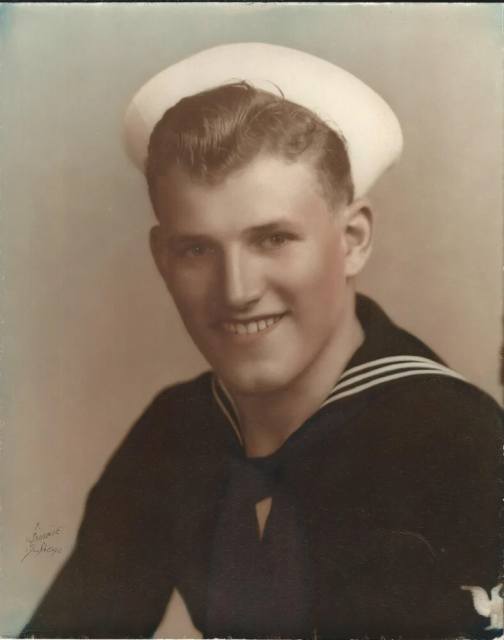 Staples was awarded the World War II American Campaign Medal, the World War II Asiatic Pacific Medal, the World War II Victory Medal, and the National Defense Service Medal – Korean War.
Staples served on the USS Chandeleur at Kerama Retto, a group of islands near Okinawa, Japan. The Chandeleur was a seaplane tender which launched the planes that sank a Japanese submarine on the day before the invasion of Okinawa.
Staples spent his youth fishing for lobster in Massachusetts. At 17 years of age, he was given his own rearming boat to run.
He recalls intentionally ramming a disabled seaplane in order to prevent it from running into a moored seaplane.
He received a commendation for his actions though it never reached his captain and the family can find no official record of the event.
When the war ended, Staples served in the Naval Reserves. He was assigned to the aircraft carrier USS Salerno Bay in 1951.
It was common in those days for servicemen to go without being awarded their service medals. Staples never sought them out himself.
His family thought that the service medals might cheer him up after a tough period dealing with COVID-19. According to Staples' son, it worked better than they had imagined.
Tom Hanks's new WWII epic, 'Greyhound', to Premier on Apple TV+ in July
Though it is difficult to say how much of the ceremony Staples retained, it was clear that he was moved by the recognition. Afterwards he was quoted as having said, "It was an honor just to be allowed to serve."