Ten years after Army Staff Sergeant Ronald Shurer II returned from a tour of duty in Helmand Province, Afghanistan, President Donald Trump presented the former soldier, in 2018, with the nation's highest award for bravery in front of a White House audience of more than 250.
At the time Shurer had just embarked on a personal battle with cancer. Three years later it achieved what the insurgent Taliban militia never could.
On April 6th, 2008, Shurer was a Special Forces Senior Medical Sergeant serving in Afghanistan when his team came under a sustained insurgent attack. Faced with incoming machine gun and sniper fire, pepped up with rocket-propelled grenades, Shurer was a key actor in ensuring his team made it to safety.
He made certain the wounded had been loaded onto the evacuation helicopter before returning to the front line, hallway up a mountain, to take the fight back to the insurgents.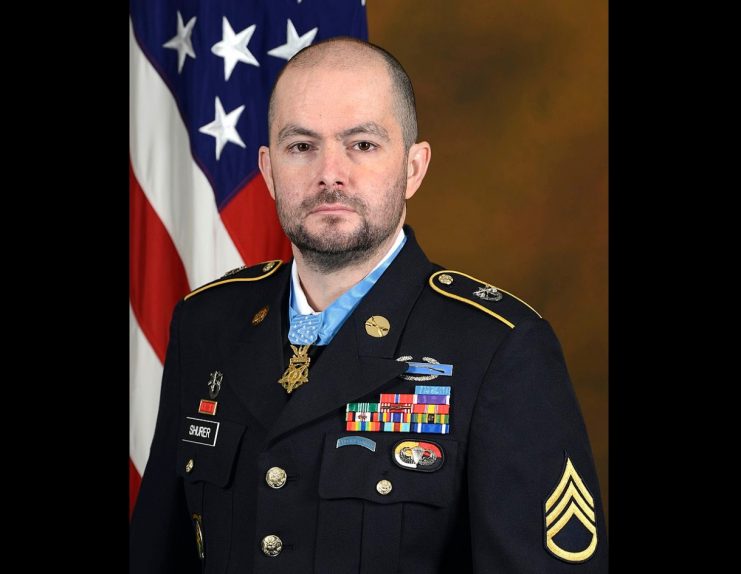 In 2008 the US had deployed 32,500 military personnel to Afghanistan, many of whom were sent to support British troops at Garmsir who were bogged down battling the Taliban and other militia for control of the territory. By the time they had arrived to relieve their coalition partners the US Army met little resistance as the Taliban had retreated.
It was only a short respite as the insurgents had dug in a few kilometres outside of town, causing the Marines further problems when they began pushing deeper into the territory. Since 2001 there have been just eighteen Medals of Honor awarded to US servicemen for actions in Afghanistan, four of them posthumously.
After eighteen years of what has effectively been a war of attrition US forces are at last beginning to finally pull out of the country. There is no guarantee that the fighting will stop as local warlords continue to battle against the imposition of a central government.
A limited presence will remain however, as the focus becomes the elimination of terrorist threats associated with Al Qaeda and the Islamic State networks.
Through the next twelve months the 12,000 service personnel still stationed in Afghanistan will gradually wind down operations, as long as the current political agreements hold up on the ground.
For now, seven bases will remain operational, including Bagram, two in the capital, Kabul and another in the Southern state of Kandahar. However, a similar withdrawal by the former USSR in the 1980's fell apart once Kremlin funding for the Afghan government dried up.
The Alaskan native Shurer, born in Fairbanks, had a hard time getting into the military at first due to a medical condition, but after the September 11th, terrorist attacks he was finally accepted. He progressed through the ranks, promoted from Sergeant to Staff Sergeant in 2006.
A year later, in November 2007, he went to Afghanistan, serving with the Combined Joint Special Operations Task Force through to May 2008. In 2009 Shurer was honourably discharged. Later he went on to join the Secret Service.
He became a special agent and worked out of Phoenix, Arizona before being selected for the counter assault team, joining the Special Operations Division in 2014.
The US Secret Service tweeted, "Today, we lost an American Hero: Husband, Father, Son, Medal of Honor Recipient – Special Agent Ronald J. Shurer II. From a grateful Nation and Agency – your memory and legacy will live on forever."
Paying tribute to her husband, Miranda Shurer said he had been an "amazing man…known for being an amazing soldier…he was well loved."
'Huey' For Sale, With Amazing History
Due to the current Covid-19 restrictions in place in the USA, Ronald Shurer II will not be interred until these are lifted, when he will be buried in Arlington National Cemetery. He is survived by his wife Miranda and two sons.