It's not uncommon for strange things to wash ashore along North Carolina's Outer Banks, but rarely are the objects related to the military. That's exactly what happened earlier this week, when a man stumbled across a mysterious vessel that was later confirmed to belong to the US Navy. Adding to the mystery is the fact it disappeared overnight – without a trace.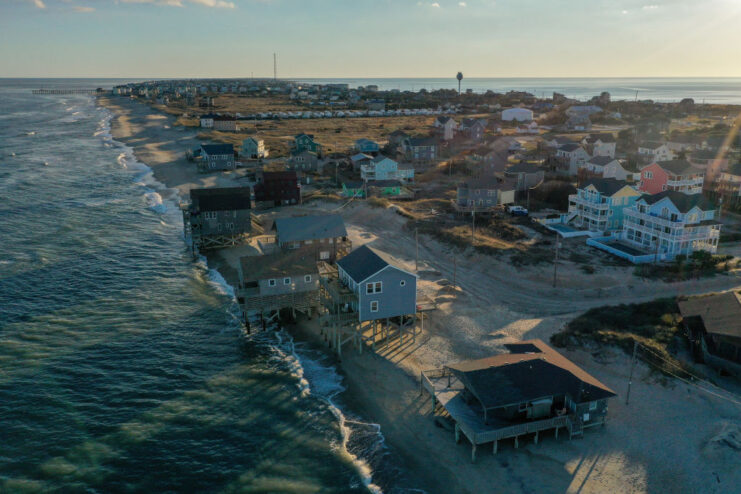 The mysterious US Navy vessel was found on March 13, 2023 just north of Rodanthe Pier. The man who stumbled upon it, Kyle Barniak, initially thought it was related to a 1,100-square-foot house that had fallen into the water earlier that day.
"A porch swing maybe or bench seat? As I approached, it was clear it was a boat, completely intact and watertight," he told The Charlotte Observer.
Upon closer examination, he noticed a phone number stamped on the back of the mysterious vessel, which connected him to the US Navy. He subsequently learned it belonged to Naval Station Norfolk, and used by the Norfolk Detachment of Atlantic Targets & Marine Operations.
Employed to conduct training for "threat-representative scenarios," the 16-foot-long, bright orange Styrofoam-filled hull had previously been reported as sunk.
Mysterious US Navy vessel washes up on NC Outer Banks, then disappears in the night https://t.co/64TQhnsUKW

— Miami Herald (@MiamiHerald) March 14, 2023
Upon learning about the discovery, officials told Barniak they wanted the vessel back. However, when he returned to the site, he found it had vanished in the middle of the night.
"When I went back, it was no longer there," he reported. "Being Rodanthe, it was probably pirated overnight. There was nothing technical on the boat, but you could sit in it and it will probably show up modified, so someone can go duck hunting in it or something."
More from us: Tom Cruise Keeping Connection to US Navy Alive with New 'Mission: Impossible' Film
According to the US Navy, it's likely the vessel drifted back out to see and could possibly wash ashore elsewhere along the North Carolina coast. Anyone who finds it is asked to contact officials at +1 (757) 445-4825.