Australian Dr Dvir Abramovich has launched a scathing attack online regarding the sale of Nazi memorabilia online describing such items as 'blood-soaked' and 'Satan's instruments'.
His emotional appeal to auction sites to stop the sales of such items as sporting badges, memorial pins and patches has stirred up strong feelings amongst the Jewish community who see these items as glorification of the Nazi regime.
Auction houses disagreed very quickly, stating that the items sold were strictly of historical value.
The argument is very finely balanced. Some historians stress that the suppression of history will only serve to engineer a repeat of the horrors that have gone before.
Others maintain that the continued sale of such items will only serve to propagate the Nazi ideology and lend a gloss of historical legitimacy to the new movements that have recently begun to reappear across the Western world.
Dr Abramovich has pointed out that the sale of Nazi Memorabilia could be seen as a direct affront to those who lost family members who fought against the Third Reich in WWII saying, "In fact, I can't imagine the anguish Holocaust survivors and our brave Australian soldiers would be feeling right now."
Meanwhile, Australian auctioneers have stressed that they are stringent with both buyers and sellers to ensure that the items sold are not going to be used for glorification of the ideals of Adolf Hitler and his murderous regime.
Bill Brown of Esk Military Antiques stated, "It's history and it has to be told so it can't be repeated,"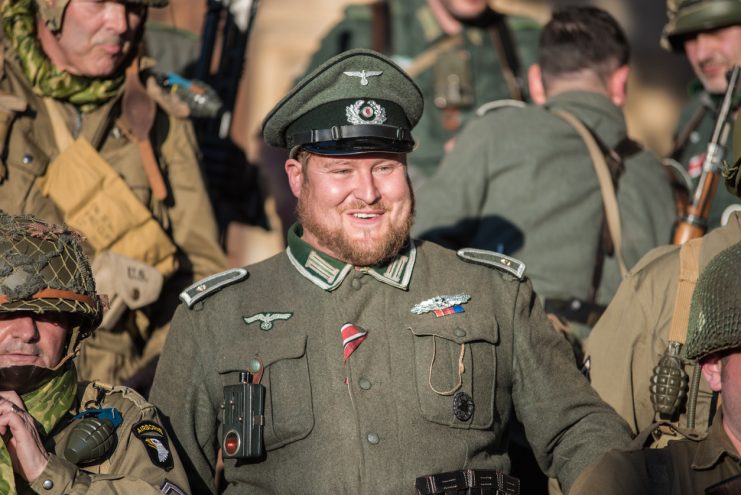 In March 2019 an attempted sale of tableware, produced in commemoration of the Fuhrer's fiftieth birthday, had to be cancelled after local Jewish community leaders in Belfast raised objections. The tableware was meant for Hitler's official train carriage.
The tablecloth and four napkins were embroidered with a swastika and the initials 'DR' which stood for Deutsche Reichsbahn, the German national railway.
The sale was expected to raise £20,000 and also included the silver cutlery emblazoned with the railway company crest.
While such sales are not illegal in the UK and Australia, they are only outlawed in Germany and Austria, they often attract criticism from groups dedicated to the fight against anti-Semitism.
Despite high profile attempts to disrupt, ban and otherwise dissuade mainstream military antique auctioneers to handle items that can be classified as Nazi memorabilia, interest in the period remains undimmed for collectors and historians alike.
For some it is not only the obvious militaria that fascinates, but also the day to day that is collectable.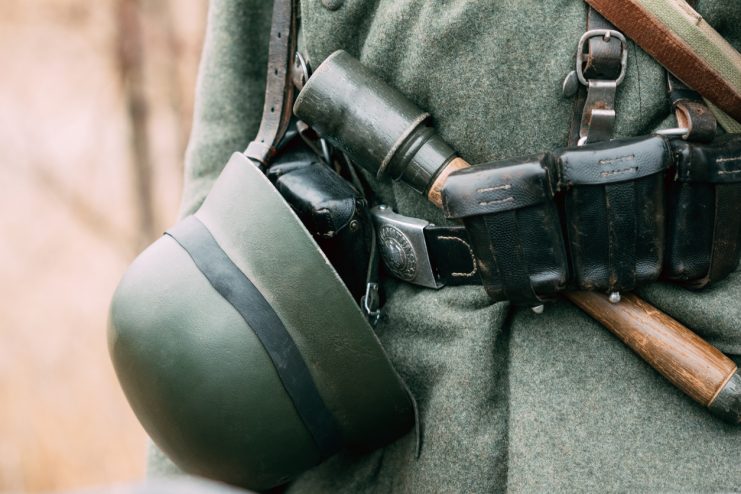 In 2017, Whyte's auctioneers in Dublin listed an unopened roll of Edelweiss brand 'Klosettpapier', toilet-roll, that was issued to Hitler's Wehrmacht and was said to be in 'remarkably un-used condition'.
It was valued at between £67.00 and £100.00 and expected to be sold to a collector interested in accruing the standard issue items that one would expect to find in a German soldier's standard issue kitbag.
Stuart Purcell, Head of Collectables for Whyte's Auctioneers, said at the time that, "…people who collect these items are usually serious collectors. For some people though it is like collecting stamps."
Artefacts recently discovered at the Buenos Aires home of Argentinian collector and antiques dealer Carlos Olivares have been valued at £20 million.
He faces prosecution under Argentina's cultural heritage protection laws and could spend up to three years in prison for the purchase of the items which include a head measuring device for divining a person's race, a magnifying glass and a photograph of Adolf Hitler holding the magnifying glass.
He claims that the items were bought in good faith as reproductions, however, following seizure by the Ministry of Justice the items have been confirmed as genuine.
Another Article From Us: 93-Year-Old Former SS Guard Goes on Trial in Germany
Dr Abramovich, a high-profile campaigner against the rise in neo-Nazi groups, has little sympathy for auctioneers who facilitate the sale of memorabilia, "The indecent and lucrative trade in Nazi merchandise, which is booming here and around the world, should alarm us all."