The trailer for Gerard Butler's new action-thriller, Kandahar, has officially been released, hyping up audiences ahead of its debut over the upcoming Memorial Day weekend. The film will be Butler's second to hit the big screen this year, following the January 2023 release of Plane.
Kandahar centers around CIA operative Tom Harris, portrayed by Butler, who's tasked with sabotaging a reactor being used in Iran's nuclear weapons program. When an intelligence leak exposes his actions, Harris and his Afghan interpreter, played by Navid Negahban, must travel across hundreds of miles of hostile terrain to the extraction point in Kandahar.
The problem? They're being tracked by an elite enemy force.
Distributed by Open Road Films, Kandahar was directed by Ric Roman Waugh and co-written by Mitchell LaFortune. LaFortune first wrote the movie under the working title Burn Run, and based it on his own experience working with the Defense Intelligence Agency (DIA) after Edward Snowden leaked government information. During this time, he was deployed to Afghanistan.
Speaking about working alongside LaFortune, Waugh said in an official statement, "What made Mitch LaFortune's visceral script so compelling and unique for me is its authenticity and how he humanizes not just our heroes, but all the characters portrayed in a region that's been locked in a perpetual cycle of violence."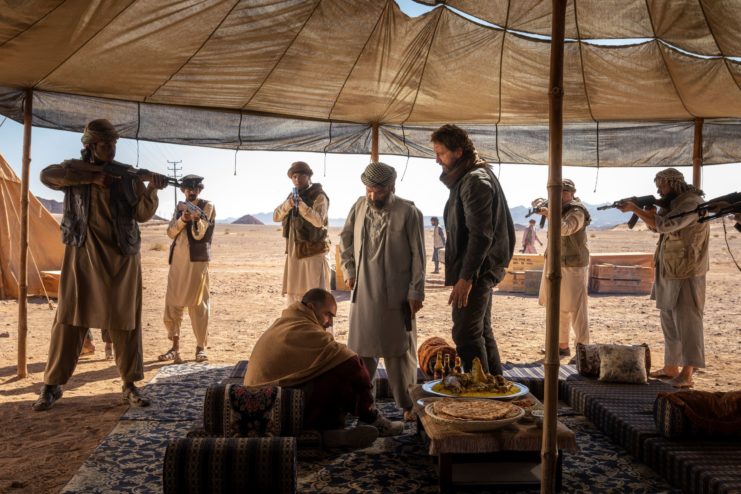 Kandahar holds the distinction of being one of the first Hollywood movies to be shot entirely in Saudi Arabia, with the cast and crew filming in Jeddah and the ancient city of Al-'Ula from December 2021 to January 2022. Co-starring alongside Butler and Negahban are Olivia Mai-Barrett, Travis Fimmel and Ali Fazal. Butler also served as one of the film's producers.
"Kandahar is an adrenaline ride made for the big screen," said Tom Ortenberg of Open Road Films. "Gerry, Ric, the G-BASE team and Thunder Road have outdone themselves with this pulse-pounding actioner that our team is looking forward to bringing to audiences everywhere."
More from us: Trailer for Guy Ritchie, Jake Gyllenhaal Afghanistan Action-Thriller 'The Covenant' Released
Audiences can expect Kandahar to debut in theaters on May 26, 2023.