Poland's Foreign Intelligence Agency, Agencja Wywiadu (AW), has released calls it claims feature Russian soldiers talking negatively about the ongoing invasion of Ukraine. According to spokesperson Stanisław Żaryn, the intercepted recordings show that morale within the Russian military is beginning to run low.
According to Polish security officials, all the intercepted phone calls are available via the AW's YouTube channel. Speaking at a media briefing at the end of June 2022, Żaryn said, "Recordings obtained by the Polish intelligence service show that the reality in the ranks of the Russian Army is a far cry from propagandist messages. Frustration is mounting among the soldiers and they fear being involved in further battles. Many are taking steps to avoid further involvement in military operations against Ukraine."
He added during a later press conference in the middle of July that the calls paint "a picture of growing problems" within the Russian Army, "yet Putin is pressing on in his criminal war in Ukraine, seeking at all costs to sustain the myth of the invincible army, the second army in the world."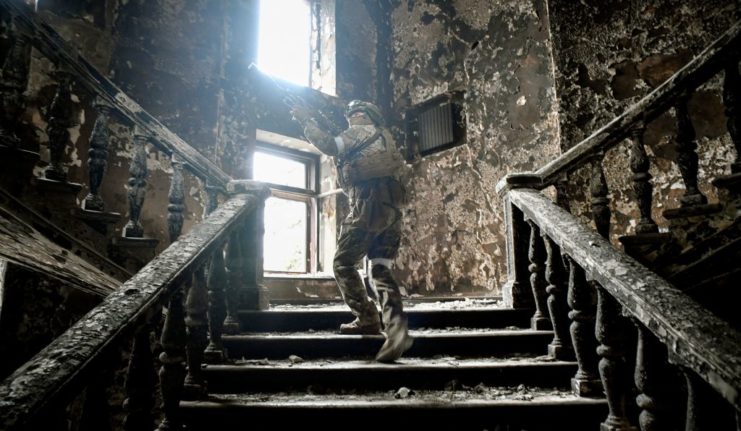 During the first of the intercepted calls, a female official can be heard asking security services about the steps a soldier would need to take to avoiding returning to the frontlines. According to Żaryn, "The troops are increasingly using leave or medical treatment as a pretext to go back to Russia, where they look for ways to avoid returning to the front."
The second calls features two Russian soldiers accusing the country's intelligence services of "distorting reality" when it came to how they thought Ukraine would react to the invasion. One of the two men says, "They were supposed to greet us with flowers," a comment which is followed by the pair accusing their superiors of incompetence and being too rash in their decision making.
"Dumb people are making stupid decisions because they thought the Ukrainians would kiss their feet," they can be heard saying.
The third recording features further criticism of Russian military operations, with Żaryn saying, "In the latest intercepted conversation, a Russian soldier can be heard making critical remarks about the situation in the army and complaining about the makeshift decisions of the commanders, which, in his view, cause significant casualties among the troops."
According to the Russian soldier heard on the phone call, "the Kremlin's decision to invade Ukraine has cost the lives of many Russians." In his platoon, in particular, only three servicemen remain, and the amount of men dying on the frontlines has prompted him to discourage others from joining the Russian Army.
Poland isn't the only country to release calls it claims have been intercepted from Russian forces. The Security Service of Ukraine has continually released recordings, with the latest featuring a soldier accusing Russia of sending him and other servicemen "to slaughter."
More from us: Chechen Fighters Are Turning Against Russia In the County's Invasion of Ukraine
As Żaryn stated during the latest press conference, the conversations are "further evidence that Russian soldiers are increasingly aware that the propaganda message about the Russian Army's success in the war with Ukraine is a lie," adding that, "Unplanned, chaotic actions, mistakes by commanders and very low morale – such is the picture that emerges from the phone calls intercepted by AW, and it differs from the Kremlin's propaganda."