Retired General Frederick Kroesen passed away on April 20, 2020, at the age of 97. He fought in Germany during World War II and fought in both Korea and Vietnam before becoming the Army's commander in Europe during a 40-year career.
Retired General Carter Ham, president of the Association of the United States Army where Kroesen was a senior fellow, called Kroesen "the conscience of our Army." He went on to say that Kroesen was "one of the Army's great leaders."
Kroesen was born in Phillipsburg, New Jersey, in 1923. His father, who had served in World War I, died when Kroesen was 17.
After graduating from Rutgers University in 1944, he fought as a private in Europe with the 63rd Infantry Division, 254th Infantry Regiment.
He referred to fighting in a war as living like an animal. He claimed that he showered in December and not again until March.
https://www.youtube.com/watch?v=1Bb_oLUyekA
He served in the Korean War with the 187th Regimental Combat Team which made several parachute assaults in territory held by the communists.
During the Vietnam War, he held several positions, including the head of the First Regional Assistance Command and commander of the 23rd Infantry Division (known as the Americal Division).
He later led the 82nd Airborne Division and held senior posts at the Pentagon before taking command of US Army Europe in 1979.
On September 15, 1981, the four-star general and his wife were riding in an armor-plated car on their way to dentist appointments in Heidelberg.
Their car was hit with a rocket-propelled grenade and automatic rifle fire in an assassination attempt by the Red Army Faction, also known as the Baader-Meinhoff gang, who were fighting against what they believed was American imperialism in Germany.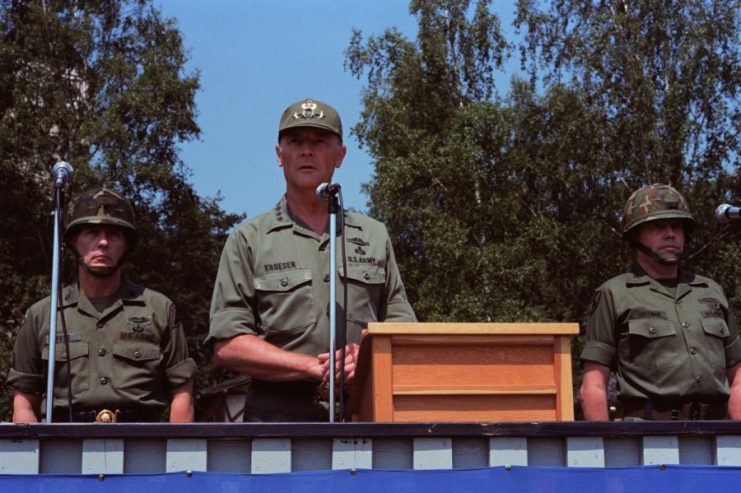 The back window of the car blew inward and the glass cut the back of Kroesen's head. His wife saw the blood and thought that he had died.
The couple was taken to the hospital and had broken glass removed from their skin and their clothes. Kroesen then went to Fulda and gave a speech while his wife went on to her dentist appointment.
After retiring in 1983, Kroesen continued to advocate for service. He made many appearances at commemorations and memorials.
At the 74th anniversary of D-Day celebration in 2018, he joined many WWII veterans at the National World War II Memorial in Washington, D.C. where they shared tales from their time during the war.
He also remained steadfast in his belief that citizens owe their freedom to the veterans that fought for it in these wars.
He believed that the sacrifice it takes during war is necessary and worthwhile to protect those freedoms and he expressed a desire to help the younger generations understand this.
During his career, Kroesen was awarded the Defense Distinguished Service Medal, The Army Distinguished Service Medal, The Silver Star wih Bronze Oak Leaf Cluster, The Legion of Merit with two Bronze Oak Leaf Clusters, and The Distinguished Flying Cross.
Airforce Receives its First 'Loyal Wingman' Drone Prototype
Kroesen is survived by his wife, Rowene, his son, Frederick III, and his two daughters, Karen and Gretchen. He is also survived by 10 grandchildren, 23 great-grandchildren and a great-great-grandson.