Dame Mary Barraco moved to Renaix, Belgium with her mother when she was just seven years old. She was a good student and was studying at the Santa Maria National Conservatory when war broke out.
By May 28th, 1940, when the Belgian Army surrendered to German forces, it was clear to many that normal life was over in Belgium.
Indeed, Mary Barraco, had already joined the Belgian Resistance, where she would eventually attain the rank of Captain, becoming liaison officer for two Canadian regiments and aiding in the escape of Allied paratroopers. She was also involved in helping a number of Jewish Europeans flee the Nazi regime.
As an American citizen in occupied Belgium Mary was seen as an enemy alien and so she and her mother were expected to report their whereabouts three times a day to the Nazi authorities.
This made her activities within the Belgian resistance more difficult and much more dangerous. She began work as a Red Cross volunteer, which gave her access to prisoners who she was able to help escape.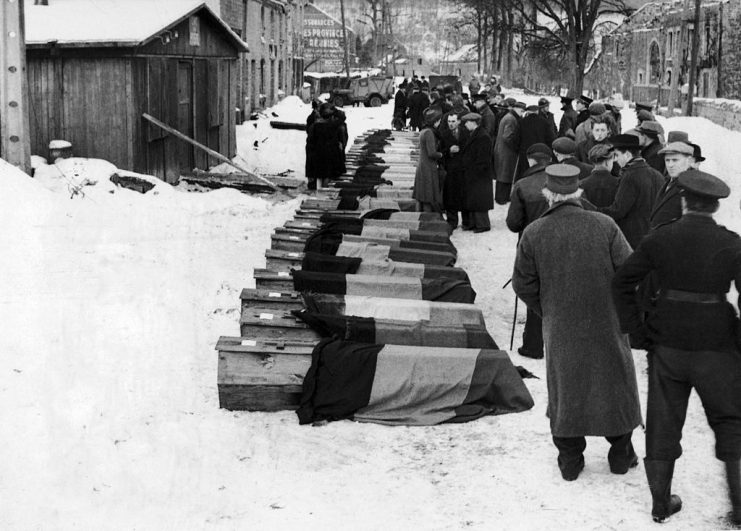 Mary was also involved with the local underground newspapers and smuggled information between resistance workers to help undermine the occupation. Her mother also joined the organisation and used her hairdressing skills to alter the looks of Jewish children, so they had a better chance of escape. At the start of the occupation there were more than seventy-five thousand Jews in Belgium, many of them refugees already fleeing the Nazi war machine.
Dame Mary Barraco, resistance fighter who spoke about horrors of Nazi regime, dies at Virginia Beach home https://t.co/BH903LCwLl

— 13News Now (@13NewsNow) December 9, 2019
During the occupation more than twenty-five thousand Jews were deported to the Nazi death camps. Very few returned. The German occupiers worked hard to infiltrate the Belgian resistance, which made a national network almost impossible.
Most groups were local cells of individuals already known to each other, but interaction with other small units was essential for the resistance to be able to function effectively.
At its height, the resistance newspapers reached a circulation of more than seventy thousand. Despite the terrors of the Nazi occupation Mary Barraco fell in love with resistance fighter Arthur Libre and the two became engaged.
The affair was sadly doomed when the pair were arrested by the Gestapo in France. Libre remained in detention until his execution in 1943 for crimes against the Reich.
Mary remained in prison where she was subject to torture and regular beatings.
She was moved from one facility to another, and in each cell, she would mark the wall with the words "It is only after you have lost your freedom that you appreciate its value". In line with Nazi policy at the time Mary's captors performed a sterilization procedure on her.
At the end of the War and the Allied Liberation between November 1944 and February 1945 Mary Barraco was released. She returned to the USA in 1946, having been decorated by the Belgian Prince Charles for her services to the nation.
Wayne Cox w WWII Belgian Resistance fighter, Dame Mary Sigillo Barraco, @ Exchange Club breakfast, Sat in Hampton. pic.twitter.com/vAhbHVZhUI

— Hampton MAC (@HmptnMilAffairs) November 3, 2013
Once on American soil she began receiving death threats from US Nazi organisations and had to have FBI protection. Despite the ongoing threat to her person Mary Barraco went on to dedicate her life to educating people with regard to the horrors she had witnessed during the War and spoke to a great number of schools and colleges across the continent.
She also spoke at Military Societies, church and political groups, service and other religious groups. In 2004 Mary was knighted in the Order of the Crown by King Albert II of Belgium, thereby earning the title Dame.
Another Article From Us: USS Arizona and USS Oklahoma Set to Sail Again for the US Navy
After the War, Mary married Joseph John Barraco and together they adopted a child. They lived together at Virginia Beach, Massachusetts, where they were members of the Star of the Sea Catholic Church. Mary is survived by her grandson Leon Smith V.