Eva Braun's panties were sold at auction in the UK along with one of Braun's nightgowns. The monogmmed silk underwear were worn by Adolf Hitler's long time mistress and, for a few days, wife. Her underwear sold for $4,500 and her nightgown sold for $1,600.
Jonathan Humbert, the owner of Humbert & Ellis Auctioneers in Towcester, England, called the item "possibly the most unusual items" he has ever offered in an international militaria auction.
There is no substantial provenance with the items though they appear to be genuine. Both bear Braun's monogram and both are discolored in a way one would expect of a garment that old. Both also have labels indicating that they were made in Bavaria in 1944.
In 2016, a pair of Braun's underwear sold for $4,500 after they were expected to sell for about $660. A lipstick case with her initials sold for about $600.
Braun met Hitler in 1929 when she was 17 years old. They maintained a relationship in secret because Hitler felt he would be a more effective leader if the public thought he was single. They were finally married in his bunker in Berlin in April 1945. Two days later, they committed suicide as the Russian Army closed in on the city.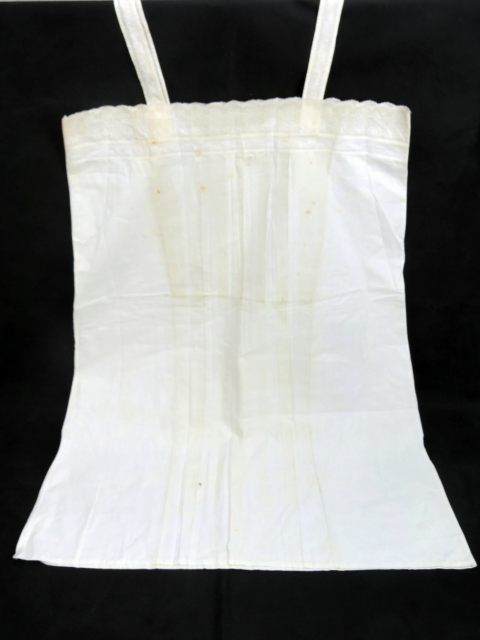 Braun was born on February 6, 1912, in Munich, Germany. She met Adolf Hitler in 1929 after she was employed by his photographer, Heinrich Hoffman. She lived in a house that Hitler provided for her in Munich. In 1936, she moved into Hitler's chalet Berghof which was located in Berchtesgaden.
Hitler was rarely seen with Braun in public and never allowed her to participate in political meetings. Braun's interests tended more toward athletics – she was known to be a good swimmer and skier.
Early in their relationship, Braun recorded in her diary that she was lonely and unhappy with the lack of attention she received from Hitler. In 1935, she attempted to commit suicide. Hitler moved her closer to him and provided her with a Mercedes and a driver.
When Braun moved to Berghof, she lived a mostly isolated life. Most of her time was spent reading, watching movies, exercising and keeping up her appearance. She remained fiercely loyal to Hitler. After he survived the July 1944 attempt on his life, she wrote to him saying that she had sworn to follow him, even to death.
Another Article From Us: Liberated Arnhem Flower Girl Still Attends To His Grave 75 Years On
In April 1945, against Hitler's wishes, Braun moved into the Fuhrerbunker while the Russians closed in on Berlin. She claimed that she was the only person who was still loyal to Hitler. She constantly told friends that it would be better if 10,000 other people died than for Germany to lose him.
In response to her loyalty, Hitler agreed to marry Braun in the bunker. They were married on April 29, 1945. The two committed suicide together and their corpses were burned in the garden above the bunker where they were found by the Russian army.