According to news agency TASS, a minor fire broke out on the Admiral Kuznetsov, Russia's only aircraft carrier, while it was dry-docked in the arctic port city of Mumansk, on the Barents Sea. This is not the first time a blaze has occurred on the vessel, which serves as the flagship of the Russian Navy.
The Russian aircraft carrier "Admiral Kuznetsov" is on fire at the "Zvezdochka" repair plant in Murmansk

unconfirmed rn, but interesting info 👀 pic.twitter.com/JTvJk9fUUp

— MAKS 22🇺🇦 (@Maks_NAFO_FELLA) December 22, 2022
TASS reported that emergency services were called to the scene early on the morning of December 22, 2022. Photos posted to social media show thick, grey smoke emanating from openings along the side of the Admiral Kuznetsov, from which 20 people were evacuated. The fire was quickly extinguished, and no casualties were reported.
Alexei Rakhmanov, head of the United Shipbuilding Corporation (USC), revealed the incident occurred while the aircraft carrier was undergoing repair work. The Admiral Kuznetsov has been out of service since 2018 for repairs and upgrades, with the hope being it'll have an extended operational life of between 10 and 15 years, as well as increased combat potential, when the work is completed.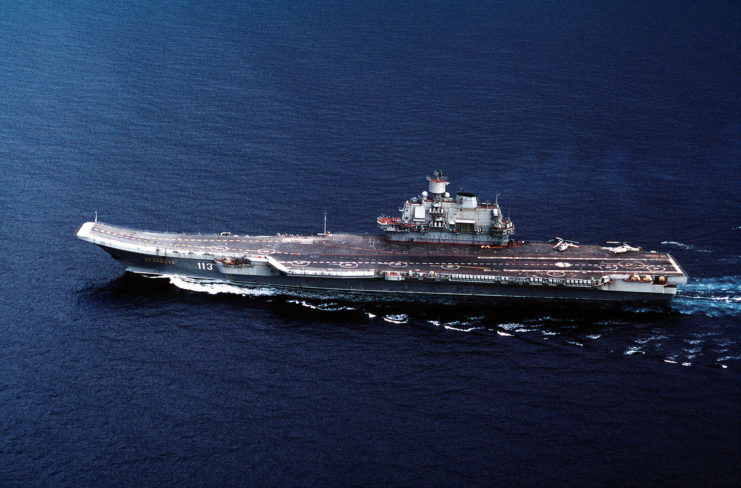 The Admiral Kuznetsov was launched in December 1985 and commissioned just over five years later. Deemed fully operational in 1995, she differs from typical aircraft carriers in that she was designed to support missile-carrying submarines and aircraft, along with surface ships. At 43,000 tons and with a length of 1,000 feet, she is the only vessel in the Admiral Kuznetsov-class, as her sister ship wasn't completed before the Soviet Union dissolved in 1991.
The aircraft housed aboard the vessel are the Sukhoi Su-33 and Mikoyan MiG-29K, as well as Kamov Ka-27 and Kamov Ka-27S helicopters. In terms of armaments, the Admiral Kuznetsov features six AK-630 anti-aircraft guns, 12 long-range P-700 Granit SSM anti-ship cruise missiles, 24 eight-cell 3K95 Kinzhal SAM VLS, eight CADS-N-1 Kashtan CIWS and RBU-12000 UDAV-1 ASW rocket launchers.
Unlike Western vessels, the aircraft carrier doesn't run on gas or nuclear power. Instead, she's powered by a highly-toxic, tar-like substance known as "Mazut," which is infamous for emitting thick smoke while the ship is underway.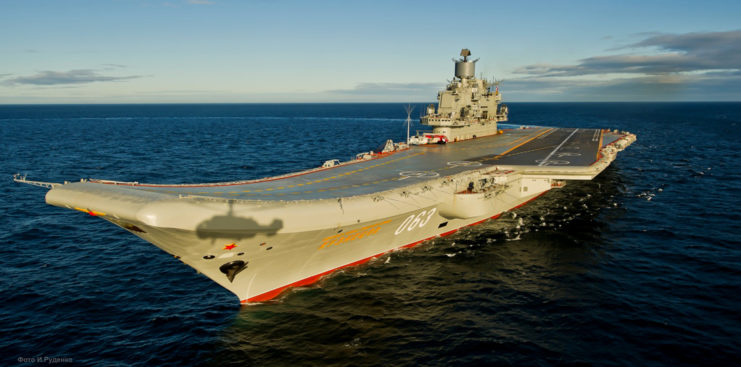 This isn't the first time the Admiral Kuznetsov has caught fire. In 2019, two people were killed and dozens more injured when a blaze caused by sparks from a welding tool ignited an underwater fuel tank. In a separate incident a year prior, a crane collapsed onto the aircraft carrier's deck, causing damage.
More from us: French Hospital Evacuated After Senior Arrives With WWI-Era Shell Stuck Up Rectum
Prior to the blaze, in November 2022, officials said repairs to the vessel were on schedule and that the Admiral Kuznetsov would be ready to re-enter service at the beginning of 2024.