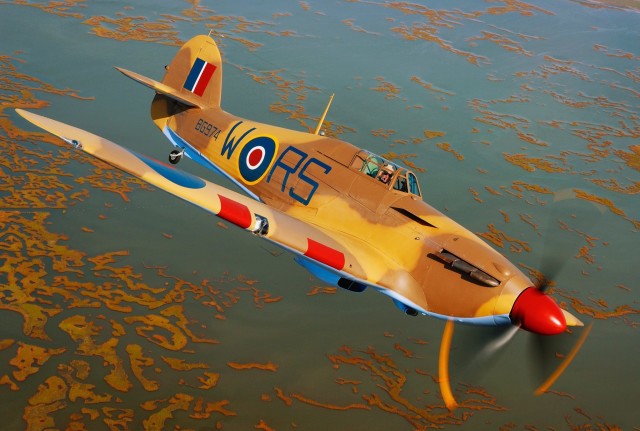 Image: Platinum Fighters
The Hurricane was the RAF's first monoplane fighter, going into service before its famous partner in RAF service, the Spitfire. The Hurricane was available in greater numbers for its finest hour during the Battle of Britain in the Summer of 1940, where it played a crucial role in the defence of Britain, shooting down more enemy aircraft than the Spitfire.
The Hurricane went to serve in various theatres of war including, North Africa, Western Desert, Mediterranean, India, the Far East, Russia and, of course, Canada.
Price: $495,000
More information: Platinum Fighters
History:
RCAF #5708 was built in 1942 by the Canadian Car Foundry (CC&F) and was Taken On Charge by the Royal Canadian Air Force on 5 January 1943.
Hurricane #5708 of 129 (F) Sqn. force landed during a low flying, tail chasing sequence on 20 July 1944. It was being flown in the Low Flying Area by J29109 Pilot Officer Robert MacDonald from No. 129 'Micmac' (F) Squadron. MacDonald throttled back to regain position. When he regained position, he advanced the throttle.
The Packard Merlin XXIX (Serial No. 19542/A330) coughed and belched black and white smoke. While between 300 and 400 feet above ground and his airspeed rapidly diminishing, MacDonald cut off the fuel and switches. He successfully carried out a forced landing in a swamp near RCAF Gander. MacDonald was not injured, but the resulting damage sustained by 5708 was enough to rate it a Category 'A' crash and was deemed beyond further aeronautical value.
On the 9th of November it was allotted to No. 4 Repair Depot. It was written off on the 29 November 1944.
After passing through several owners, Hurricane XII #5708 was acquired by its current owner and based with the Lone Star Flight Museum of Galveston, Texas, USA.
Hurricane #5708 (N96RW) was authentically restored by Ray Middleton of Q G Aviation, a British Aircraft specialist, located at Fort Collins, CO, USA between 1991-2007.
The Hurricane was finished as an aircraft that was flown by the American ace with 23 victories, Lance Wade, when he served with the RAF in the North African, Western Desert, Circa 1942.
Delivered to the Lone Star Flight Museum, Galveston, Texas during November 2007, the Hurricane was subsequently damaged in an airshow landing incident on 26 April 2008. The Hurricane was placed in storage pending repair. It was further damaged by Hurricane IKE in September 2008.
The entire airframe was treated with Corrosion X and placed into long-term storage and is now reluctantly offered For Sale "AS IS, WHERE IS".
Buyer to inspection the airframe and make his/her own determination as to the level or repair/restoration required to return the aircraft to airworthy condition.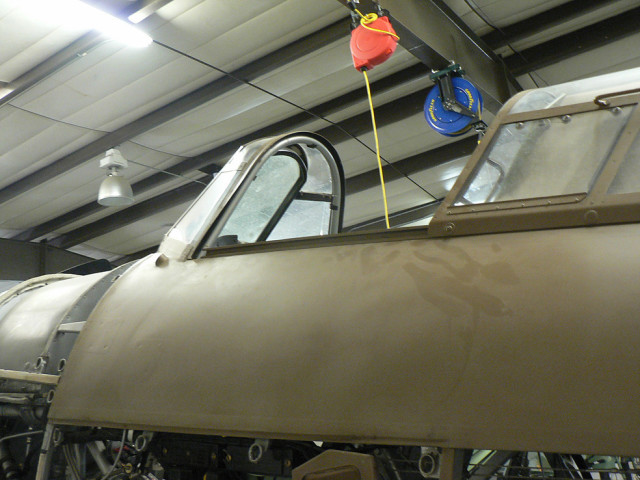 Image: Platinum Fighters
Specs:
Airframe: 20 Hours Total Time Since complete restoration by Q.G. Aviation
Engine: Packard Merlin V-1650-1
Propeller: Hamilton Standard
Exterior: Painted to represent an aircraft flown by American, 23 Victory Ace Lance Wade, when he served with the RAF in the North African Western Desert, Circa 1942.
Interior: Stock Military
More information: Platinum Fighters