The USS Antietam (CV-36) was a member of the Essex-class of American aircraft carriers built during World War II. The class overall was very successful, with many of its vessels serving distinguished careers in the Pacific Theater and beyond. The USS Lexington (CV-16), in particular, remained in service until 1991.
Unfortunately, Antietam arrived too late to serve in the war and was decommissioned just a few years after she was built. She was given in a second change at the start of the 1950s, when she was returned to service for the Korean War.
USS Antietam (CV-36)
The USS Antietam was one of 24 Essex-class carriers constructed during the Second World War. Larger and more modern than the Yorktown-class, known for the USS Enterprise and Hornet, the Essex-class carriers had more room for aircraft and better defensive capabilities. Its vessels were known for their great upgrade potential, which allowed some to be modified beyond recognition and serve for decades longer than expected.
Despite being the most numerous class of capital ships in the 20th century and acting as the backbone of the US Navy, no Essex-class carriers were lost to enemy action.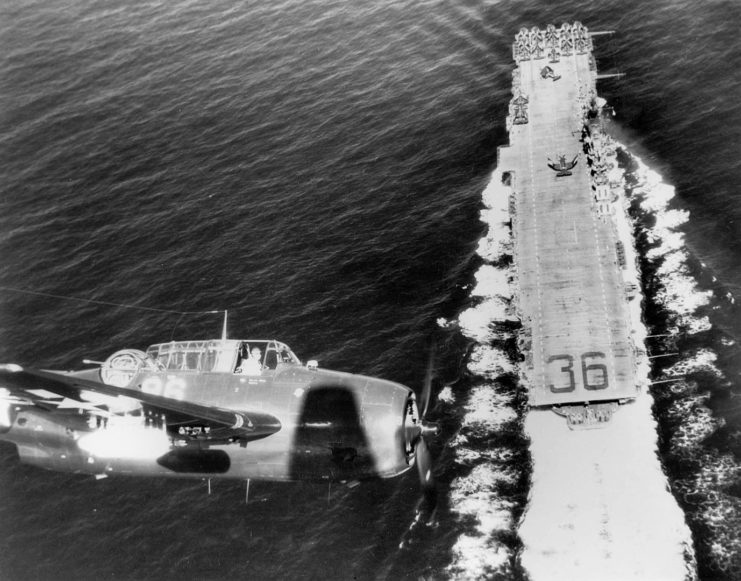 Construction of Antietam began in March 1943 and, incredibly, the 271-meter-long vessel was completed by August 1944. She was named after the Battle of Antietam, which occurred during the American Civil War. She displaced 27,100 tons when built, and could carry up to 100 aircraft.
In addition, her armament included eight quadruple Bofors 40MM automatic guns, four twin and four single Mark 12 5-inch/38 caliber guns, and 46 single Oerlikon 20MM cannons.
Her construction was fast, but she was not commissioned until January 1945. She still had to be fitted out, complete a shakedown cruise and carry out training before joining the war.

She arrived in Pearl Harbor on June 19, 1945 for training, and left to join the war on August 12. However, just three days into her voyage, she received word of the Japanese surrender and was now to participate in the occupation of Japan. Before she could arrive, she was diverted to the waters around China, where she mostly operated for the next three years.
In early 1949, Antietam, just four years after entering service, returned home for decommissioning. She was placed into reserve, but before long was called back into service following the start of the Korean War.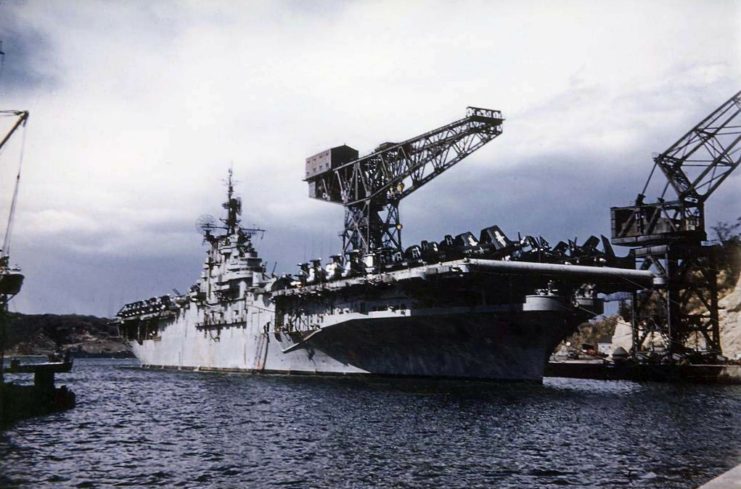 The reactivation process began in early December and the ship was back in service in January 1951. After a shakedown and some training, she began her journey across the Pacific to Korea. In November, Antietam started her first and only combat deployment. Operating from the Korean peninsula, her aircraft supported the vicious fighting happening on the mainland, strafing trains, supply routes and carrying out anti-submarine missions. In total, her aircraft flew around 6,000 missions.
She left the region in March 1952, having earned two battle stars.
After Korea
Following the Korean War, Antietam briefly operated with the Pacific Reserve Fleet, before joining the Atlantic Fleet. In October 1952, she began upgrades to transform her flight deck. When the changes were completed, she became the world's first carrier with a true angled flight deck. This distinction made her valuable for trials with this new system, and both the US and British performed tests on the vessel.
The rest of Antietam's career was rather uneventful, especially compared to her sister ships.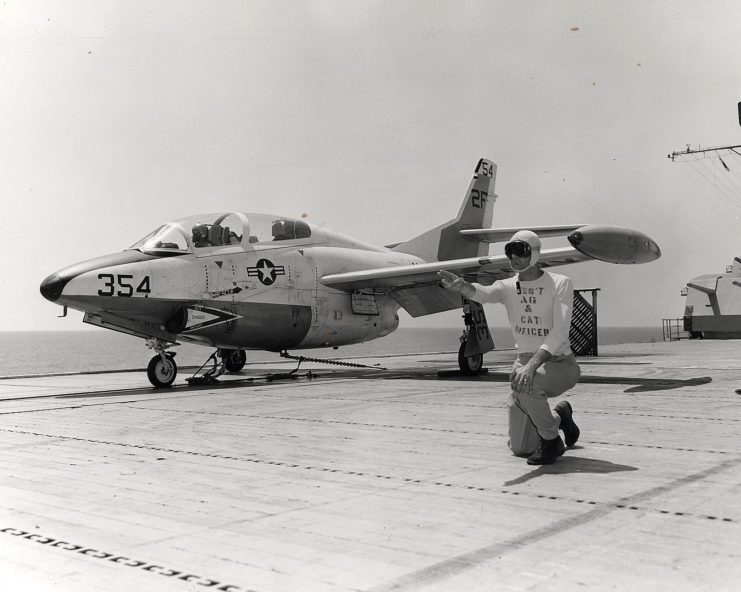 In 1955, Antietam – now classed as an anti-submarine warfare vessel – participated in a goodwill tour of America's allies in Europe, but this trip was cut short by the Suez Crisis. She left the Netherlands and made her way to the Mediterranean, collecting American citizens being evacuated from Egypt.
For the rest of her career, Antietam served as a training ship off the coast of Florida, although tests of new technologies were tried out on her. In May 1961, the world altitude record balloon flight completed by Commander Malcolm D. Ross and Lieutenant Commander Victor A. Prather left from her deck.
In 1962, her role as a training ship was taken over by her sister, the USS Lexington, and Antietam was placed in reserve. She remained this way until 1973, and a year later was sold to the Union Minerals & Alloys Corp. and scrapped.