Before the outbreak of WWII, it became clear that the days of the dominant role of the huge Naval fleets of Destroyers and Battleships were numbered, and aircraft plus their carriers were about to take over their role as a new weapon, being more flexible in Naval Battles with way more speed, and more reach and punch with massive torpedo- bomber attacks and fighters.
In the early 1930s, a number of Naval aircraft/ Flying Boats were specifically designed for ultra-long Patrol flights over open oceans, demanding for a new sort of aircraft platform that could carry sufficient amounts of fuel for the long haul.
Both the British, the Japanese, and the Americans were working on such designs as they, with their Imperial ambitions and/or oceans surrounding them, felt the most urgent need in case of a war.
In this Dakota Hunter Blog, I will try to make a comparison between what arguably is considered as The best of WWII-operated US and Japanese Flying Boats:
In engine technology, major steps were made in the early 1930s, as the newly upgraded Radial engines from Pratt & Whitney and Wright arrived into the market with previously unseen HP/weight ratios, reducing the need for use of 3-4 engine setups (Similar to what we see now with the upgraded/ stretched 2-engine Wide Body Jet-airliners, pushing the 4-engine B-747/ A-380 Jetliners out of the market for pax flights).
The P & W R-1830 Twin Wasp 14 cylinder Radial engine cranked out some 1,000 hp and in later versions even 1,200 hp with extreme endurance and reliability. The engines could run/fly for well over 30 hours if only sufficient fuel was aboard. For the planned long overseas Flying Boat patrol and civil aircraft, that flight endurance/range became the new Holy Grail.
A wet dream for any Navy, to fly & spy over the oceans, with a swarm of mechanical Gulls, monitoring the endless seas with almost unlimited flight endurance and hopefully detecting one day the enemy fleet or a single Submarine, way before those vessels could launch an attack and inflict damage.
Not a contest for the "Most Exotic or Best Flying Boat" but a brief comparison of the tech specs of both 'boats, with their own Outstanding features, that earned them the title "Best flying boat of the Pacific".
Kawanishi H8K2 Emily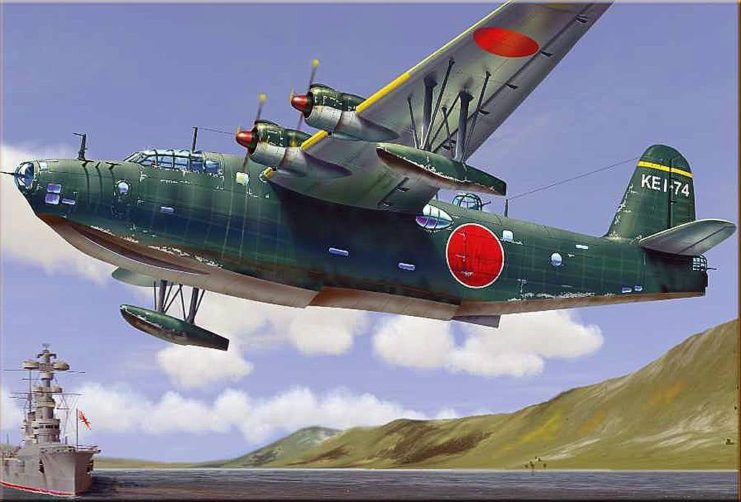 In Japan, there was a similar development for Long-Range Flying boats that started in or before 1934.
Could it be that around that year, they may have had a master plan for conquering the "Colonial" Pacific?
Kawanishi incorporated in their design the knowledge collected after they visited the Short Brothers factory in the UK, at that time one of the world's leading producers of flying boats (Industrial espionage is nothing new).
The result was the Kawanishi H3K, a license-built, enlarged version of Short's Old-School design, the model Rangoon. Based on that type, a larger, 4-engine monoplane with twin tails came out, and a hull suspended beneath the parasol wing by struts, quite closely resembling the PBY wing setup. The maiden flight was on 14 July 1936 (just over a year after the maiden flight of the PBY) and was originally designated Navy Type 97 Flying Boat, later H6K.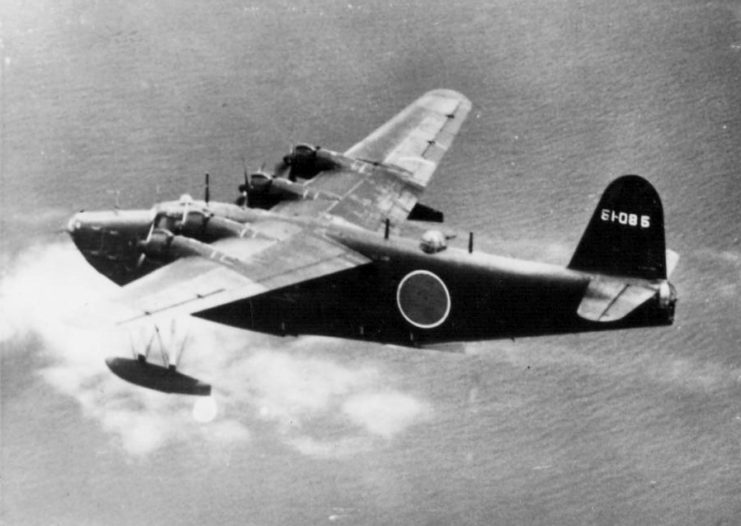 From there, a newly developed large-sized flying boat came out. The Kawanishi H8K was a larger, four-engine aircraft designed for long-range and extended endurance on patrols or bombing missions typically flown alone over the ocean, and used by the Imperial Japanese Navy in some very audacious assaults.
With the Allied code name "Emily". it was a shoulder-winged design that has some distinct similarities with the Short Sunderland design: a robust flying boat that was also fitted with powerful defensive armament, for which Allied pilots had respect, wherever this aircraft was encountered in the Pacific theater.
The H8K entered production in 1941 and first saw operational use on the night of 4 March 1942. Only 3 months after the first surprise attack on Pearl Harbor, the Japanese launched a daring second raid on the Oahu, Hawaii US Naval Port.
Since the target laid out of range for the flying boats, this audacious plan involved a refueling by submarine at the abandoned French Frigate Shoals, some 900 km (560 mi) north-west of Hawaii.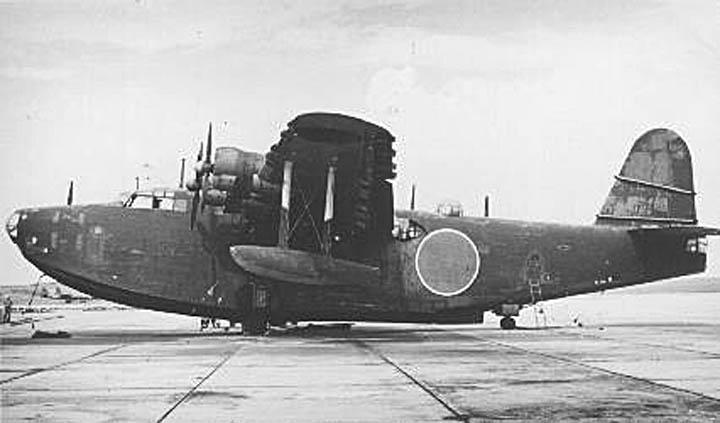 Two Emilys attempted to bomb Pearl Harbor and believe it or not, they arrived there but, due to poor visibility, did not accomplish any significant damage. Six days after this second Pearl Harbor raid, yet another flight to Oahu was made! What? As if a Tokyo-Hawaii Express scheduled-flight slot was agreed upon, one of the Emilys was again sent out on a daylight photo-reconnaissance mission from the Midway Atoll.
But this time, their luck ran out, It was intercepted by radar-directed Brewster F2A Buffalo fighters of Marine Fighting Squadron 221 and shot down. All aboard were killed including Lt. Hashizume Hisao, the lead pilot of the second Pearl Harbor raid. (Source Wikipedia)
But the string of events as described with the "Emily", gives an impression of how this aircraft was underestimated by the Allies. It turned out that also the Japanese had made major steps forward.
With a length of 28 m/ 92 ft and a wingspan of 38 m/ 124 ft, the 'Emily' was markedly larger than the PBY. Also, its Gross Weight of 24,5 tons/ 34,000 lbs and take-off weight of 32,5 tons/ 72,000 lbs indicate that this aircraft was made for the long haul, like a flying tanker and well-armed.
On top, its 4 Mitsubishi radial engines cranked out max 1,859 hp each, resulting in a high top speed of 467 km/h/ Cruise speed of 300 km/h (184 mph). The ferry range was 7,152 km (4,444 mi), Spectacular Specs for the time!
The Consolidated/ Convair/ Canso PBY Catalina.
Length: 63 ft /19.5 m
Wingspan: 104 ft (32 m)
Max takeoff weight: 35,420 lb (16,000 kg)
Powerplant: 2 × Pratt & Whitney R-1830-92 Twin Wasp 14-cylinder air-cooled radial piston engines, 1,200 hp (890 kW)
Performance
Maximum speed: 196 mph (315 km/h, 170 kn)
Cruise speed: 125 mph (201 km/h, 109 kn)
Range: 2,520 mi (4,060 km, 2,190 nmi)
Service ceiling: 15,800 ft (4,800 m)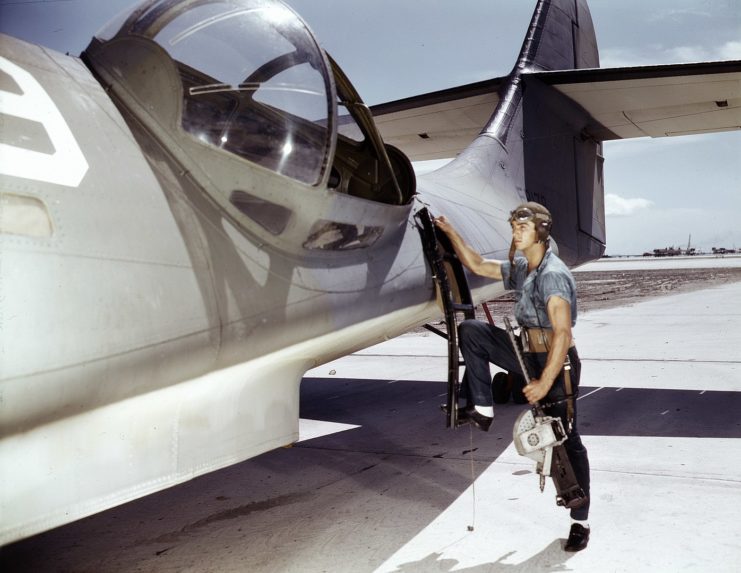 It is clear from all specs/data that we see from the 'Emily' under Photo 1, the design of the PBY Catalina comes from an earlier era. There is no doubt about that, the PBY was considered an obsolete design at the beginning of WW II.
So, in a tech comparison, the Cat lacks speed, payload, and defensive capacity, but there was a huge edge. With its proven technology and old-school design features (underwing struts, no wing flaps, low top/ cruise speed, etc.), the type could be built in huge numbers, right in the time when they were needed in 1940-1941 and beyond.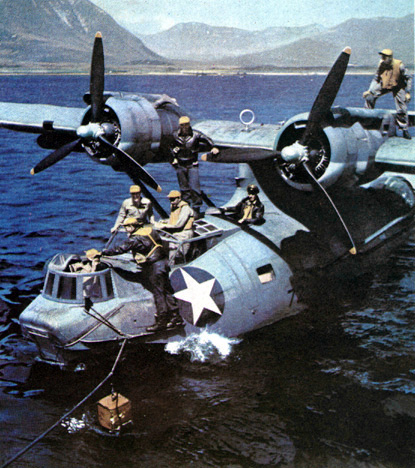 With all those setbacks mentioned, there was one more thing, the flight range was fabulous and the aircraft's endurance made her the champion of the long overseas patrol flights, needed over the Atlantic Ocean from early 1940 and over the Pacific Ocean from December 1941.
Soon engaged in Anti-Submarine Warfare (ASW) and in SAR flights (Search and Rescue) for tracking downed pilots, the Catalina had the capacity to fill the ship-convoy escort-gap over the Atlantic, as PBY flights were performed both from the UK and Canada.
Another Article From Us: Live Like a Bond Villain, 3 Remote Napoleonic-Era Forts For Sale
During the War, the Catalina got big fangs for killing the Subs. Not only in the daytime, the Cats were among the first fighting aircraft that received Radar, the Mad Boom, Sonar and the Leigh Light, so they were able to attack the Subs also at night, the critical time that Subs had to come to the surface, in order to start their diesel engines and recharge their batteries, needed for the daytime underwater operations.
For more info, blogs, reviews and how to order books at Amazon, Barnes & Noble etc, come to my website www.dc3dakotahunter.com or go to Order books directly at Amazon.