The first air battles in American war history occurred during World War I, of which the top US pilot was Eddie Rickenbacker. They became more common in the Second World War and, this time around, one of the top pilots was Francis "Gabby" Gabreski. He also became a jet ace for good measure during the Korean War.
This is his story.
Gabby Gabreski's early life
Frances "Gabby" Gabreski was born in 1919 to parents who'd emigrated from Poland. He grew up in Oil City, Pennsylvania. His hardworking parents pushed Gabreski to be the best he could be. He went off to college at Notre Dame, but had difficulty with the workload and nearly failed out of his first year.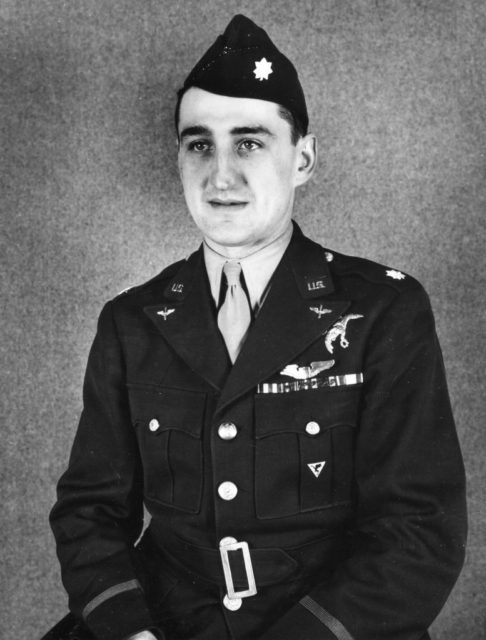 It was at Notre Dame that Gabreski first took an interest in flying. He joined the Taylor Club, a school organization that allowed students to get in flight time. His future mastery of flying was not evident at this point. Homer Stockert, who served as his instructor, told him he didn't have the touch needed to be a successful pilot.
Flight training
During his sophomore year, Gabby Gabreski joined the United States Army Air Corps, volunteering as an aviation cadet. His poor performance as a pilot continued; he was considered a mediocre trainee and barely passed an elimination test. He eventually improved, earned his wings and was commissioned as a second lieutenant.
Gabreski was sent to Wheeler Army Airfield in Hawaii as a member of the 45th Pursuit Squadron, 15th Pursuit Group. While there, he trained on the P-40 and P-36 Warhawk. While he was involved in a mission to intercept the Japanese pilots that bombed Pearl Harbor, they were unable to catch up with them.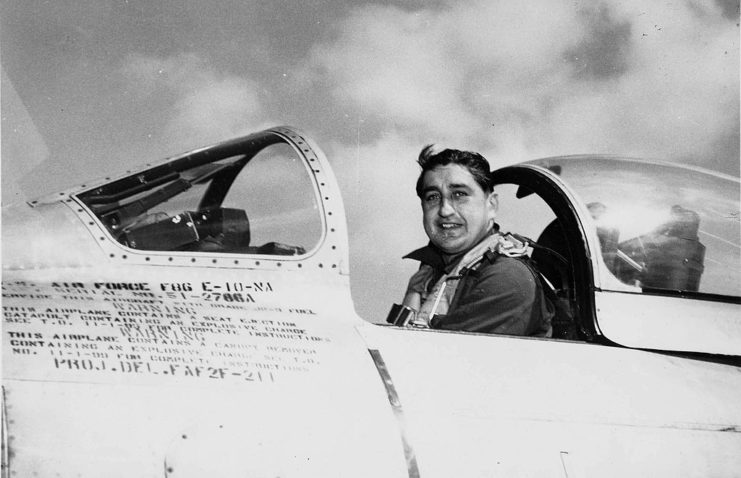 Gabreski kept a close watch on how the war was unfolding in Europe. He knew the Polish RAF had well-experienced pilots and felt he could learn more from them than the less experienced US pilots. Noting his Polish heritage and ability to speak the language, Gabreski volunteered to serve as a liaison to the Polish squadrons. He was accepted and left for Europe.
Gabreski's service during World War II
Gabby Gabreski left for the Eighth Force's VIII Fighter Command in England in October 1942. He only flew 20 missions for the Polish RAF squadrons, mostly doing Luftwaffe sweeps, and only once experienced combat. He later credited his time in the RAF as a terrific learning experience.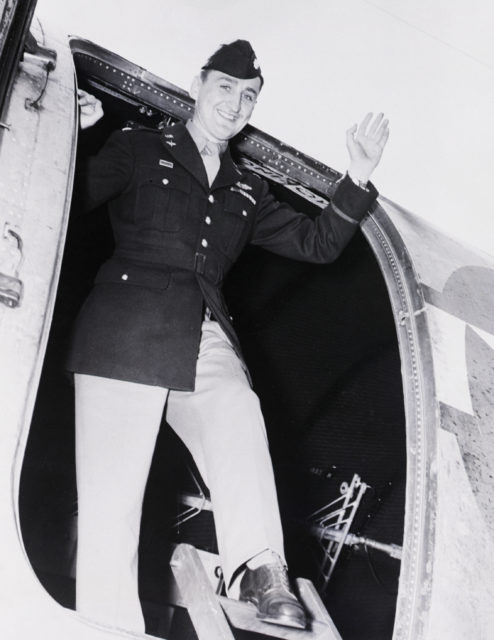 After a month in England, Gabreski joined the US 56th Fighter Group, 61st Fighter Squadron, flying P-47 Thunderbolts. He quickly became a flight leader and was promoted to major. He recorded his first aerial kill in August 1943 in France, and the wins kept on coming. Gabreski continued to rack up kills and finished WWII with 28 confirmed aerial wins. He's also credited with three additional destroyed aircraft on the ground.
Toward the end of the war, Gabreski crashed his plane in Germany, was interrogated and taken as a prisoner of war. He remained in the prison camp, Stalag Luft I, from July 1944 until Soviet forces liberated it in April 1945.
Service during the Korean War
Between WWII and the Korean War, Gabby Gabreski briefly commanded the 55th Fighter Squadron, 20th Fighter Group at Shaw Air Force Base, South Carolina and earned a degree from Columbia University. He was then placed in command of his former unit, the 56th Fighting Group, flying F-80 Shooting Stars at Selfridge Air Force Base, Michigan.
Early into the Korean War, Gabreski shot down a MiG-15, and recorded two kills in the fall of 1951. He was transferred to Korea's Suwon Air Force Base and took command in November 1951. Over the next seven months, Gabreski scored three-and-a-half more kills. This made him one of only seven American fighters to become an Ace in different wars.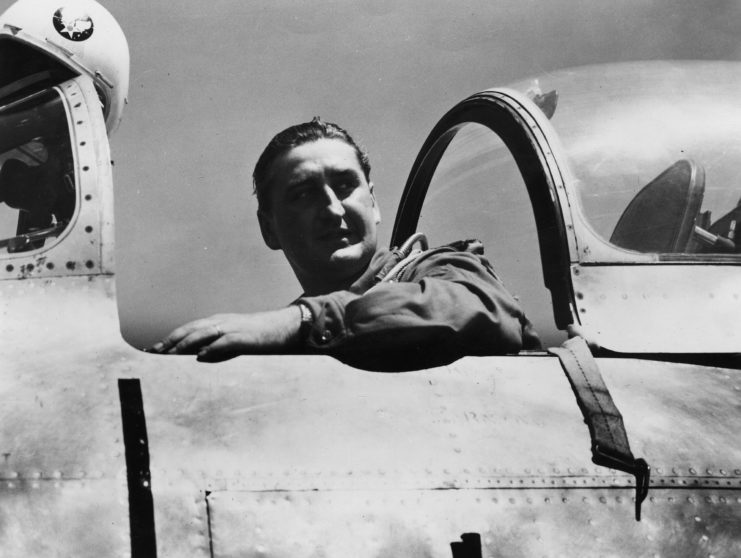 There were claims that many wingmen chaffed at Gareski's leadership. Others disputed this.
In an interview, 1st Lt. Anthony Kulengosky said, "I moved up in the world of wingmen by flying Col. Francis Gabreski's Wing on a mission. I was absolutely thrilled to fly on this legend's wing… He was a tiger and went on to become an ace again. When asked who I looked up to the most as a pilot and a gentleman in all my flying, I still have to say it was 'Gabby' Gabreski. When he took over the 51st Wing, he asked me to move over as a flight leader in his outfit."
Gabreski's life and legacy
Following his service, Gabby Gabreski worked for Grumman Aerospace. In 1978, he was asked by New York Governor Hugh Carey to oversee the struggling Long Island Rail Road. After 18 months in the position, however, Gabreski resigned, saying his efforts to improve the service were obstructed.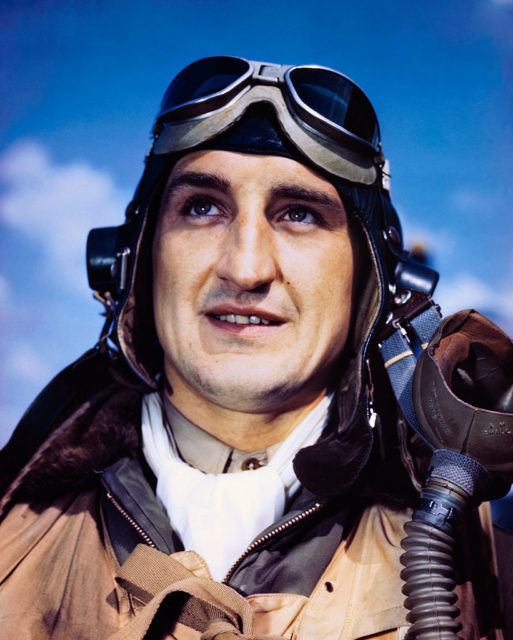 Gabreski had nine children with Kay, his wife of 48 years. Two of his three sons followed in his footsteps and became US Air Force pilots, while his daugher-in-law, Terry L. Gabreski, became the highest-ranking woman in the Air Force until her retirement in 2010.
Gabreski died of an apparent heart attack in 2002, at the age of 83. He was buried in Calverton National Cemetery, with full military honors. He left behind a legacy as one of the greatest pilots in American history.