"You have been riveted to a hospital bed, but you can firmly say that you were in the forefront of fighters, tankmen, pilots and artillerymen going to battle since your name was written on the fighting formidable machines that are bringing death to the German invaders." Thus said a message, from pilot and "Hero of the USSR Alexander Andreev," to Zinaida Tusnolobova.
Zinaida Mikhailovna Tusnolobova was born on November 23, 1920, on a farm called Shevtsovo, in the Polotsk district of the Vitebsk region of modern day Belarus. After Zina completed seven-year school, her family moved to Leninsk-Kuznetsk, located in the Kemerovo region.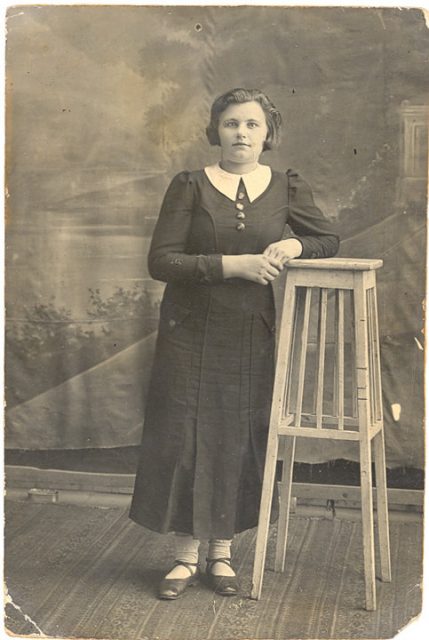 Zina's father died shortly before World War II, called the Great Patriotic War in the USSR. Some information indicates that Zina's father did not die, but rather that out of fear of reprisals in the 1930s, he left for Siberia and changed his surname. In either case, Zina afterward got a job at the Leninskugol factory (Ленинскуголь) as a laboratory chemist.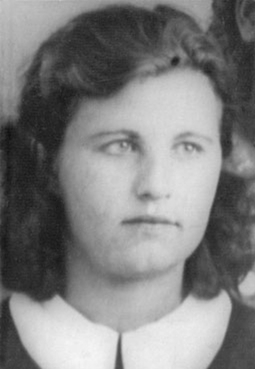 Soon she met with Joseph Marchenko, whom she married in the spring of 1941. However, in one interview Zinaida's son claimed that his parents had met, but did not get married before the war.
Shortly before the start of the Great Patriotic War, Joseph was sent to serve in the Far East, and from there went to the front. Zinaida trained in nursing and went to war as a volunteer. She was sent to the 849th Infantry Regiment of the 303rd Infantry Division, part of the 60th Army in the Voronezh Front.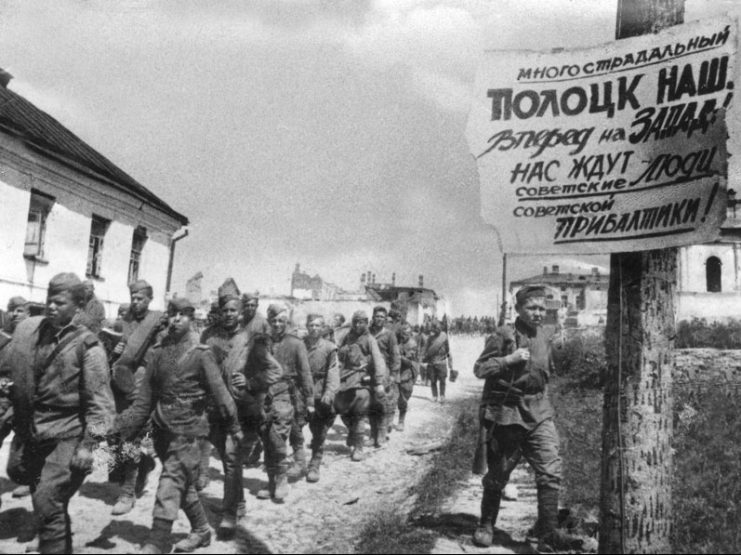 In the summer of 1942, the 849th Regiment fought near Voronezh. During the period from 19-23 July, Nurse Tusnolobova saved more than forty lives, though other sources indicate 25, pulling them in from the battlefield. For this, she was awarded the Order of the Red Star.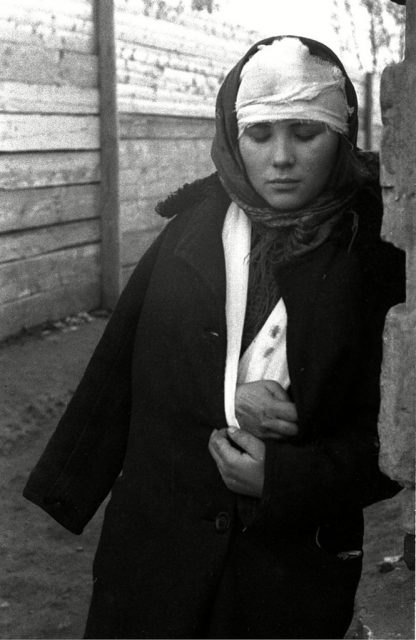 After that, Zina wrote a letter to her mother: "Dear mother, brother Zhenya, I write to you from the Voronezh burning earth. If you know what's going on here. Day and night, the earth moans. There is a bloody battle. But do not worry about me. The bullet is looking for timid ones, and I, you know, [am] not from such."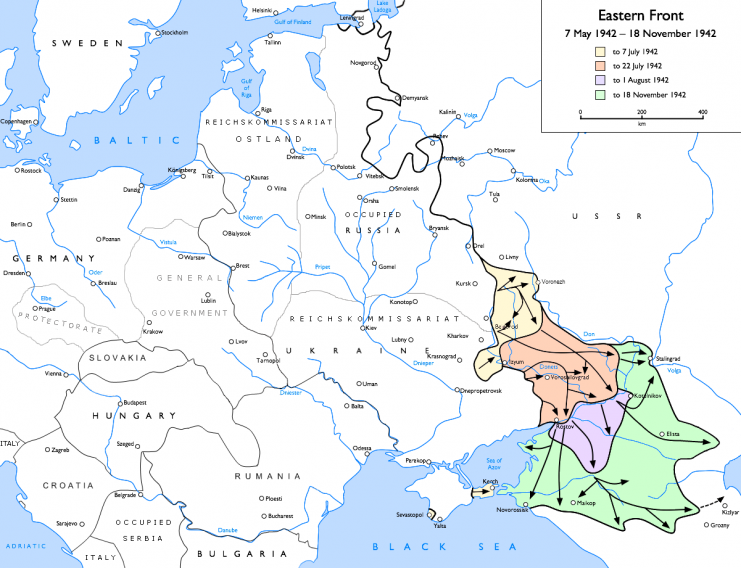 In just 8 months of her work at the front, Zinaida carried 123 wounded from the battlefield. In February 1943, Senior Lieutenant Mikhail Tymoshenko's company, which included Zina, fought in the area of the Gorshechnaya station. On the third day of battle, the company commander was seriously wounded.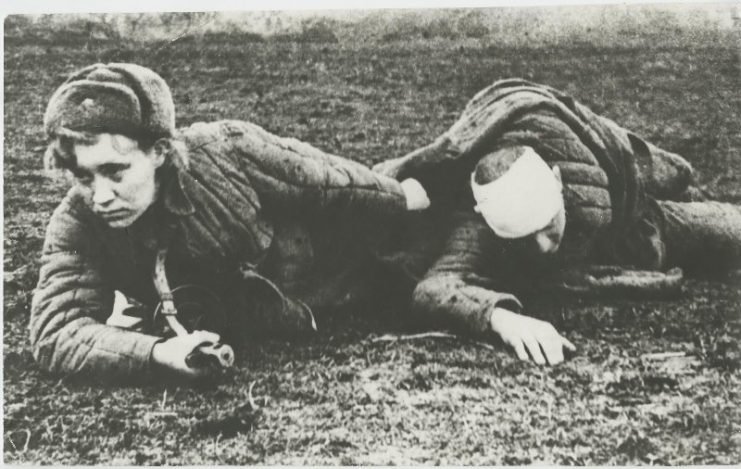 Zina began to make her way to the wounded lieutenant, but along the way she received a serious wound to her leg. By the time she crawled to him, he was already dead.
At that moment, Zina felt weak, and fainted. Soon the German troops launched an offensive. Regaining consciousness, Zinaida saw a German soldier above her. "Seeing this, I pretended to be dead. The fascist came up to me, began to hit the head and stomach with something heavy, I think [it was a] butt. Then he began to beat [me] with his boots. I lost consciousness again."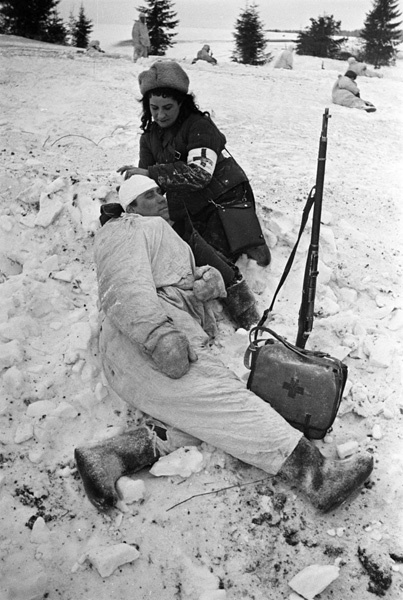 At night, she regained consciousness again, but could not move due to her injuries and frostbite. At that moment Soviet scouts passed nearby, and heard the moaning of a dying woman. Zina lay face down, chained by her frozen blood to the ground. Her face was broken, and her hands and feet were black with cold–gangrene had started.
The scouts brought Zina to the location of the Soviet troops, and from there she was taken to a field hospital. Subsequently, her condition began to deteriorate, and she was evacuated to a hospital in the city of Sverdlovsk for further treatment. Over several months, the doctors performed eight surgeries that saved her life, but due to the severe frostbite, they had to amputate her arms and legs.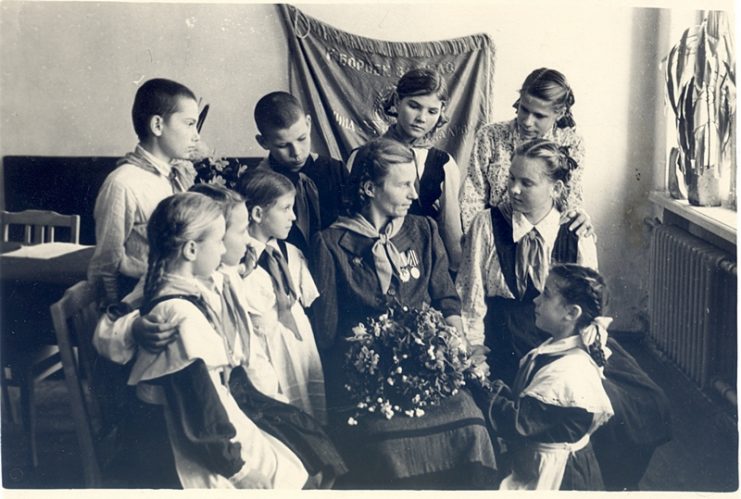 Having survived complex operations, Zina for a long time gathered her thoughts about how to report her tragedy to her husband. She turned to the nurse with a request to dictate a letter to Joseph Marchenko, which said, "My dear Joseph! Forgive me for such a letter, but I can no longer remain silent. I must tell you the truth…I suffered at the front. I have no arms and legs. I do not want to be a burden to you. Forget about me. Goodbye. Your Zina."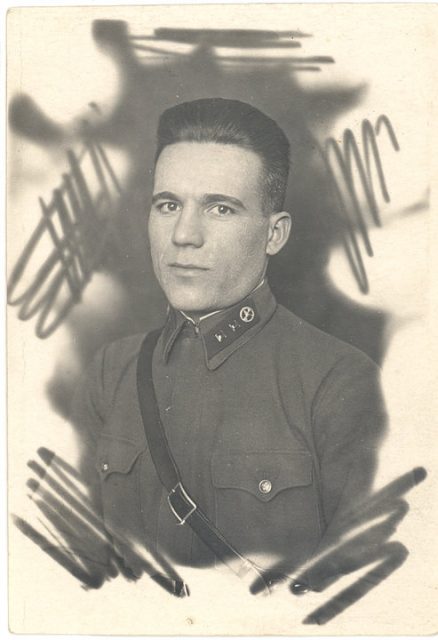 After that, Zina waited anxiously for the answer from her husband. One day she asked the nurses to be taken to the Uralmashplant shop to talk to the workers. Soon, her request was granted. During the lunch break, Zina was brought to the assembly workshop on a stretcher. Hundreds of people gathered to listen to the brave woman.
Dear friends! I am twenty-three years old. I am very sorry that I managed to do so little for my people, for my Motherland, for Victory. For eight months at the front, I managed to take out of the battlefield one hundred and twenty-three wounded soldiers and officers. Now I cannot fight and I cannot work. I have now no arms or legs. It is very difficult, very painful to stand aside…Comrades! I very, very much ask you: if it is possible–do for me at least one rivet for the tank.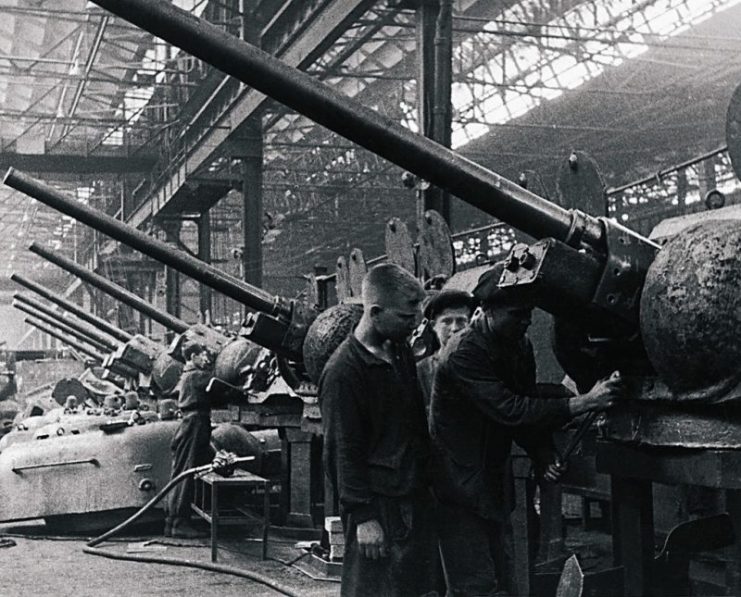 This appeal inspired the workers, who exceeded the goal for creating T-34 tanks by five units. On the sides of each of these tanks, in white paint, was the inscription "For Zina Tusnolobova!" (За Зину Туснолобову!)
After some time, Joseph Marchenko received Zina's letter. Reading the letter plunged him into shock, but the next day he wrote a response.
My dear little one! My dear sufferer! No misfortunes and troubles can separate us. There is no such grief, there are no such torments as would [force me] to forget you, my beloved. And with joy and grief, we will always be together. I'm yours as before, your Joseph…. There is no time to write more. Soon we will go on the attack. I wish [you] a speedy recovery. Do not think anything bad. With impatience, I wait for the answer. I kiss you endlessly. I love you, your Joseph.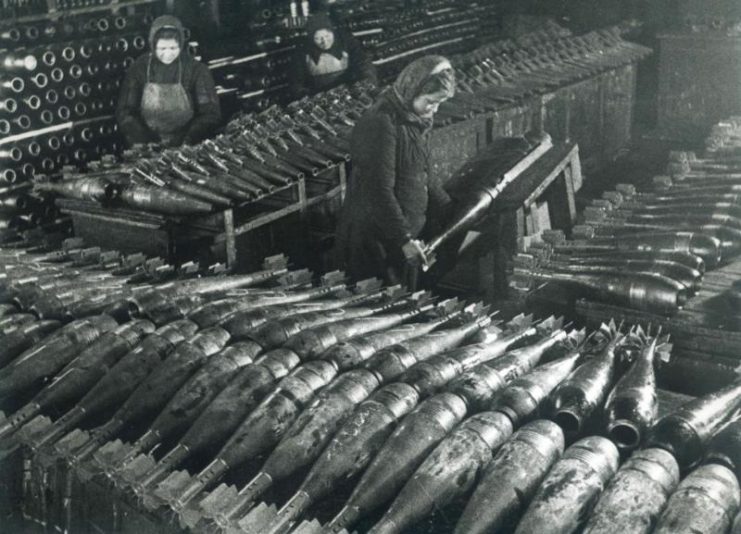 Most of the time, Zina experienced severe pain, but despite this, she tried to adapt to life. Thanks to a rubber cuff with an attached handle, she learned to write. In the autumn of 1943, Zina received the letter from her husband, which inspired her.
Shortly afterward, a surgeon named Nikolai Vasilyevich performed several operations on Zina, and in early 1944, he took her to the prosthetic institute in Moscow, where specialists made prostheses for her. After that, Zina began to learn how to walk anew.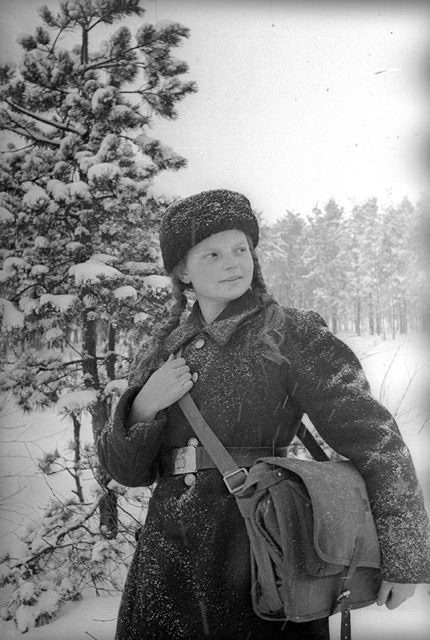 On May 13, 1944, Zina wrote a letter, which was published in the frontline newspaper Forward to the Enemy (Вперед на врага):
Take revenge for me! Avenge my native Polotsk! Let this letter reach the heart of each of you. A woman who the Nazis have deprived of everything–happiness, health, and youth, writes this. I am 23 years old. For 15 months, I am lying, chained to the hospital bed. I now have neither hands nor legs….

It's very hard for me. At twenty-three, I should [not] be in the position I am in…Eh! Not done and a tenth of what she dreamed of, what she was aiming for…But I am not losing heart. I believe in myself, I believe in you all, my dears!

And I ask you, relatives: when you go to the assault, remember me! Remember–and let each of you kill at least one Nazi.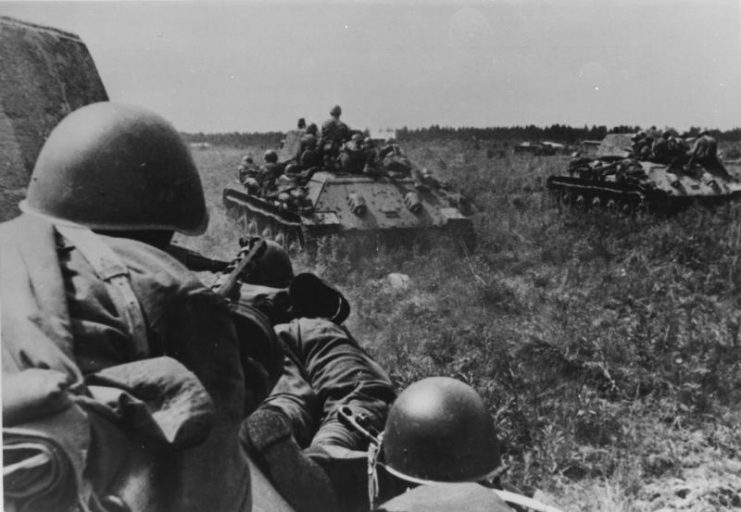 This appeal inspired many soldiers and officers at the Baltic and other fronts. After that, on guns, mortars, armored tanks, and aircraft fuselages appeared the inscription "For Zina Tusnolobova!" (За Зину Туснолобову!). Zina's Address resulted in more than 3,000 letters from soldiers at the front.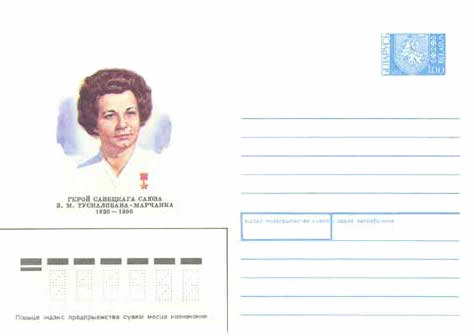 She tried to answer all these letters, and even spoke on the radio. But the most important letters in her life were those from her beloved husband Joseph. After the war, Joseph and Zinaida were reunited and settled in the city of Polotsk. Zinaida learned how to keep house, became a member of the Polotsk City Council, was a radio announcer, and conducted extensive public work.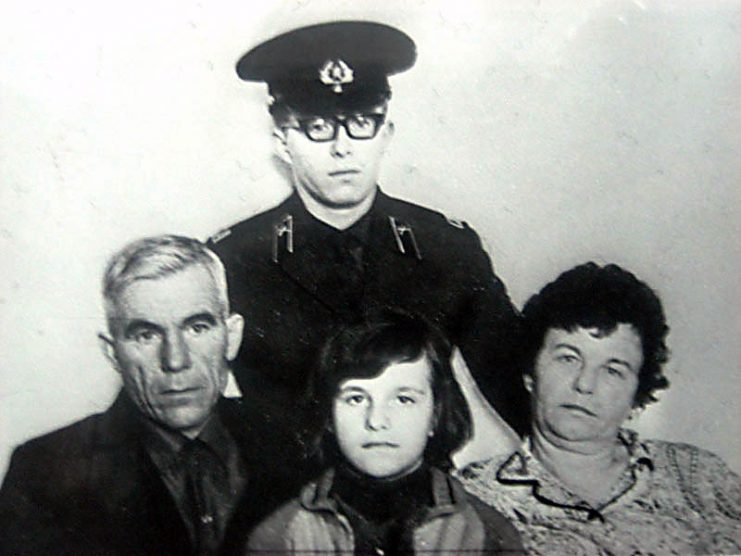 Soon they had children–their son Vova and daughter Nina. In her letters, Zina thanked the surgeon Nikolai Vasilyevich. According to a little-known version of Zina's story, she also had two other sons first, but both boys died.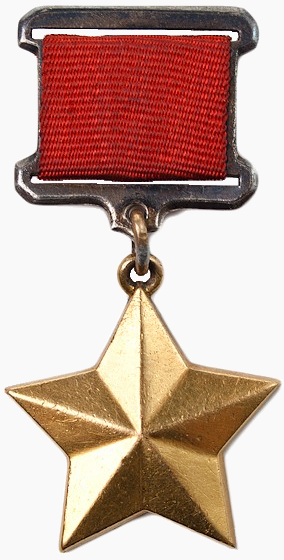 On December 6, 1957, Zinaida Tusnolobova-Marchenko was awarded the title of Hero of the Soviet Union. In the fall of 1965, the International Committee of the Red Cross awarded Zinaida with the Florence Nightingale Medal.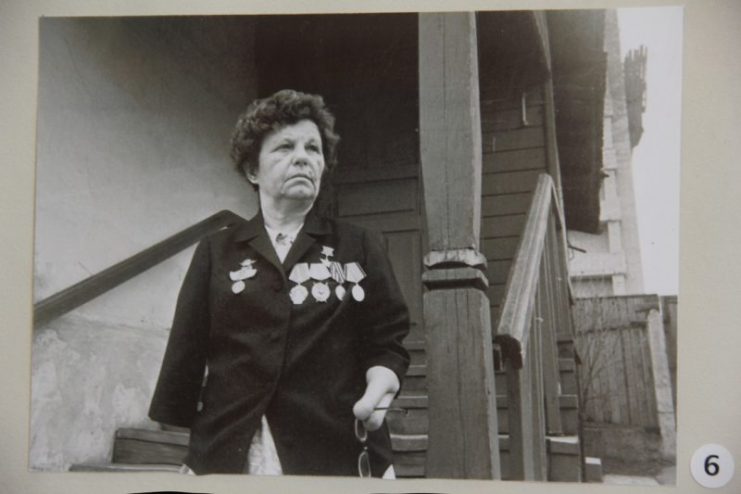 Read another story from us: 13 Roles Soviet Women Filled in WW2
On May 20, 1980, Zinaida Mikhailovna Tusnolobova-Marchenko died. She is an honored citizen of the city of Polotsk. Her name was given to a kindergarten, another school, and streets of different settlements, as well as a museum in Polotsk and a medical college.