Captain Amy Bauernschmidt has made history by becoming the first woman to command a deployed aircraft carrier, after the USS Abraham Lincoln (CVN-72) set out to sea on January 3, 2022.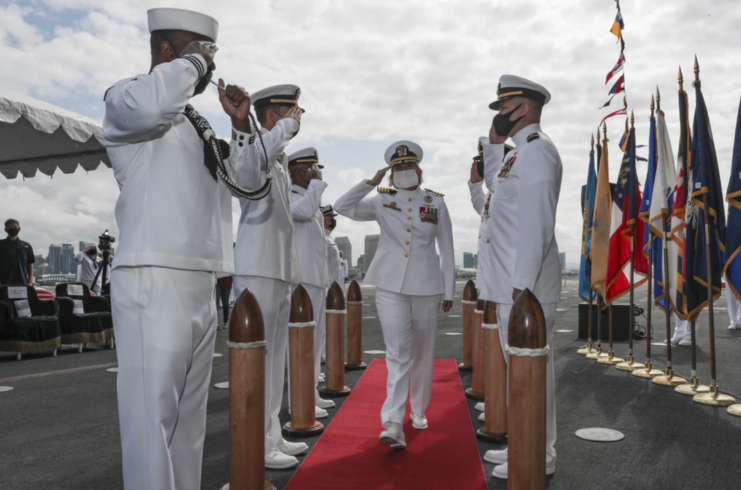 Capt. Bauernschmidt assumed command of the Nimitz-class aircraft carrier in August 2021, after relieving Captain Walt "Sarge" Slaughter. Prior to this assignment, she'd commanded the San Antonio-class amphibious transport dock USS San Diego (LPD-22) and the Helicopter Maritime Strike Squadron (HSM) 70.
Upon assuming command of the vessel in August, she said, "There is no more humbling sense of responsibility than to know you are entrusted with the care of the people who have chosen to protect our nation."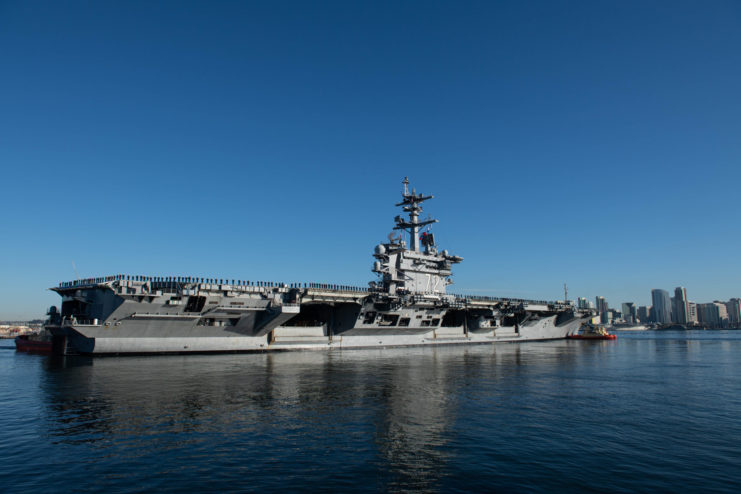 The USS Abraham Lincoln departed from San Diego for a regularly scheduled deployment, in support of global maritime security operations. It set off alongside Destroyer Squadron 21 (DESRON 21), a group of Arleigh Burke-class guided-missile destroyers consisting of the USS Fitzgerald (DDG-62), Spruance (DDG-111), Gridley (DDG-101) and Sampson (DDG-102), as well as the Ticonderoga-class guided-missile cruiser, the USS Mobile Bay (CG-53).
The group also includes Carrier Air Wing (CVW) 9, dubbed "the most advanced air wing in the Navy." It includes three squadrons of F/A-18E Super Hornets and EA-17 Growlers, among other aircraft, as well as the Marine Fighter Attack Squadron 314 (VMFA-314), the first Marine Corps squadron of F-35C fighter jets.
This is the second carrier deployment for the F-35C fighter jets, as Navy squadrons accompanied the USS Carl Vinson (CVN-70) in August 2021.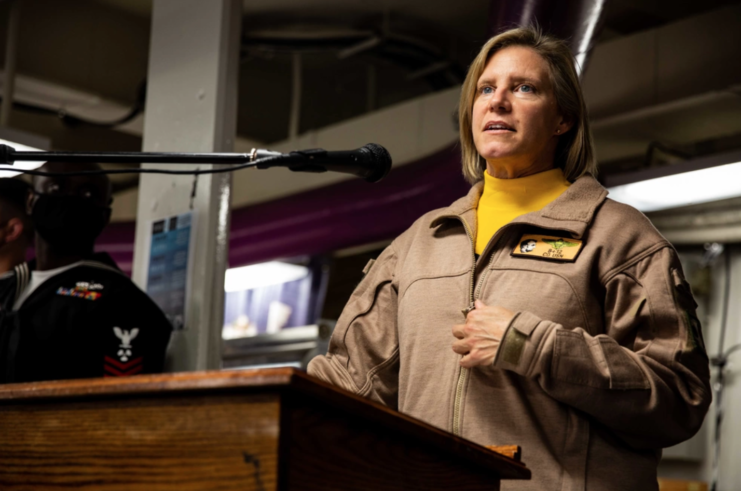 A native of Milwaukee, Wisconsin, Capt. Bauernschmidt graduated from the Naval Academy in 1994 with a Bachelor's Degree in Ocean Engineering, a notable achievement, as it was the first graduating class in which women were allowed to serve aboard combatant aircraft and ships. She later earned her Master's Degree at the Naval War College, and was designated a Naval Aviator in 1996.
Capt. Bauernschmidt has made history once before. In August 2016, she became the first woman to serve as the Executive Officer (XO) of an aircraft carrier. The Executive Officer is a ship's second-in-command and is in charge of managing its day-to-day operations.
Speaking about the appointment in 2017, she said, "I would tell everyone that the Navy treats women fair and equally. Throughout my career, I always felt I was treated as a naval officer first, an aviator second. I've been very fortunate in my career, but I think many women in the Navy have."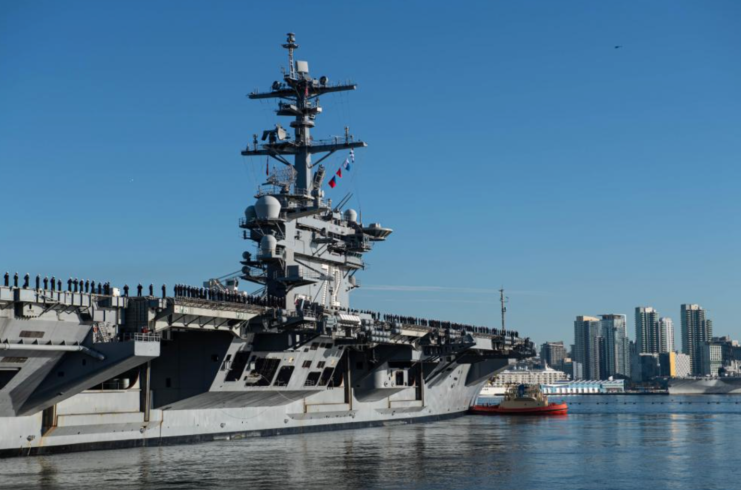 The USS Abraham Lincoln was commissioned in November 1989. Its last deployment was in 2019, when it entered European waters before travelling to the Middle East, where it served in the Gulf of Oman and the Arabian Sea.