Tony Bennett was a jazz legend, with a career spanning over half a century. His music transcended generations and made him a household name across the world. Before entering the music business, he served in the US Army, with whom he was deployed to Europe to participate in the final months of the Second World War.
Tony Bennett's early life and entry into the US Army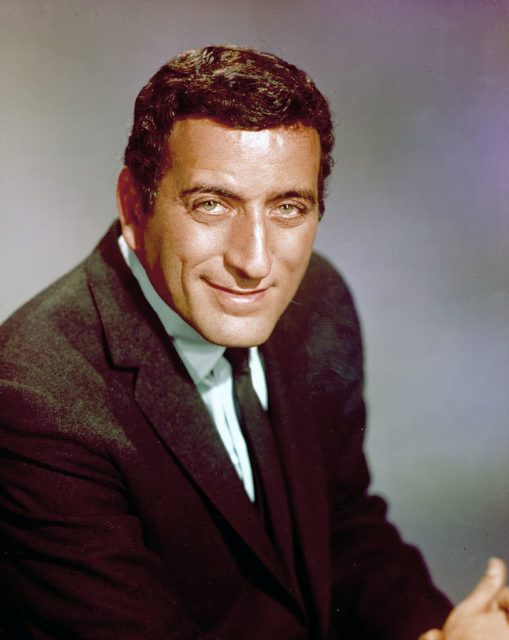 Anthony Dominick Benedetto – later known as Tony Bennett – was born on August 3, 1926 and raised in Astoria, Queens, New York. He was introduced to music at an early age through radio, and by the time he was a teenager was working as a singing waiter at local restaurants.
In November 1944, Bennett was drafted into the US Army, just three months after turning 18. While initially interested in joining the US Navy, he was placed in the Army, and completed basic training at Forts Dix and Robinson to become an infantry rifleman.
While training, Bennett ran afoul of a sergeant from the South who disliked his Italian heritage. As such, he was punished with KP Duty and BAR cleaning.
Service in Europe during World War II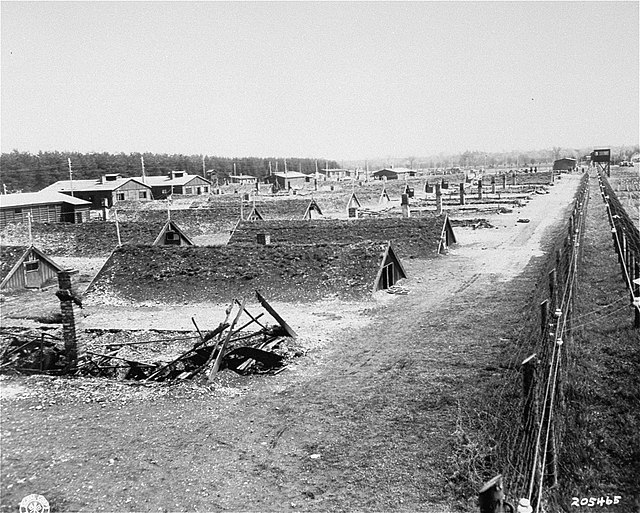 In March 1945, after six weeks of training, Tony Bennett was assigned to the 255th Infantry Regiment, 63rd Infantry Division – known as the "Blood and Fire" Division. The regiment was sent to Europe to bolster Allied numbers after severe losses during the Battle of the Bulge.
Bennett and his fellow troops marched through the frontlines in France and Germany, and half of them fell during the first three days. They had to contend with sleeping in foxholes, and were faced with heavy fire, despite the German retreat. By the end of March, they'd crossed the Rhine into Germany, where they fought to clear towns of German soldiers.
The unit crossed the Kocher during the first week of April, and by the end of the month had reached the Danube. They also liberated Kaufering concentration camp, in the town of Landsberg, where American prisoners of war (POWs) from the 63rd Infantry Division were being held. It was an experience Bennett said changed his life.
Postwar service in Europe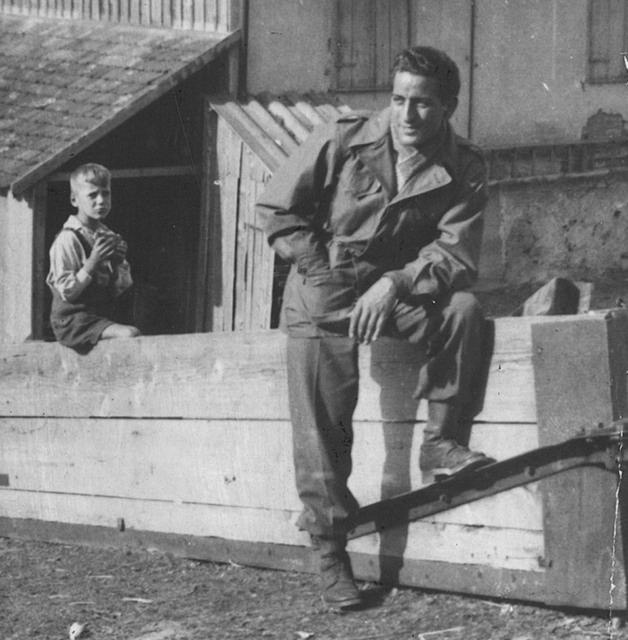 Following the German surrender in May 1945, Tony Bennett was ordered to serve in the postwar occupation of Europe. He was stationed in Mannheim, Germany, where an officer encouraged him to join the band the 255th Infantry Regiment was forming. He was then assigned to the Special Services, where he rose to the rank of corporal and was tasked with entertaining the troops.
During Thanksgiving 1945, Bennett invited friend and former classmate Frank Smith to dine with him. This caused an uproar, as Smith was African American and soldiers were still officially segregated. According to Bennett, a bigoted officer promptly demoted him to private, cutting off his corporal stripes with a razor, spitting on them and throwing them to the floor.
Following his demotion, Bennett was reassigned to a unit tasked with exhuming mass graves and preparing bodies for transport back to the United States. He was able to leave the assignment after a major pulled some strings and assigned him to the 314th Army Special Services Band, where he performed under the name "Joe Bari."
It was around this time that Bennett became acquainted with the new jazz music coming out of the US, thanks to Armed Forces Radio Service broadcasts.
A successful music career followed Tony Bennett's military service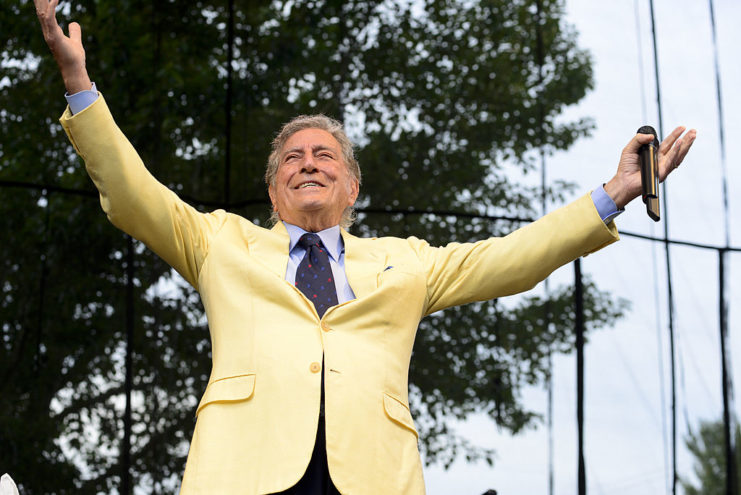 What Tony Bennett saw and experienced in Europe stuck with him throughout his life. When he returned to America in August 1946, he vowed to live a life of pacifism and pursue his love of music. He attended the American Theatre Wing via the GI Bill, where he studied voice training, and later auditioned for Broadway, but to no avail. He eventually tried singing in nightclubs, which allowed him to gain exposure.
In 1949, Bennett was invited by Pearl Bailey to open for her at a club in Greenwich Village, where he met actor and singer Bob Hope. Hope is credited with giving him the stage name "Tony Bennett" and encouraging him to go on tour.
Bennett signed with Columbia Records in 1950, under which he has released such hits as "I Left My Heart In San Francisco" and "Because of You." Over the course of his career, he released more than 100 albums and won 20 GRAMMY Awards, including the Recording Academy's prestigious Grammy Lifetime Achievement Award.
Alzheimer's diagnosis and death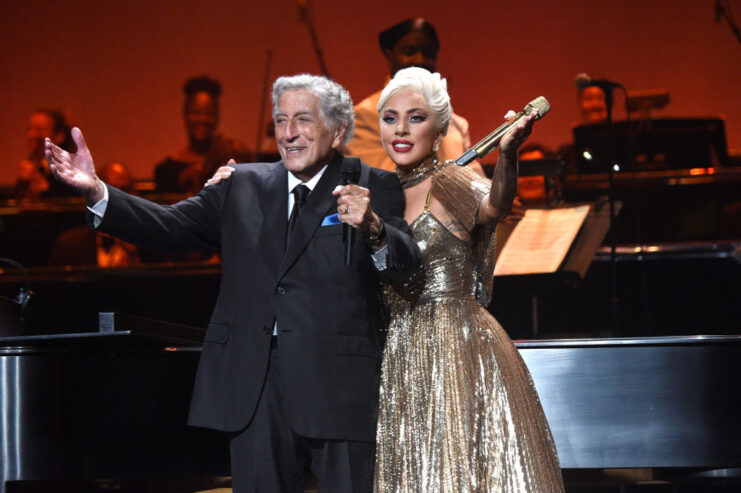 In 2021, AARP Magazine published an article, revealing Tony Bennett had been diagnosed with Alzheimer's disease five years prior. Early into his diagnosis, the jazz legend continued to perform and record music, releasing a number of albums with pop singer Lady Gaga.
Following the announcement of his diagnosis in 2021, Bennett performed a handful of farewell shows, before officially retiring. According to his son, Danny, the disease primarily impacted his father's short-term memory, while Bennett's neurologist told AARP Magazine that performing helped keep the musician otherwise sharp and "on his toes."
More from us: Before Starring Alongside Andy Griffith, Don Knotts Served In the US Army Special Services
Tony Bennett passed away on the morning of July 21, 2023, at the age of 96.