During the Second World War, the Allies ran a series of propaganda posters entitled "This is the Enemy," which depicted a variety of Axis personalities committing all sorts of atrocities. It was a very effective campaign and quickly provided the viewer with a clear reason why the nation was involved in the war.
The posters were published in a variety of languages, both for consumption at home and abroad, though the words were hardly needed for the viewer to understand the purpose behind the image.
The most famous of these images was of a German general or Field Marshal, high-collar tightly buttoned, chin raised arrogantly, and wearing the infamous Prussian monocle. The monocle's reflection was the centerpiece of the poster, for reflected in the glass was the image of a person being hanged.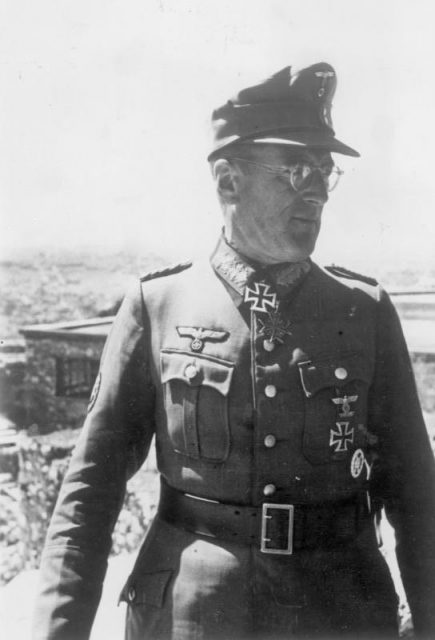 The expression on the face of the German was one of iron-hard discipline and approval. Sadly the image was quite correct. Regardless of the denials of apologists, many Wehrmacht generals ordered and carried out such atrocities. It was not just the SS.
Though his appearance did not fit the image on that poster, there might have been no German general officer that personified the hangman better than Ferdinand Schörner, the last man to carry the rank of Field Marshal in the German Army to this day.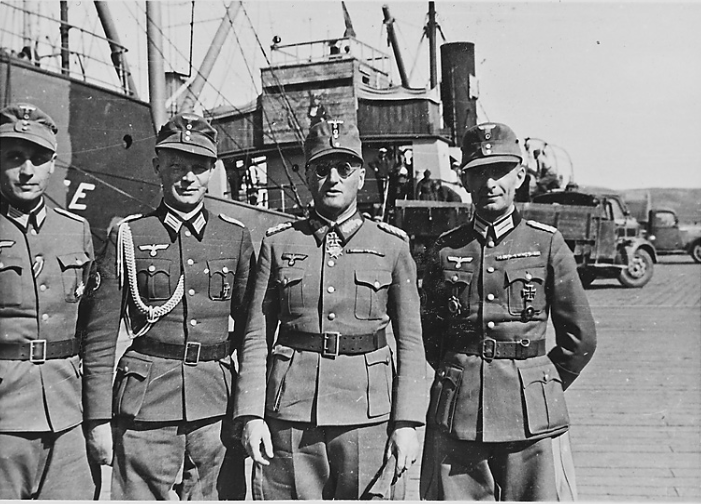 Schörner was a martinet, butcher, and a middling general who rose through the ranks over mountains of corpses. Hitler loved him so much that, in his will at the end of the war, Hitler put Schörner in charge of the army upon his death.
Schörner was born in 1892 in Bavaria. Like many of the leading military figures of WWII, he fought in the First World War.
He was decorated with the highest German honor for bravery at the time, the Pour Le Mérite (colloquially known as the "Blue Max") for actions taken during the brutal fighting in the Battle of Caporetto on the Italian Front. His colleague in WWII, Erwin Rommel, was also a recipient of the medal at Caporetto.
There could not have been two more different men.
Rommel, by all accounts, was chivalrous, as humanitarian as possible towards his prisoners during wartime, loved by his men, and willing to talk back to Hitler. Famously, he was forced into taking his own life for his perceived role in the plot against Hitler in July 1944. Schörner was everything that Rommel was not.
During the inter-war years, Schörner was, like many officers in Bavaria, a member of the right-wing paramilitary Freikorps. Unlike many officers in the post-WWI years, who were mustered out as part of the restrictions placed on the German armed forces in the Versailles Treaty, he remained in the army.
He took part in the suppression of Hitler's Beer Hall Putsch, despite his right-wing leanings.
However, in the highly charged political atmosphere of inter-war Germany, Schörner found himself taking sides against the hated Weimar government, and joined the Nazi Party in the mid-1920s, while still retaining his position in the army.
A year after Hitler came to power, Schörner was promoted to major and served on the General Staff, which was a significant step on the road to high position for any German officer.
In 1937, he was made Lt. Colonel ("Oberstleutnant") and commanded the 98th Mountain ("Gebirgs") Regiment. He commanded the regiment in the Polish Campaign as well as in France and Belgium the next year.
As a result of his role, he was given command of the 6th Gebirgs Division and was made a General. In the invasion of Greece, the Division played a role in cutting off the important city of Salonika off from the rest of the nation. Schörner then took part in the conquest of Athens and was given the Knight's Cross by Hitler.
By all accounts, Schörner was an adequate general.
Though not from Prussia, Schörner had all the qualities of the typical Prussian martinet: ruthless, unyielding, pitiless, and absolutely "by the book" regarding discipline and appearance.
In the United States, officers and non-coms of this kind are usually referred to as "chicken-s**t." They are the ones who care more about the rules and their image than common sense.
In Schörner's case, this was made even worse by his fanatical belief in Hitler and Nazism. Except for a few of his most hard-core Nazi and sycophantic officers, Schörner was hated by most of his peers and men.
Worse still, despite his aspirations to join the highest ranks of the German Army, Schörner was, like many Nazi bureaucrats, crude and a blowhard.
Nevertheless, he was able enough, and his Nazi views, as well as a toadying attitude toward the Party, brought him continued success. He impressed Hitler all the more because, to his credit and unlike many general officers, he took part in action at the Front.
In Finland, on the Arctic Front against the Soviet Union, he is reputed to have engaged in close fighting to the point of hand-to-hand combat against the Red Army on at least one occasion.
In January 1942, Schörner was promoted to Generalmajor, which is the equivalent to the US rank of Major General – "two stars." He was then given command of the 40th Panzer Corps taking part in battles in Ukraine.
Schörner's attitude towards Soviet civilians was harsh in the extreme. Martial law was imposed by the Germans all over their conquered lands, but men like Schörner took this to an extreme in the USSR.
He is even reported to have shot nearby barking dogs because they disturbed him. Ultimately, his cruelty led him to being put on trial by the Soviets for war crimes after the war ended.
In the spring of 1944, he was put in command of Army Group South Ukraine and was promoted to the unique German rank of "Generaloberst," or "Colonel General."
After the tide of war turned against Germany, Schörner's career is full of dichotomies.
At times, such as in the Crimea, he seemed to want to obey Hitler's "to the last man" orders and enforced discipline to the point of execution on officers seen to be "defeatist." Yet he was later to see reason and defy Hitler's orders himself when ordering a retreat and evacuation.
From July 1944 to January 1945, he was in command of Army Group North (also known as "Army Group Courland") as it retreated through the Baltics. Some 200,000 German troops were eventually trapped against the Baltic Sea on the Courland Peninsula in Latvia.
For a time, Schörner organized a stout defense against incredible odds. His Army Group was cut off from the rest of the German army by the huge Soviet "Operation Bagration."
Again, while initially supporting Hitler's decision to stand and fight, Schörner eventually saw reason and asked the Führer for permission to break-out. Surprisingly, Hitler granted this request.
However, not all the German troops were able to break-out, and those left in the pocket were ordered to hold out to the last man. They did, almost to the end of the war, but Schörner was long gone.
Schörner assumed command of Army Group Center in January 1945, the most powerful and important command on the Eastern Front. By this time, the Germans were fighting on the home soil of Silesia, an important industrial and coal-mining region. Of course, Hitler gave a "last stand" order.
This time, there was really nowhere else to go, except to fall back to Berlin.
Schörner imposed his brand of discipline not only on the soldiers under his command but also on civilians. This was especially so for those unfortunate boys and elderly men who were called up for duty in the "Volkssturm," the poorly trained and equipped militia expected to hold back millions of Red Army soldiers seeking revenge.
Those who were caught or, in many cases merely suspected, of shirking their duty or desertion were shot on Schörner's orders. Others were hanged from streetlights and in other public places, often with a sign around their necks crudely warning others not to commit "crimes of cowardice."
In the last days of the war, Schörner was supposed to support General Gotthard Heinrici's defense of the Seelow Heights in front of Berlin, but poor leadership allowed the Soviets to penetrate his positions and threaten to surround the men at Seelow. Soviet victory was, by this time, already assured, despite the hard defense at Seelow and Schörner's failure.
In the last weeks of the war, Schörner's reputation as a butcher was cemented. He had always had a group of fanatical thugs around him to carry out his harsh orders, and now both Schörner and these men lost their minds.
In one instance, they came across a half-track crew awaiting a mechanic – they were shot for "malingering." The general was present when 22 German soldiers were executed on his orders. Their crime? "Standing around without orders" with the eventual intent of desertion.
Schörner and others justified their actions as part of the last effort to prevent utter catastrophe. Anyone in their right mind knew the war was over, but Schörner and others like him knew that defeat meant trial or worse for them. So the longer the war went on, the better chance they had of arranging an escape for themselves.
Like many people who know deep down that they are doomed, they sought to prolong the inevitable end and enclosed themselves in denial.
Of course, they disguised this by incredibly harsh measures. Schörner sent a wire to troops still in Austria and Czechoslovakia, saying, "In these hard days, we must not lose our nerves or become cowardly. Any attempt to find your own way back to the homeland is a dishonorable betrayal of your comrades and your people, and will be punished."
In Germany, hundreds of men were hanged, with a placard reading "I am a deserter. I have declined to defend German women and children and therefore I have been hanged" around their necks.
On April 4th, Schörner was made Field Marshal by Hitler. He was the last person to hold that rank. It was eliminated after WWII due to its connotations of Prussian militarism and Nazi conquest.
Despite Hitler's last wishes that Schörner take command of the German Army upon his death, Schörner ordered his troops to surrender upon hearing of the official capitulation ordered by the new leader of Germany, Admiral Dönitz.
However, rather than surrender alongside his troops, Schörner assumed a disguise and attempted to make his way into Austria, which was still unsettled and occupied by both the Red Army and the Americans. From there, he apparently hoped to make some sort of further escape to avoid justice but was apprehended by US troops.
He was held as a prisoner until 1951. Then he was turned over to the Soviets, who put him on trial for war crimes. He was sentenced to 25 years but served only three in Soviet prison.
Read another story from us: The Soviet "Doolittle" Raid on Berlin
At that time, the Soviets were trying to organize a new East Germany. Schörner was handed over to the East Germans in the hope that they would see this as a recognition of their authority. They promptly turned him over to the West Germans, who also wanted him for war crimes.
He was found guilty, but given just four and a half years to serve, which he did. He was released in 1963 and died in obscurity ten years later.