Despite to horridness of their cause, the pilots of the German Army were among the most successful of the Second World War. The most storied was Erich Hartmann, who achieved 352 aerial wins during the conflict, securing himself the title as the most successful fighter ace of all time.
Erich Hartmann's early life
Erich Hartmann was born in Weissach, Germany in 1922. Despite his father being a doctor, the family's financial situation wasn't good. Post-World War I, Germany underwent an economic depression, and things were so bad the family moved to China, so the elder Hartmann could make more money. However, the country entered a civil war in 1927, forcing them to move back to Germany.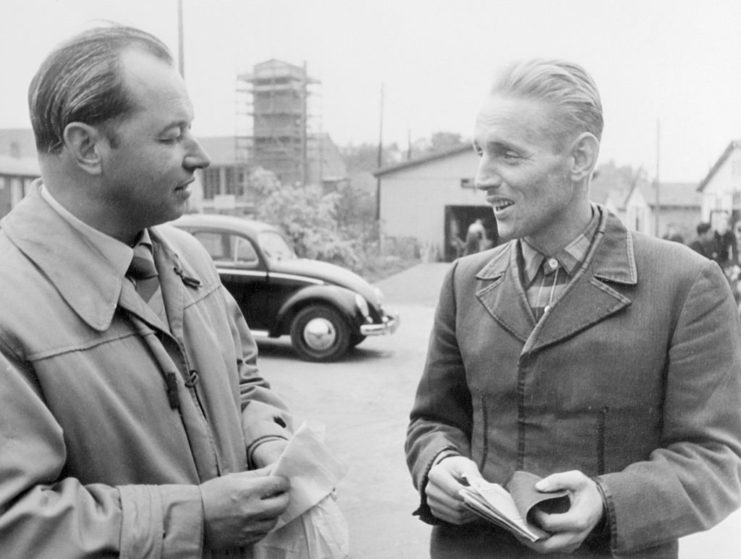 Following school and starting a family, Erich joined the newly-formed German Luftwaffe's glider training program, before beginning military training in October 1940. Interestingly enough, one of his trainers was his mother, who herself was a pilot. He was a talented flier, but also had discipline issues. At one point, he was confined to his quarters after doing aerobatic tricks during a flight.
He later said of the moment, "That week confined to my room actually saved my life. I had been scheduled to go up on a gunnery flight the afternoon that I was confined. My roommate took the flight instead of me, in an aircraft I had been scheduled to fly. Shortly after he took off, while on his way to the gunnery range, he developed engine trouble and had to crash-land near the Hindenburg-Kattowitz railroad. He was killed in the crash."
The start of World War II
After the near-death experience, Hartmann trained diligently and became widely respected on the base. He flew his first combat mission in 1942, at the age of 20, and served as a wingman to veteran pilot Edmund "Paule" Roßmann. This was fortuitous. Roßmann had lost the use of one of his arms and thus flew in a different style to avoid the physical demands of dogfights. The veteran's method had a significant influence on Hartmann's style.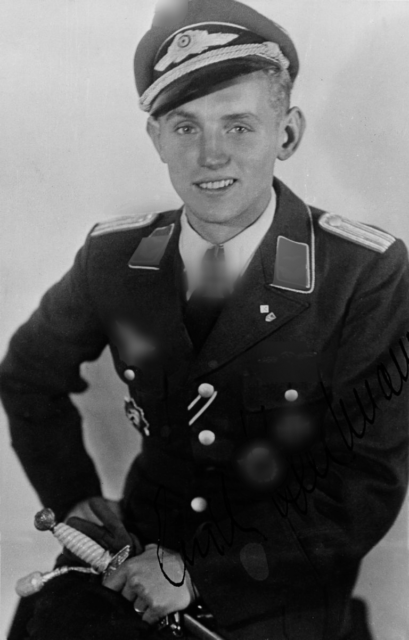 The young pilot was soon in Russia, flying combat missions at the Kuban bridgehead. He was very successful, and at one point was averaging four aerial wins a day.
Hartmann did not have much respect for the Russian fighters he was facing off against. He said of them years later, "In the early days, incredible as it may seem, there was no reason for you to feel fear if the Russian fighter was behind you. With their hand-painted gunsights, they couldn't pull the lead properly (deflection shooting) or hit you."
Hartmann's style as the war continued
Hartmann's style was influenced by his mentors, Roßmann and Walter Krupinski. Many of the most successful fighters of the day were excellent shooters – Hartmann used more of an ambush style. This allowed him to get very close to his opponents and surprise them. Since he was able to do this, marksmanship was less critical. It also helped him conserve his ammunition, which often proved crucial when fights dragged on.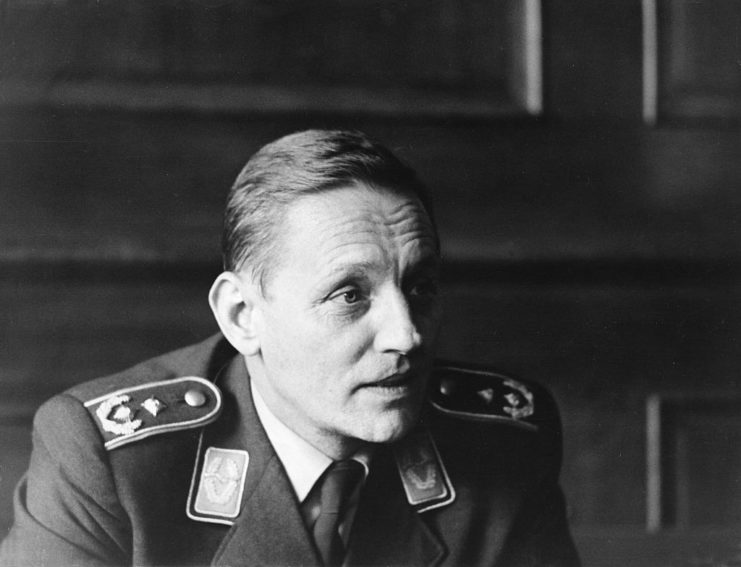 Hartmann's success didn't go unnoticed. In March 1944, he and three of his colleagues – Krupinski, Gerhard Barkhorn and Johannes Wiese – met with the German Führer at the Berghof. Upon his arrival, Hartmann was given the Knights Cross of the Iron Cross. He was also reprimanded for getting drunk on Cognac and champagne before the ceremony.
End of the war
In August 1944, Hartmann became the leader in aerial wins, with 274, and continued to rack up huge totals. He was again called to meet with the Führer to receive diamonds on his Iron Cross, one of only 27 German soldiers to receive the honor. There was some controversy, as the pilot said that if he had to remove his sidearm in the presence of the country's leader, he wouldn't accept the award.
During this meeting, the Führer admitted to the pilot that he thought Germany would lose the war.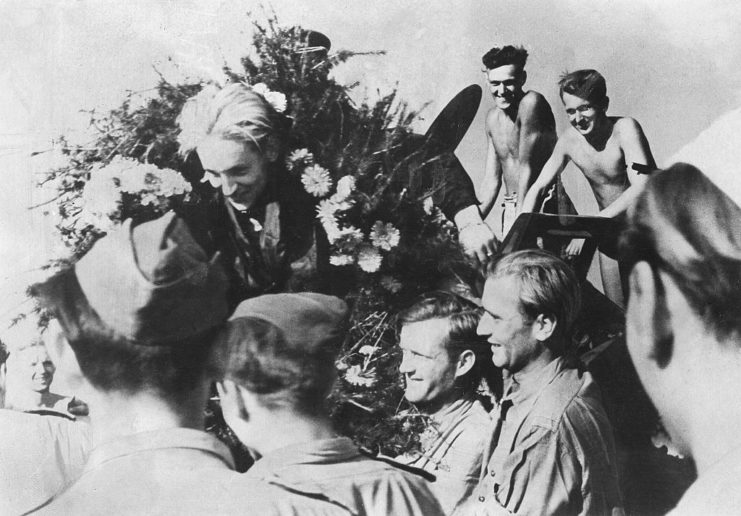 In early 1945, Hartmann was given command of a group mainly fighting in Hungary. That April, he experienced his last aerial wins, bringing his total to 352. In May, with the war going badly for Germany, he and his group surrendered to the Soviet Union. By this time, he'd flown 1,404 combat missions, downing 345 Soviet and seven American aircraft.
Punishment and legacy
Upon Hartman's surrender, he was arrested and quickly tried by the Russians. He was charged with multiple crimes, including destroying a bread factory, shooting at civilians in Bryansk, and destroying 345 "expensive" Soviet aircraft. He acted in his own defense, was convicted and sentenced to 20 years in prison.
Hartmann was released from jail early, in late 1955.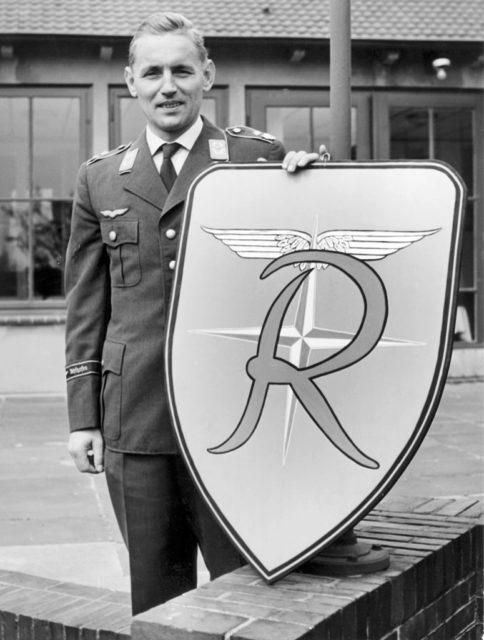 Hartmann's story was told in the 1970 film, The Blond Knight of Germany. The movie was very popular in his home country, but was criticized for ignoring the political and social consequences of the Second World War. He died in 1993, at the age of 71.