US Army recruiters are shifting their focus when it comes to grabbing the attention of Generation Z, including sidestepping the service's ban of TikTok. The China-based video and social media app has been barred due to its risk to national security.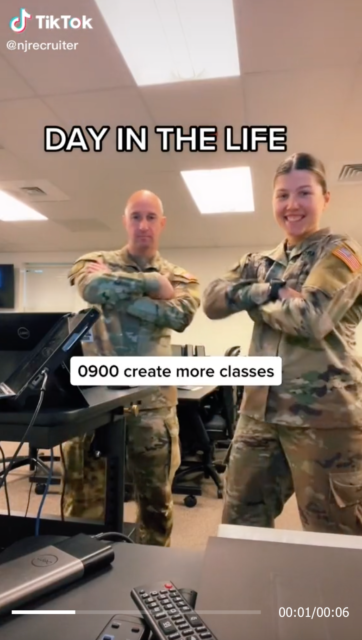 A similar ban was attempted by President Donald Trump, which was ultimately frozen by the court. According to Defense One, approximately half of all Americans who fall under the Gen Z demographic – ages 9 to 24 – use TikTok in some capacity.
Speaking about the younger generation at the Association of the United States Army's annual meeting this past October, Army Recruiting Command head Major General Kevin Veeren spoke of the need to better utilize social media. "They're on TikTok," he said. "And they're doing other things with Twitter.
"We've got to learn them. We've got to understand them. We do know that most of Generation Z lives in the virtual space, they live online, they live with social media. And so we have to be savvy with how we evolve in our recruiting operations."
The majority of Gen Z utilize social media on a daily basis, with the most popular apps being TikTok and Instagram. They are also active on the likes of Discord, Snapchat, Twitch and Twitter, with less engagement on Facebook, which is generally used by Millennials and older generations.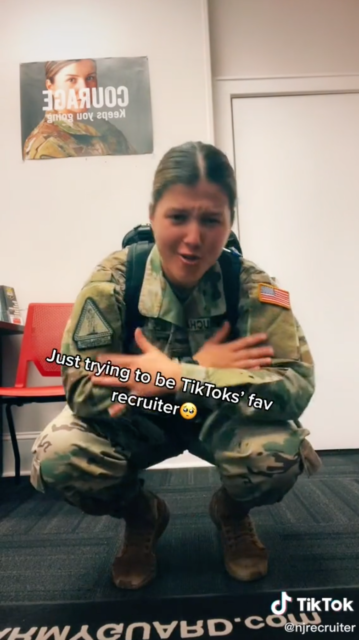 "We're already behind," said Sergeant Georgia Varoucha, a recruiter with the New Jersey Army National Guard, to Defense One. "To me, we're already ten years behind. Even if the Army allows it right now, we're still behind."
Varoucha's personal TikTok account – @njrecruiter – currently boasts over 457,000 followers, and her videos have received 9.7 million likes. She tries her best to not "run afoul of Army sensibilities" and only uses the app on her personal phone, as it's banned from government devices.
She also adds that it's a personal account, not one officially affiliated with the Army, and that her actions in her videos don't in any way misrepresent the uniform. If anything, she says, her videos get leads. While slow at first, her account now attracts 45 percent of the recruits she draws in.
"Realistically, all [the Army] care about is numbers," she said. "If you can be in multiple places at once, why not? And that's what TikTok does. You create a video, you put it out there, you do your high school visits, and the video is working for you."
Other TikTok accounts run by those in the Armed Forces include @woahmontana, which boasts over 49,000 followers; @mrarticle15, whose videos have received 86,000 likes; and @that_army_guy20, who currently sits at just under 250,000 followers. While not directly involved in the recruiting process, their videos help offer a more personal insight into what it's like to serve.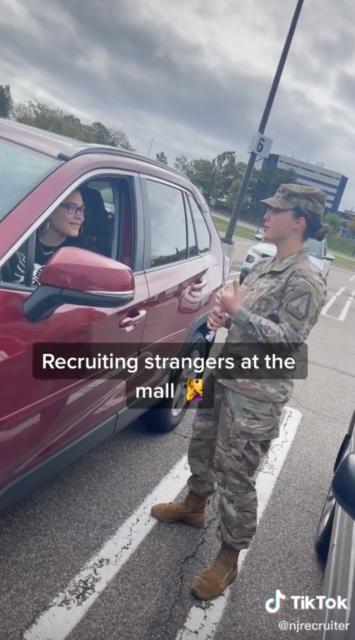 However, the Army feels recruits like Varoucha are still violating policy. Kelli Bland, director of public affairs for the US Army Recruiting Command, told Defense One:
"The Army banned the use of TikTok on government devices in late December 2019. Per our policy, recruiters are only allowed to conduct official business using government devices, so at this time, they should not be using recruiting purposes either from thier government or personal devices."
Despite this, Varoucha's success on the app has afforded her the opportunity to join a team in Arkansas that is currently developing the next generation of social media recruiting strategies.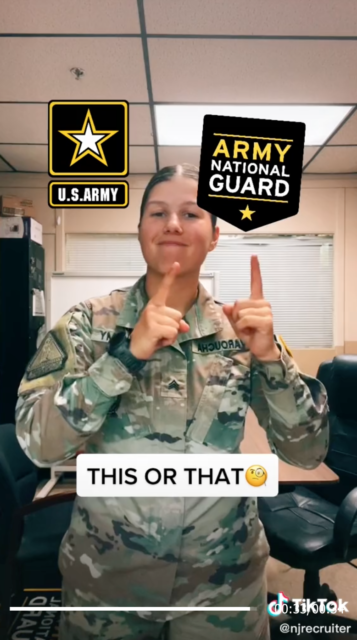 While the US Army was initially happy to use TikTok, concerns raised by Senators Tom Cotton (R-AR) and Chuck Schumer (D-NY) eventually led the Department of Defense to issue new guidance against the App's use. The Army also imposted its own ban.