The world of sports is often said to serve as but a shadow or reflection of war. There are physical rigors, stressful scenarios, and often the need to pit man against man in a battle for victory. But occasionally, that shadow meets reality, and an athlete excels not only in the field of sport but the field of battle.
Such was the case for a man Arkansas is proud to claim as one of their own, Maurice "Footsie" Britt. Known for his size 13 shoes which partially led to the nickname "Footsie" growing up, Britt was a physically dominating man who would take his athletic ability from High School to the University of Arkansas, to the Detroit Lions, and all the way to Italy in World War 2.
And while he might have played wide receiver in the NFL, if you had asked the Germans they would have thought he was a Quarterback from the way he relentlessly hurled grenades at them on his path to receiving the Medal of Honor and just about every other award for gallantry one could fit on a uniform.
An Arkansas Legend
Maurice Britt was born in Carlisle, Arkansas in 1919. From the first time he set foot on the field, his athletic prowess became apparent, and he excelled at any sport he attempted. But he was more than just an athlete. This gifted man would become the valedictorian of Lonoke High School in 1937 on his way to an athletic scholarship in both football and basketball for the University of Arkansas.
While in college, he participated in the Army Reserve Officer's Training Corps. Upon graduation in 1941 was commissioned a Second Lieutenant of Infantry.
However, the gifted Britt had eyes on the gridiron and in 1941 went on to play wide receiver for the Detroit Lions. He had received a partial deferment for active duty to finish the 1941 season. When that was up, he joined Company L, 3rd Battalion 30th Infantry Regiment of the 3rd Infantry Division.
In October of 1942, the division set out for North Africa and the subsequent invasion of Morocco that would serve as the kickoff for this gifted athlete's career in the field of battle. Serving as a platoon leader for L Company, Britt landed at Casablanca on November 8th, 1942 and fought the half-hearted French resistance, quickly taking Fort Blondin.
After the brief campaign in Casablanca, Britt's regiment was assigned to serve as the personal bodyguards for Churchill and Roosevelt at the Casablanca Conference in early 1943. Later in the year, the 3rd Division began training and preparations for the invasion of Sicily.
Once he landed ashore in Sicily in July of 1943, the next 5 months would see continuous action for Britt and the men of the 3rd Division. He participated in what would be one of the longest foot marches of the war covering over 54 miles in just 33 hours to take Palermo.
During the campaign to take Sicily, Britt established himself as a capable and highly respected leader of men.
A Trek Through Italy
By September, Britt and the 3rd Division were storming the beaches of Salerno in what would be his third amphibious landing. During action outside of Salerno, Britt led an assault on an enemy machine gun position and went on to receive the silver star for his leadership and gallantry in the face of the enemy and one of his four Purple Hearts.
However, it would seem that awards for gallantry would come as naturally to him as a touchdown on the football field. In October of 1943, he led his men in a river crossing of the Volturno River and engaged the heavily entrenched enemy. Here, he would receive the Bronze Star Medal with a "V." Yet, it would be action in central Italy near Mignano that would earn him the nation's highest military honor.
On November 10th, a German attack threatened the battalion's position. Seizing the initiative, Britt took a company of men and led a counterattack straight into the face of 100 battle hardened German soldiers.
The fighting was up close and very intense, involving small-arms, machine guns, and as many grenades as they could get their hands on. During the intense fighting, Britt took a bullet wound to the side, and his body was littered with grenade fragmentation.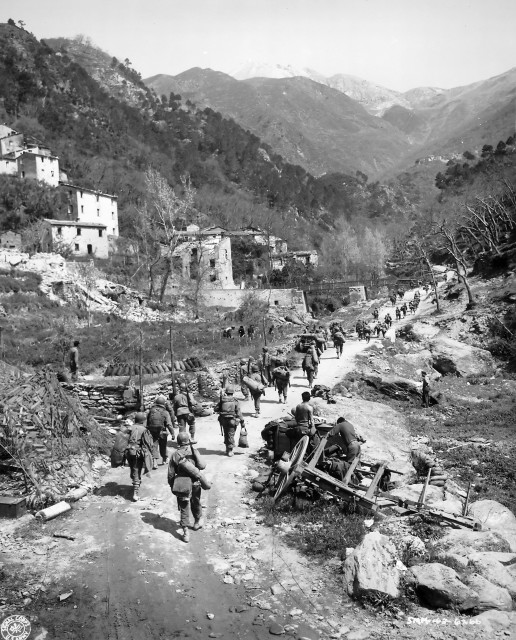 Britt refused medical evacuation and was personally credited with killing 5 German soldiers and wiping out an enemy machine gun crew. Despite his wounds, he threw over 32 fragmentation grenades at the enemy with the strength and speed of an elite NFL player.
His aggressive actions were credited with saving the battalion position and the men of his company. For his actions that day, he was awarded the Medal of Honor and recognized for inexplicable gallantry.
Not Done Yet
After recovering from his wounds, Britt had a little more fight left in him when he took part in the invasion of Anzio in January of 1944. He continued his legacy of aggressive action in the face of enemy fire and was reported to have even gotten a German gun position to reveal its location by completing calisthenics right in front of them to give them a target.
In February, his war would come to end when an artillery shell landed nearby leading to the partial amputation of one of his arms. Britt returned home with any hopes of a post-war football career dashed, but as a local Arkansas legend who made the entire nation proud.
For his actions at Anzio, he was awarded the Distinguished Service Cross for heroism. He came home from the war with the complete set of the top 4 military honors available to him.
After the war, Britt would engage in a career of business and politics going on to become a two-time Lieutenant Governor of the State of Arkansas.
He passed away in 1995 at the age of 76 and laid in state at the Arkansas Capitol as a football star, war hero, and beloved man of the State of Arkansas.