Yeager almost didn't survive his first few combat missions in which he flew a P-51 Mustang. Shortly after he got his first confirmed aerial kill, he was shot down over France.
These days, military pilots break the sound barrier (Mach 1) all the time. Some aircraft are even capable of traveling at well over Mach 3 or faster.
However, in 1947, no human being had ever traveled at that speed before, and many doubted that a human pilot could even survive breaking the sound barrier.
But on October 14, 1947, Chuck Yeager, a fighter ace who served with the United States Army Air Forces in WWII, became the first pilot to break the sound barrier, flying a Bell X-1 rocket-engine-powered aircraft.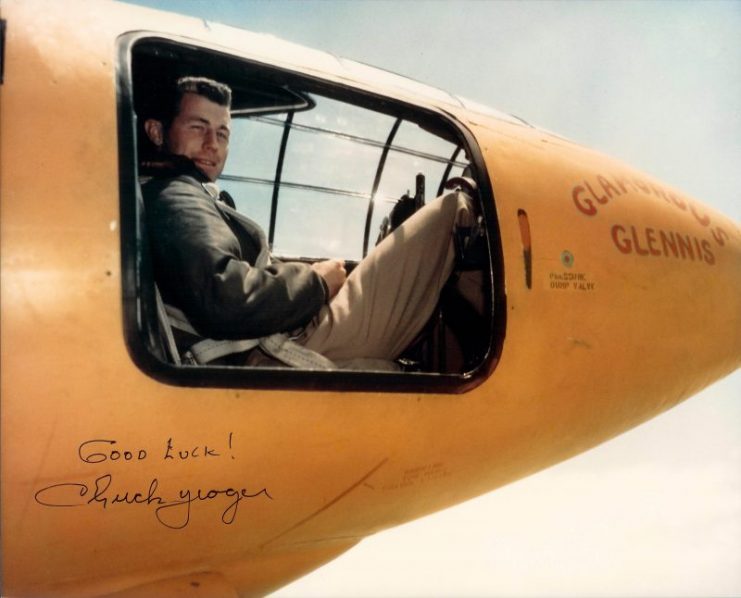 This monumental achievement – proving that human beings could pilot aircraft faster than the speed of sound – was just one of many stellar accomplishments Yeager would achieve throughout his long and distinguished career as an airman.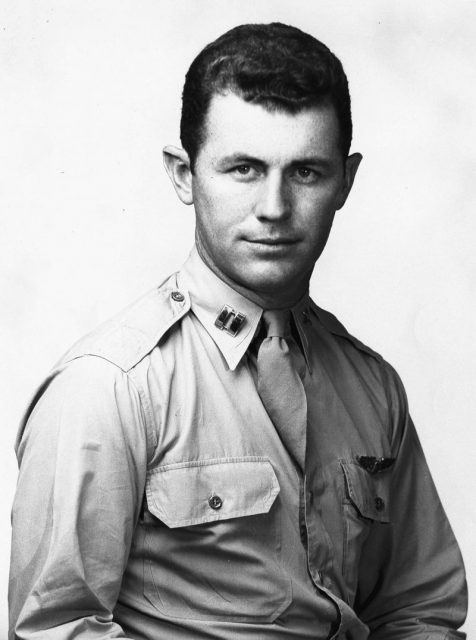 Yeager's life began in February 1923 in Myra, West Virginia. He grew up on his parents' farm and attended school in Hamlin, West Virginia. While he enlisted in the US Army Air Forces (USAAF) in 1941 as a private, he was not initially eligible for flight training because of his lack of formal education, so he started out as an aircraft mechanic.
https://youtu.be/R1Mk2RK4xGQ
However, the entry of the United States into the Second World War in 1942 meant that more pilots were needed, and certain rules were relaxed. Yeager's unusually sharp visual acuity meant that he was an ideal candidate for flight training, and he graduated training as a flight officer in 1943.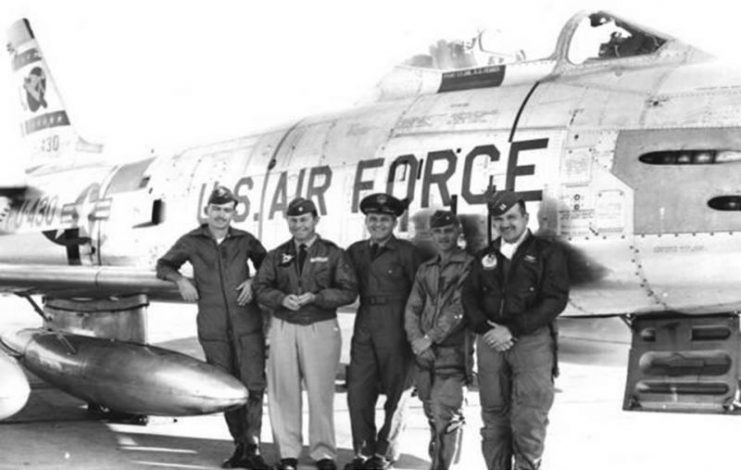 Yeager almost didn't survive beyond his first few combat missions in which he flew a P-51 Mustang. Shortly after he got his first confirmed aerial kill, he was shot down over France.
He survived being shot down and was rescued on the ground by the French Resistance before the Germans could capture him. He stayed with the Resistance for a few weeks, helping them to make bombs and assisting them with other non-combat tasks before they smuggled him out of the country and into Spain.
After getting back to England, Yeager was not supposed to fly over France again. This policy was in place because if a pilot who had been smuggled out of the country by the Resistance was shot down a second time and caught by the Germans, information about the Resistance could well be tortured out of him.
After the D-Day invasion though, Yeager put the argument to his superiors that this point had become moot now that French Resistance members were fighting openly alongside the Allied troops. They agreed with this line of reasoning and allowed Yeager to fly combat missions over enemy territory once again.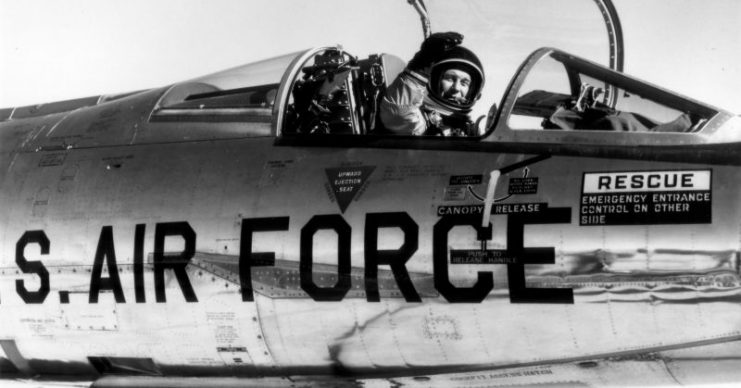 With his superb eyesight and natural talent for flying, Yeager quickly made a name for himself as a fighter pilot.
He became the first "ace in a day" (a fighter pilot who has successfully shot down five enemy planes in a single day) of his group. Later, he became one of the first Allied pilots of the war to take out a German Messerschmitt Me262 – the world's first jet-powered fighter – in aerial combat.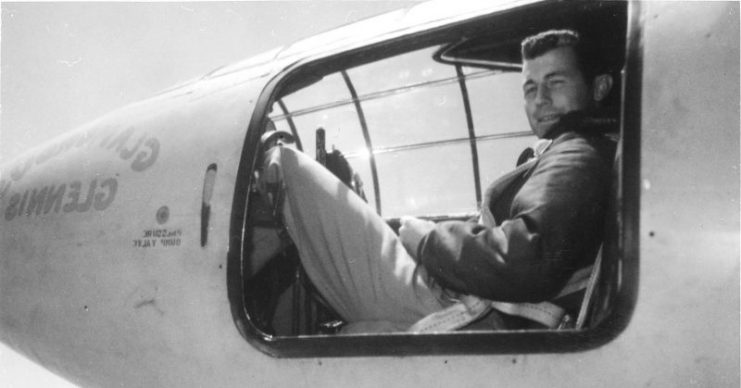 During the war, he flew 61 combat missions and won 11 victories. Afterward, he was promoted to captain. He went on to study at and graduate from Air Materiel Command Flight Performance School, one of the most advanced flight schools in America. Then he became a test pilot.
A short while later, he would attain his most monumental achievement: becoming the first man to travel faster than the speed of sound.
Yeager almost didn't get to achieve this, though. Two days before the test flight, he broke two ribs in a horse riding accident. Although he was in tremendous pain, Yeager was determined to go through with the mission.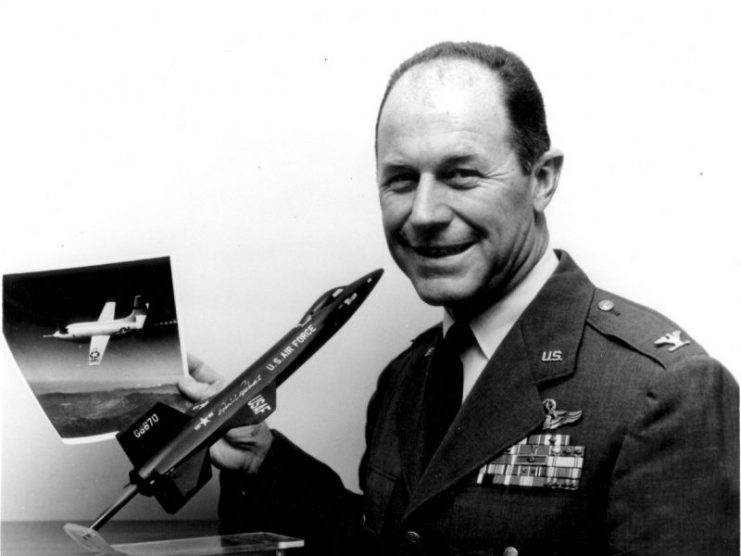 He visited a civilian doctor and only told his wife and another test pilot about his injuries, fearing that if command found out they wouldn't allow him to go through with the mission.
To overcome the pain that moving caused him, he rigged up a makeshift implement from a broom handle to allow himself to close the cockpit hatch of the X-1. Once strapped in, he knew that he was going to make it despite his broken ribs.
Yeager's X-1 was taken by a B-29 to an altitude of 25,000 feet, and from then on he was on his own. When the rocket engines kicked in, the X-1 catapulted him to an altitude of 40,000 feet.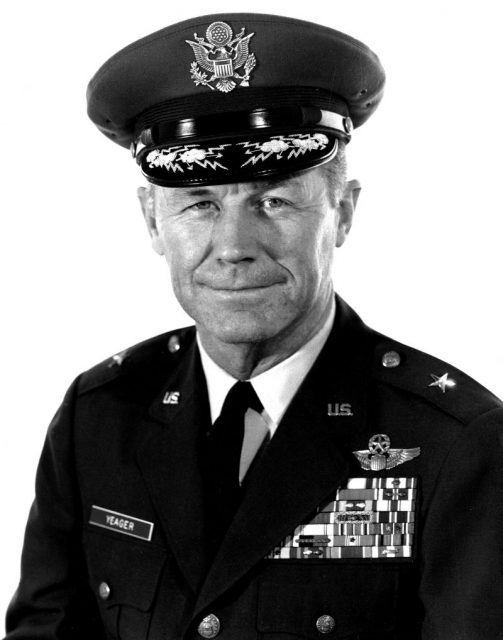 Accelerating faster and faster, Yeager edged toward the speed at which no human being had ever traveled before: Mach 1. And then he did it – he broke the speed of sound barrier and traveled faster than Mach 1 for a full 18 seconds.
This incredible achievement, however, was kept secret, and only made public in June 1948. When it was formally announced, Yeager became something of a celebrity overnight.
He didn't stop there, though, and continued to push boundaries. He set a world speed record (1,650mph, over twice the speed of sound) in an X-1A plane in 1964.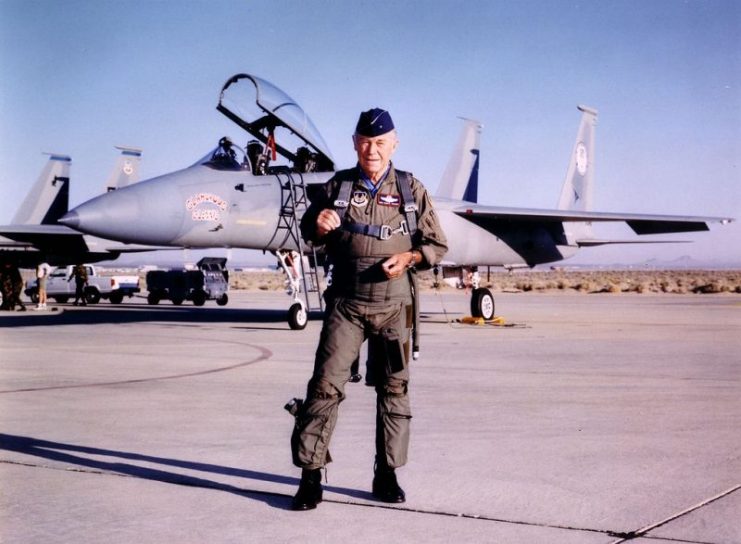 He also commanded the Air Force Aerospace Research Pilots School from 1956 onward – the school that would train the first pilots to break another barrier: that of space flight.
By the time America entered the Vietnam War, Yeager had been promoted to the rank of colonel. During the war, he commanded the 405th Fighter Wing, trained bomber pilots, and flew 127 air support missions.
In 1971, Yeager – then a general – supervised Pakistan's air defense during the Indo-Pakistan War of 1971. He was one of very few enlisted men who rose from the rank of private to general throughout his career.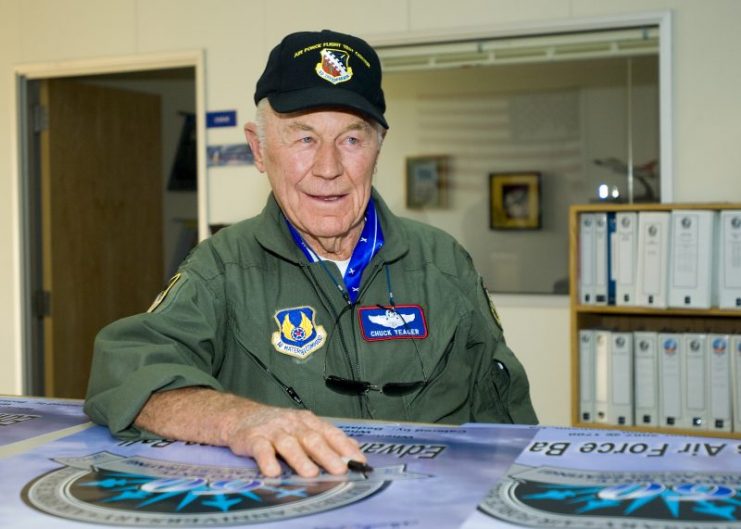 Yeager retired from the US Air Force in 1975 but continued to work as a flight consultant and test pilot now and then for both the Air Force and NASA.
Read another story from us: Routinely Tortured, Jet Fighter Ace & The Only Man To Be Awarded The Air Force Cross 3 Times
He also continued to set flight records for speed and endurance in a private capacity, often in Piper aircraft. Exactly 50 years after first breaking the sound barrier, he did it one last time on October 14, 1997, piloting an F-15D Eagle.
Chuck Yeager is now 96 years old, and while his days of flying and breaking records are behind him, he remains one of the great American icons of flight.