War History online proudly presents this Guest Piece from Karen Murphy, who writes on behalf of the Thomasville Times-Enterprise.
ALBANY, GA — Sometimes choking back tears, at other times with hearty laughter, 32 men recently celebrated life-long camaraderie forged on the training fields of Fort Benning and battle-tested on the grassy central plains of Vietnam.
These soldiers of the U.S. Army's 1/7 Cavalry, immortalized in the book and movie, "We Were Soldiers Once … and Young," gathered in Albany for their annual reunion in mid-May.
They fought in the battle of Ia Drang, which raged from Nov. 14-16, 1965, and marked the first major battle between the U.S. Army and People's Army of Vietnam (PAVN). Fifty-two years later, these survivors still cherish the opportunity to come together, to catch up and to remember those no longer with them.
This year's reunion is the first since the passing of their beloved commander, retired Lt. Gen. Hal Moore, who passed away earlier this year. He was mentioned often, with genuine love and respect.
"We are alive because of Hal Moore. He was a great soldier," said retired Col. Ramon A. Nadal of Williamsburg, Virginia. "He was brave. He had a great deal of integrity. On the battlefield, what counted was his calmness and intellect. We were surrounded, with only 400 guys and the enemy had 2,500. He would place units at the heat of the battle and leave sections uncovered, because we didn't have enough troops. The PAVN never discovered the back side was open. It was a risk he took. He took gambles, but they all paid off."
It isn't only respect for Moore that calls them back year after year.
"What brings me back?" asked retired Master Sgt. Robert D. Hazen of Clarksville, Tennessee. He pulled from his pocket a bracelet, engraved with "KIA 2Lt. Robert E. Taft, 11-15-65, Vietnam." The two knew each other in Illinois before joining the Army. By chance, Hazen became Taft's radio operator in the 3rd Platoon, Alpha Company.
Hazen remembered the second day of the Ia Drang battle, "He (Taft) was right in front of me. He got shot in the throat. The bullet went straight down and out his back."
The lieutenant died in Hazen's arms and it broke his heart. "Yeah, I cried a lot over it for a long time," he said, wiping away a tear.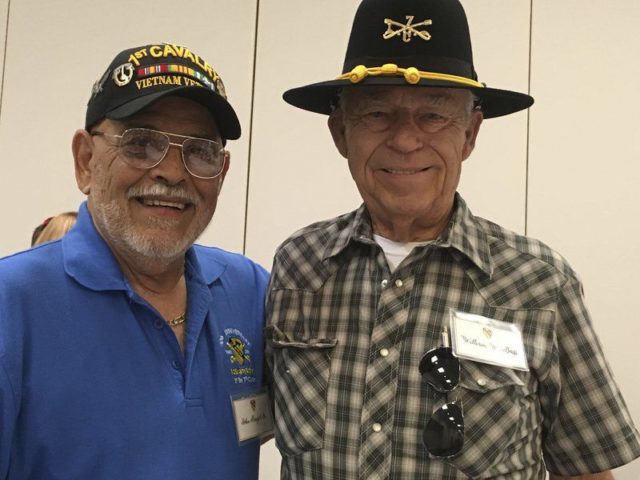 "I went down to get him and they shot my radio and I got shrapnel in the back of the head. Other than that, I didn't get any other wounds, other than up here," he pointed to his head.
He looked around the room at his fellow comrades and said these reunions help heal the scars in his head, "We all remember everybody and it's like they are still with you."
The reunion is held annually in different areas of the country and hosted by one of the troopers. This year's reunion was hosted by William Bass of Norman Park, former Charlie Company buck sergeant.
Nadal explained what he believes drives these men, now in their late 70s and early 80s, to travel to these reunions from across the country. "We went through a traumatic matter — traumatic in terms of difficulty, traumatic in terms of the fierceness of the battle, and traumatic in terms of number of soldiers lost and wounded," he said. "It was costly."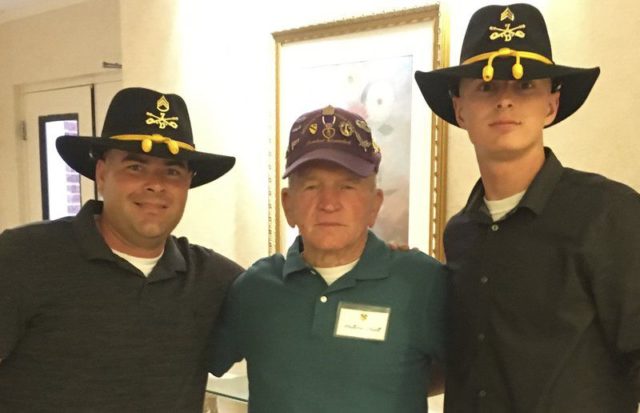 There were 79 Americans killed in action, 121 wounded and an estimated 1,842 enemies killed.
Nadal looked around the conference room at the soldiers he calls friends, "There are guys here who have risked their lives for others — guys who have worn valorous medals — Silver Stars, Distinguished Service Cross, a Medal of Honor winner, retired Col. Joe Marm (not in attendance). That speaks not just to the ferocity of the battle but also to the valor and tenacity of the soldiers."
The commanding officer for the Bravo Company during the Ia Drang battle was Capt. John Herren of Bethesda, Maryland. His second platoon undertook heavy fighting early on the first day of the battle, was cut off for 24 hours and was later known as the "Lost Platoon."
While the platoon was cutoff, the platoon leader, 2nd Lt. Henry Herrick of Laguna Beach, California, and platoon Sgt. Carl Palmer of Pelham were killed within minutes of each other. Six others also died. Twelve were wounded. (Read Palmer and Bass' story here)
Herren recalled, "(Palmer) was a great soldier. I still remember him and all my men. I lost a lot of good guys in that fight and it's always affected me. It's very difficult to lose someone you've gotten to know so well. These (reunions) are really good and healthy, and help probably more than anything else. The memories of that battle can haunt you."
The memories of Hephzibah's John Rangel, Jr. still haunt him. Rangel was injured almost as soon as he jumped out of the helicopter in an intense bayonet fight with a PAVN. He was shot through his throat. At the reunion, while talking with Bass, Rangel put his arm on Bass' shoulder and, choking back a sob, told Bass he was sorry he missed so much of the fight. Bass responded with a kind arm over Rangel's shoulder, a squeeze, and a "don't you even worry about that."
The seriousness of the moment quickly passed and was replaced with more pleasant memories. Some included their 19 months training together at Fort Benning, a time which made them a tight-knit group before they ever deployed.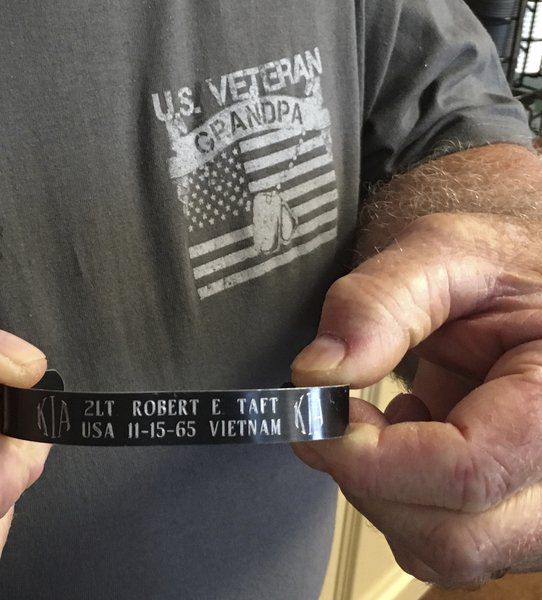 Robert Edwards of New Hope, Pennsylvania, was a captain and the commanding officer of Charlie Company during the battle.
During the reunion, Edwards ribbed Herren about being the "most eligible bachelor" of the group back in the day, driving around Fort Benning in a sports car while Edwards, married with a small son, drove a station wagon.
Edwards laughed, "We're still telling the same stories. The hair's a little grayer, but it's a fun group. There's nothing more bonding between soldiers than being shot at!"
He nodded toward William Franklin of Melbourne, Florida and smiled, "He was on top of me when we were evacuated out."
During the battle, Edwards was shot in the shoulder but remained in the fight for several more hours. Franklin, platoon leader of Company C's 3rd Platoon, was severely wounded that same day and not expected to survive. The two of them, along with several other wounded soldiers, were stacked, one on top of the other, and evacuated by helicopter.
Sobered by the thought, Edwards said, "The first thing I think of when I think of Ia Drang is all the brave men who fought there, some of whom, obviously, didn't make it back. You have the same feelings as you had then. It kind of strengthens, but it doesn't change. It makes you more aware of how close we all have become. The battle really cemented a relationship that was good to start with into one that lasts a lifetime."