The WHO team attended Tiger Day at the Tank Museum, Bovington, where the film stars of Fury! the unique running Tiger 131 and the classic 'Easy 8' Sherman put on a great show for a large crowd. Words and pictures by Mark Barnes
The unseasonably cold and inclement weather we had for much of the May Bank Holiday weekend in England may well define the memory of it in the hearts of the people streaming west when I drove down to Dorset from London last Friday. It took me five hours to get to Dorchester from the capital; such was the weight of traffic.
Cold and miserable it may have been, but the warmth of the welcome and the sheer number of people rocking up at the Tank Museum told my colleague Jack Beckett and I that we were in for a busy and interesting day. We were not disappointed.
The wise decision to hold Tiger Day is boosted, without doubt, by the impact of Fury! This is a movie you can either love or hate for all your own reasons. I've seen it a few times, now, and there are parts I think are outstanding while others are a little too Hollywood on reflection. It doesn't matter what I think, the crowd at Bovington made it clear where their affections lay.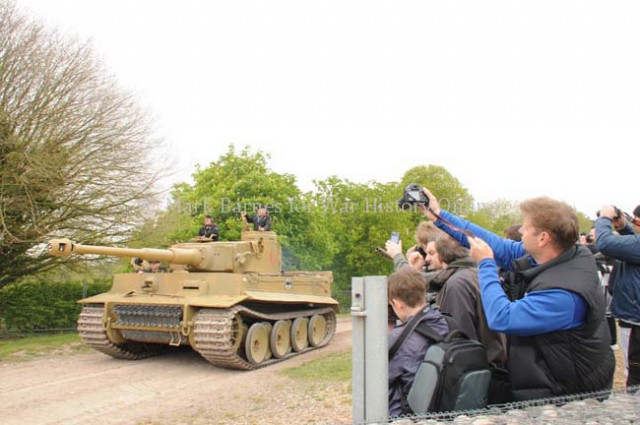 The amount of video and still photography devoted to the Tiger was enormous.
While the museum presented an open day with wide ranging displays and talks, it was a running Tiger that people had come to see and I have to say I have never witnessed such a buzz of anticipation for a tank. Think about that – a tank. We live in a heavily populated country of tens of millions and this was a weekend when a lot of other stuff was going on in England and the rest of the UK.
Quite separate from the world of us mere mortals we had a new royal baby, Chelsea won the Premier League and the General Election campaign was at full chat ahead of Thursday's vote. Roll on Thursday! Cheerfully ignoring the headline dominating stuff all these people had come to see a tank. Well, that isn't quite true – they also got to see Fury itself, the Sherman looked and sounded great following an engine replacement after all that arduous film work.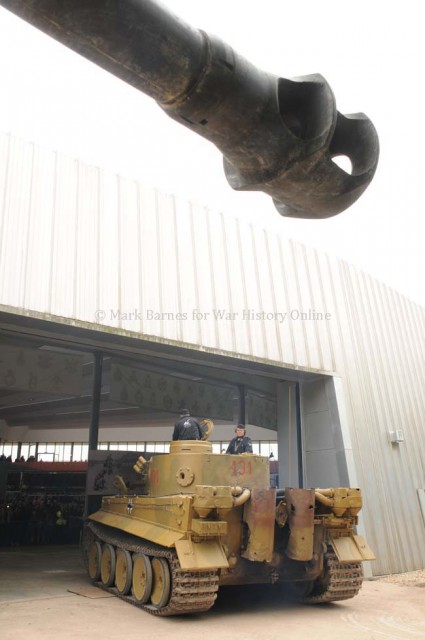 The Tiger emerges from the museum under the gun of 'Fury'.
Before the Tiger got going I had a quick chat with the ever smiling museum director Richard Smith and he told me he and his colleagues had learned a lot from the tank's moment in the movie spotlight and wouldn't rule out doing something similar again. But he was more interested to give me some idea of how the museum would deal with a fire, following on from the tragic loss of the Surrey Infantry Museum at Clandon House, and it emphasises just how important our museums are to the people who run them.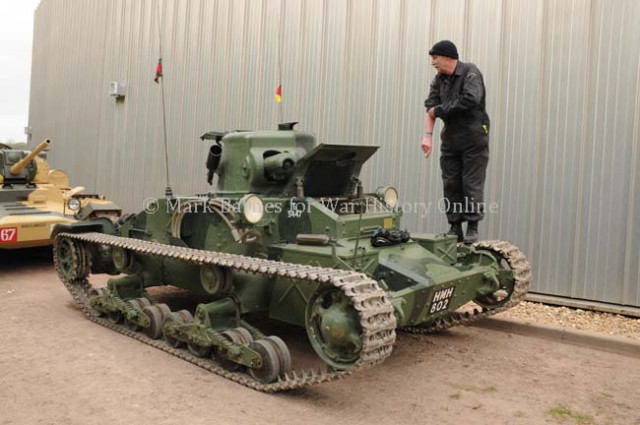 The museum has three examples of the Matilda Mk1. Unfortunately this one refused to start despite every effort.
Just to keep us keyed up, the museum ran a number of other exhibits – a Valentine, T-34, Panzer III, a zippy Kettenkrad, a beautiful Centurion and a truly stunning Canadian army Leopard. Unfortunately the diminutive Mk1 Matilda failed to start. I was busy waiting for the Tiger to start up so I missed the Valentine's laps altogether and only caught the end of the T-34.
I have to say I was really pleased to see the Panzer III on the go. For whatever reason I have always conspired to miss Tankfest where the PzIII has run on several occasions, so this was a first for me and I am pleased to have seen it at long last.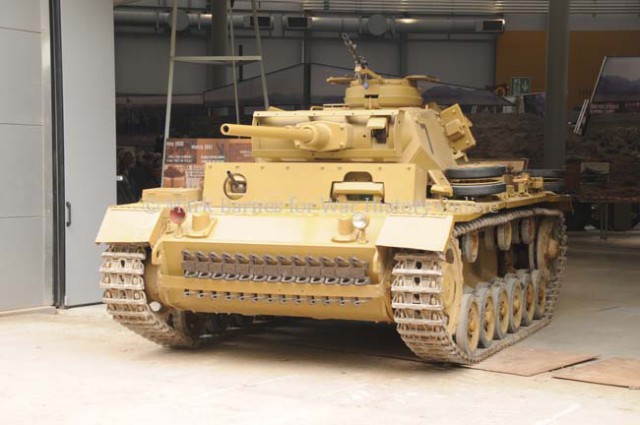 The Panzer III emerges from the museum building.
Fury went next and really kicked up the dust. The first of the film star duo doing a turn, it was well received by an enthusiastic crowd and I have to say it is a very impressive piece of kit. I've had my moments with Shermans, I am still suffering from a bone snapping encounter last summer, but it is always good to see them hammering along. How long this one will stay in its movie guise is anyone's guess, but a procession of people wanted to be photographed with it.
The big old Easy 8 is a genuine movie star if ever there was one. Many were talking about it being in their favourite film and the impact of this should not be underestimated. It remains to be seen whether it will have anything like the impetus SPR and B of B injected into the World War II history scene but while crowds like these turn out things can only be good for the Tank Museum.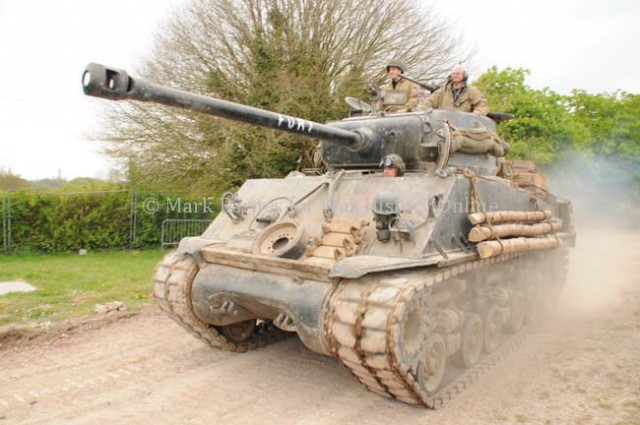 The Sherman looks like it rumbled straight out of the movie screen, kicking up a fair amount of arena dust and sounding beautiful.
But it was the Tiger that everyone had come to see. I'm a Panther man myself, but I felt like I had witnessed something genuinely special watching 131 wow the crowd. A number of people had paid a significant sum of money to be able to climb up on it and learn a bit about the tank and you could see that the experience meant a lot to them. The sheer number of still photos and bits of video the public shot must be swamping the tankie corner of Facebook and YouTube today.
I picked a spot where I could watch 131 reverse out of the museum building and rumble up behind the Sherman. A local radio reporter standing with me was in awe. He told me Fury! is his favourite movie and he could not believe he would be able to watch the very same tanks rumble by. I suppose he illustrates perfectly the impact living history can have. The Tiger was a lot quieter than I expected and quite squeaky in that clankety-clank way we want from old tanks, but like any cat it just purred contentedly.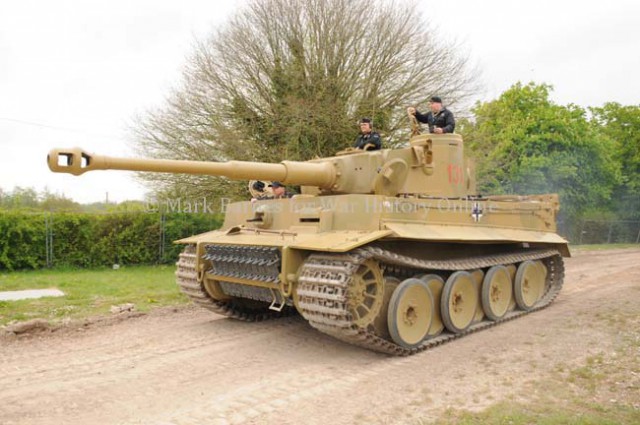 You cannot fail to be impressed by the brutal appearance of this iconic tank.
The Tiger did a couple of laps before eventually heading off for a mini road run around the museum site. By this time Jack and I were both distinctly under the weather from bouts of manflu – an unwanted coincidence seeing as I haven't seen the bugger since February. I picked mine up larking about on the rifle range at Bisley and you will read about that soon enough.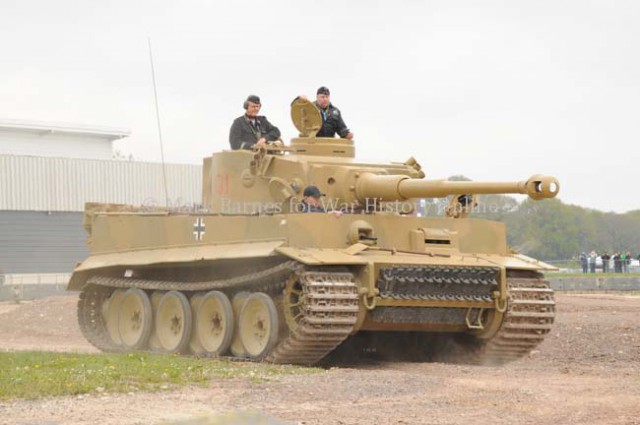 The Tiger did a few laps before heading off on a mini road run around the museum site to a chorus of approval from the large crowd.
The Kettenkrad and the two post war tanks were all good value for money. You can't go wrong with a Centurion, but for sheer power the Leopard is hard to beat.
It was throwing up dust like nobody's business and I don't doubt the effect of having three classic German tanks on show was appreciated by such a knowledgeable public.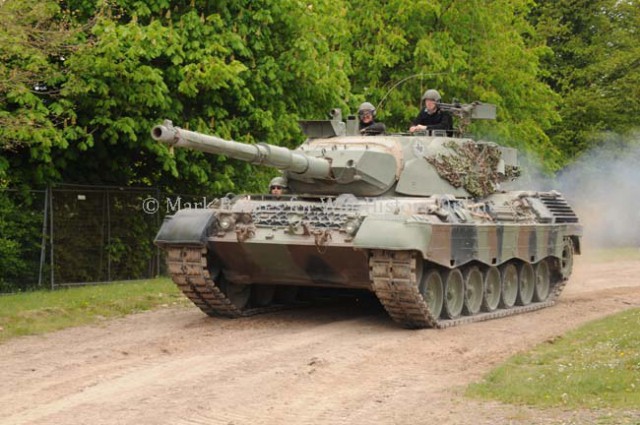 Post war delights were provided by a Centurion and this Canadian Leopard which put on a great show for the crowd.
Honestly, I am genuinely stunned by the huge interest in the Tiger. I can understand it because I am hooked anyway, but it must be a great feeling knowing a day like this had drawn in so many members of the paying public and things bode well for Tankfest and other events Bovvy have planned.
Jack and I held our post mortem in a busy pub in Weymouth harbour where wall-to-wall tellies showed a succession of inane junk distracting us from our supper. It reminded us why we have opted to do things a bit differently. There will always be more to life than tanks, but they do add something other diversions have no hope of matching.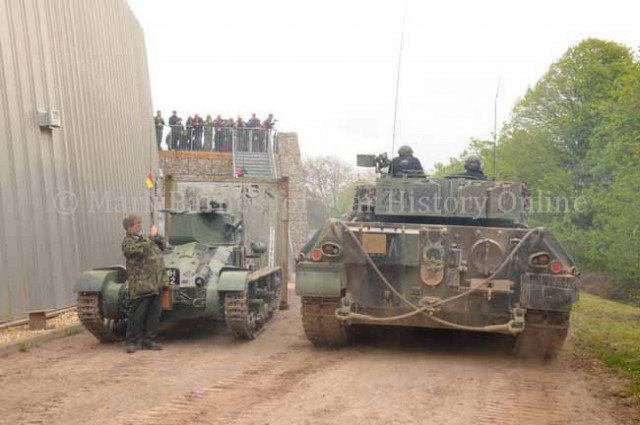 Comparing the Matilda and the Leopard is clearly a waste of effort! However they illustrate the range of armoured vehicles on display at the Tank Museum.
I know sod all about budgets and demographics, but it seems obvious to me that Tiger Day was a big success for the Tank Museum. The place was filled with people of all ages – not just the usual suspects. I met up with a friend who made the tortuous journey from our corner of the country for the occasion and he was very impressed.
To be fair he liked everything the museum had to offer, but the Tiger really did burn bright like Blake's poem says and I am looking forward to Tankfest in June where there should be much to report. War History Online will be at the event in force, so say hello if you see us.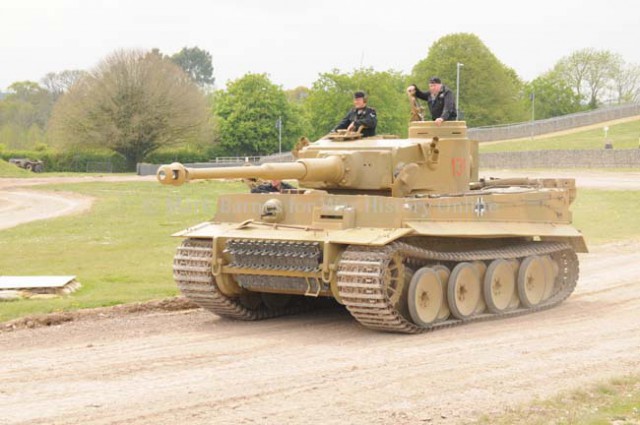 Tiger 131. We plan to see it again at Tankfest at the end of June.
With thanks to Roz Skellorn and everyone at the Tank Museum, Bovington.
Find out about Tankfest at www.tankmuseum.org/whatson/events/bovevt37899
Do visit the Tank Museum, Bovington and there are many ways you can support them see here for more detailswww.TankMuseum.org